Ukulele Buyers Guide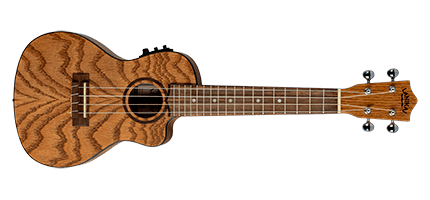 History of the Ukulele:
The history of this iconic Hawaiian instrument takes us back to the late 1800s when Portuguese immigrants introduced two very similar small-bodied instruments, the machete (braguinha) and cavaco (cavaquinho), to Hawaii. These instruments inspired Manuel Nunes, dubbed "inventor of the ukulele", alongside Augusto Dias and Jose Do Espirito Santo to create an instrument that would later be called the "ukulele." The name "ukulele" has a few of different meanings in the Hawaiian language. The most common translation is "jumping flea" which refers to the fingers of skilled ukulele players and how they look like fleas jumping quickly around on the fretboard. Another translation for the word is "the gift to come" which refers to the instrument being "a gift" to Hawaii brought by the Portuguese.
What makes the ukulele so special is the fact that it carries with it the spirit of the Hawaiian Islands. Innocently small, yet so diverse and full of possibilities, the ukulele has the ability to bring people together and share the "aloha spirit" wherever it appears. In Hawaii, the word "aloha" can be translated to "hello," "goodbye," or even "love," but more often it means to give to others selflessly, to help anyone that is in need of help. With its approachable and unintimidating appearance, the ukulele is the perfect platform for learning to play a musical instrument. And among ukulele players, whether you're a beginner wanting to learn music for the first time or an advanced player struggling to grasp a new technique, it is always easy to find someone willing to teach you and share the aloha.
Today, resources are literally at your fingertips, with ukulele instruction books for learning methods, ukulele music books for learning to play your favorite songs, and even entire websites like ukuleleunderground.com, dedicated to helping you grow with your ukulele. All over the world, people have been gathering through ukulele clubs, workshops, jams, and festivals to share and enjoy their love of music through this simple instrument.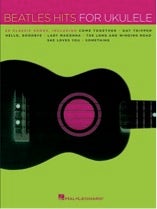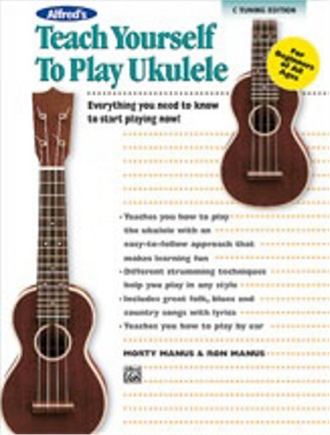 Ukulele Sizes:
The ukulele has 4 main sizes. From smallest to largest they are: soprano, concert, tenor, and baritone.
Soprano Ukuleles (21" total length)
Although you can use a soprano for any genre of music, the small, bright sound it produces brings to mind the genres of traditional Hawaiian, tin pan alley, and ragtime music.  Its small size and string area make it easy to play the rapid, banjo-like strumming patterns or finger picking usually found in these styles.  Any time you hear a soprano ukulele, you'll immediately be taken back to a simple, happier time.
Some familiar soprano ukulele song examples include: "Aloha 'Oe" by Queen Liliuokalani, "Cleaning Windows" by George Formby, or "Tonight You Belong To Me" by Steve Martin.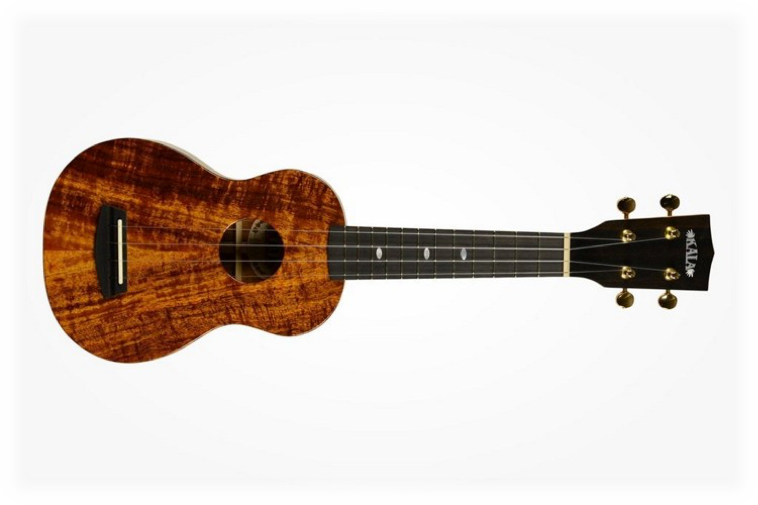 Concert Ukuleles (23" total length)
The concert size is the perfect all-around ukulele.  With some of the music-box charm of the soprano and a little of the volume of the tenor, it's a great compromise in sound that is perfect for strumming and suitable for solos as well.  Personally, this was the size I chose when starting out. Because of its small, portable size, I was able to work on basic chords easily and thanks to its longer, slightly wider neck, I was still able to elevate my playing with more advanced techniques and a wider note selection.
A few songs that sound great on concert ukes are: "I'm Yours" by Jason Mraz, "Brown Eyed Girl" by Van Morrison, and "Noho Pai Pai" by Ka'au Crater Boys.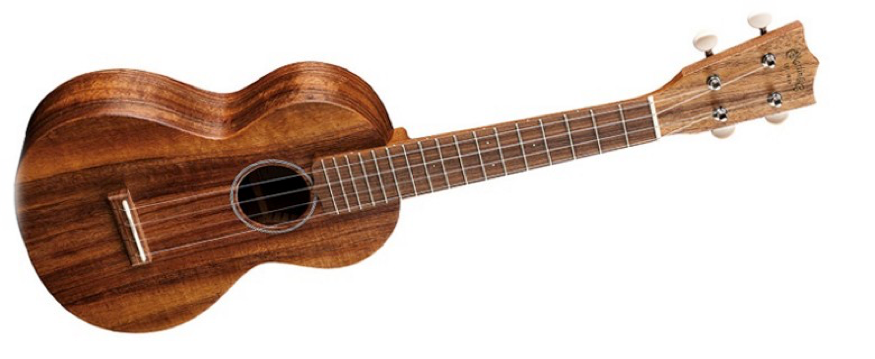 Tenor Ukuleles (26" total length)
After playing the ukulele for several years, I discovered the the musical beast that is the tenor ukulele. I started to play professionally and the performances really began to call for a ukulele that could maintain its sweet sound even when played with intensity on stage. The tenor ukulele is perfect for those practicing and performing some of the more advanced ukulele techniques and need an instrument with a dynamic range that allows for more emphasis and expression on solos.  Its big, warm tone along with its long and accessible fretboard make tenor ukes perfect for those looking to push the boundaries of the ukulele.
Some great songs to try out on a tenor: "Kawika" by Sunday Manoa, "While My Guitar Gently Weeps" as performed by Jake Shimabukuro, and "Minuet in G" by Johann Sebastian Bach.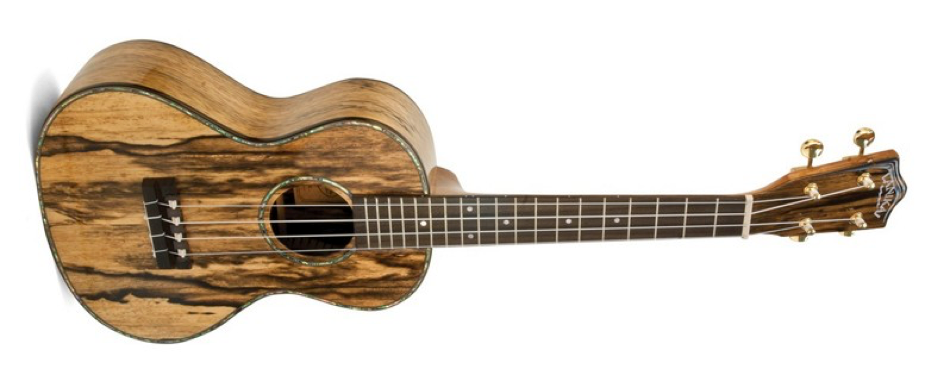 Baritone Ukulele (29" total length)
If there was a "mellow tone" king of ukulele sizes, it would be the baritone. Instead of the traditional G,C,E,A tuning of an ukulele, baritones are typically tuned to a much lower D,G,B,E, just like the treble strings of a guitar. Because of this, they sound closer to the deep, full tone of a classical guitar and much less like the traditional ukulele.  For those who have played guitar before, it's an easy transition – simply think of it as a guitar with the two bass strings removed and all the same chord shapes and solos apply.
A few mellow sounding songs to match your mellow baritone are: "Fools Rush In (Can't Help Falling in Love)" by Elvis Presley, "Hi'ilawe" by Gabby Pahinui, "When I Was Your Man" by Bruno Mars.

There is also a "super" category of each ukulele size. "Super" sized ukuleles are ukuleles with a normal body but with a longer neck, usually the neck of the next size up. So a super concert would be a concert ukulele body with a tenor neck.
Other Types of Ukuleles
Ukuleles with integrated electronics, pickups, and onboard EQs are the perfect choice for performing ukulele players or uke players who intend on performing in the future. Coming right from the factory with electronics make them the ultimate studio- and stage-ready ukes, making them easily adaptable to any gig or show!
There are plenty of specialty ukuleles out there that go against the grain of the standard ukes we're all used to such as long-neck ukes, ukulele basses, and special ukulele hybrids including guitar ukuleles, banjo ukuleles, resonator ukuleles, and more! These are fantastic instruments if you're looking for something a little different than your typical ukulele, and will make great additions to any uke player's collection.
Ideal for beginners and budding uke players, ukulele packages or kits offer amazing value since they include some of the extra ukulele accessories that you'd end up purchasing separately anyway! These are definitely a great choice if you're looking to get plenty of bang for your buck. Although each starter uke kit is different, some of these uke packages may include gig bags, tuners, picks, and other accessories you would need to get started.
Choosing Your Ukulele
If you're a beginner, the four most important questions that you need to ask when choosing a ukulele are the following:
What am I looking to spend on my ukulele?
Does it feel comfortable?
Can it be tuned?
Does it stay in tune?
1. What am I looking to spend?
Like anything, the level of quality and craftsmanship of your first ukulele will depend on the price you are willing to spend. While there are many ukuleles in the sub-$100 range, most of the time I recommend choosing a first ukulele at around the $150 price point. At that price, there is a good chance that you'll get a positive answer for the next 3 questions in our set, so if you're already serious about learning, setting aside a decent chunk of change for your first ukulele will usually save you a lot of headaches in the long run. Feel free to spend more or less based on what you can personally justify spending on a starter instrument and be sure to ask the next questions.
2. Does it feel comfortable?
As much as possible, I always recommend going into your local Sam Ash Music store and trying out as many ukuleles as you can possibly get your hands on. Sam Ash always has a vast selection of different ukuleles and guitars for this reason. Even if you don't know how to play anything yet and even if you're ultimately planning to buy online, by holding ukuleles in your hands, looking at them, and touching them, you will get a sense of what feels comfortable to you and what doesn't. Here are a few things to check and take note of:
– Hold the ukulele against yourself like you would if you were playing.  Does it fit well against your stomach? Does it have a comfortable size, shape, and weight?
– Run your hand up and down the sides of the neck.  Do you feel any sharp or rough edges?
– Turn each of the tuning pegs in both directions.  Does the motion feel smooth or is it hard to turn?
– Grasp the ukulele near the point where the neck meets the body.  Does the weight feel evenly distributed on both sides, or does it feel heavier towards the head (the part with the tuning pegs) or heavier towards the body (the big side with the hole in the front)?
A comfortable ukulele will feel nice against your body, be easy to hold for long periods of time, have no rough or sharp edges, easily turned tuning pegs, and an evenly distributed weight.  By trying out many different ukuleles and taking note of these things, you'll get to see a wide range of answers to your question of personal ukulele "comfort."
3. Can it be tuned?
Once you have found an ukulele that fits into the price range that you're willing to spend and feels comfortable in your hands, the most important question you can ask next is, "Can it be tuned?"  If you're in your local music store, ask a worker to tune the ukulele for you.  The ukulele has 4 strings and the note that each string should be tuned to, starting with the string closest to you when you hold it to play it, are: G,C,E,A (or A,D,F#,B in Canada).  Each of the strings must be able to be tuned to their proper note, or the ukulele won't be a functional instrument.  There are many toy and souvenir ukuleles out there that look nice, but don't meet this requirement, so if you find one that doesn't tune, don't buy it.
4. Does it stay in tune?
This final question might be the hardest to evaluate, but it is an important step in finding the perfect first ukulele.  Once the ukulele is tuned, does it stay in tune?  Because most new ukuleles come with new strings and because new strings tend to stretch, any freshly-strung ukulele will go through a period of time where the strings quickly go out of tune.  So tune up the ukulele to its proper tuning, do a little bit of strumming on it (or if you don't know how to strum yet, gently pull on each string for a bit) and have it tuned up again.  After a few times of this, the ukulele should stay pretty much in tune.  If it still falls drastically out of tune, that means either the tuning pegs are slipping or there is another structural problem.  Finding an instrument that stays in tune before you buy will save you in frustration down the road.
Beyond these four questions, there are many other options to consider:  What type of wood is it made of? (Different types of wood have different sound characteristics). Is it made of solid wood? (The sound of solid wood tends to get better with age). Does it have a pickup in it? (Pickups allow you to plug your instrument in for performing on stage). Does the ukulele look nice/cute/inviting? (You're much more likely to play your ukulele if you like the way that it looks).  But as long as the ukulele you choose satisfies the four main requirements outlined above, you should be well on your way to finding the perfect beginner ukulele.
So now, the fun part: go out there, look, listen, feel, and find the perfect ukulele for you.  And if you ever need someone to help you to learn to play it, there will always be someone available to share the aloha and show you something new.
Sam Ash Selections:
If you're planning on adding the ukulele to your many musical talents or just looking to pick one up to start a new hobby, Sam Ash Music Stores have everything you need to get going. Their friendly sales associates will work with you to find the ukulele that sounds and fits just right. They also have a huge selection of method books to get you started and sheet music so you can learn your favorite songs. Here are some Sam Ash selections for the most highly rated and recommended ukuleles you should check out.
Kala KA-PWC Concert Ukulele:
Crafted from Pacific Walnut with a Mahogany neck, the Kala KA-PWC delivers a warm tone with excellent resonance if you need to play with a group. The beautiful satin finish is adorned with classic binding for an elegant appearance. The instrument is also equipped with Grover open gear tuners, a solid option for ensuring your uke stays in tune.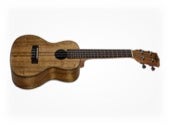 Cordoba 20 TM-CE Tenor Ukulele:
Made in the traditional Portuguese style, the Cordoba 20TM-CE is built using all Mahogany. The body features a slight cutaway design for enhanced comfort and easier access to the higher frets on the neck. The TM-CE also features a piezo pickup meaning it can be plugged directly into an amplifier for live performance in front of larger audiences. The chrome tuners keep the ukulele in tune and feature pearl buttons for extra beauty.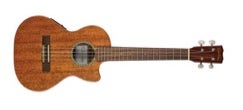 Kala Bocote Butterfly Soprano Ukulele:
Constructed of rare Bocote wood from Mexico, the Kala "Butterfly" style ukuleles feature an arched back for increased punch and sonic projection of each note. This ukulele has a beautiful finish with blending light and dark grain patterns, embellished by a maple/rosewood binding around the body and a custom butterfly inlay on your headstock.

Cordoba UP100 Concert Ukulele Pack:
Not only do you get a beautiful all-mahogany ukulele with a rosewood bridge, but this package also includes a travel bag, tuner, picks and a lesson book. The Ukulele itself is a solid option with a comfortable Nato neck with 18 total frets and solid tuning mechanism.

Lanikai SPTU-B Solid Spruce Baritone Ukulele:
 A ukulele's ability to stay in tune is vital. That is why Lanikai invented TunaUke technology, which lets you adjust intonation as needed without breaking out a tool set. The SPTU-B also sound great thanks to a solid wood spruce top mixed with mahogany back and sides.