Top 10 Inexpensive Signature Guitars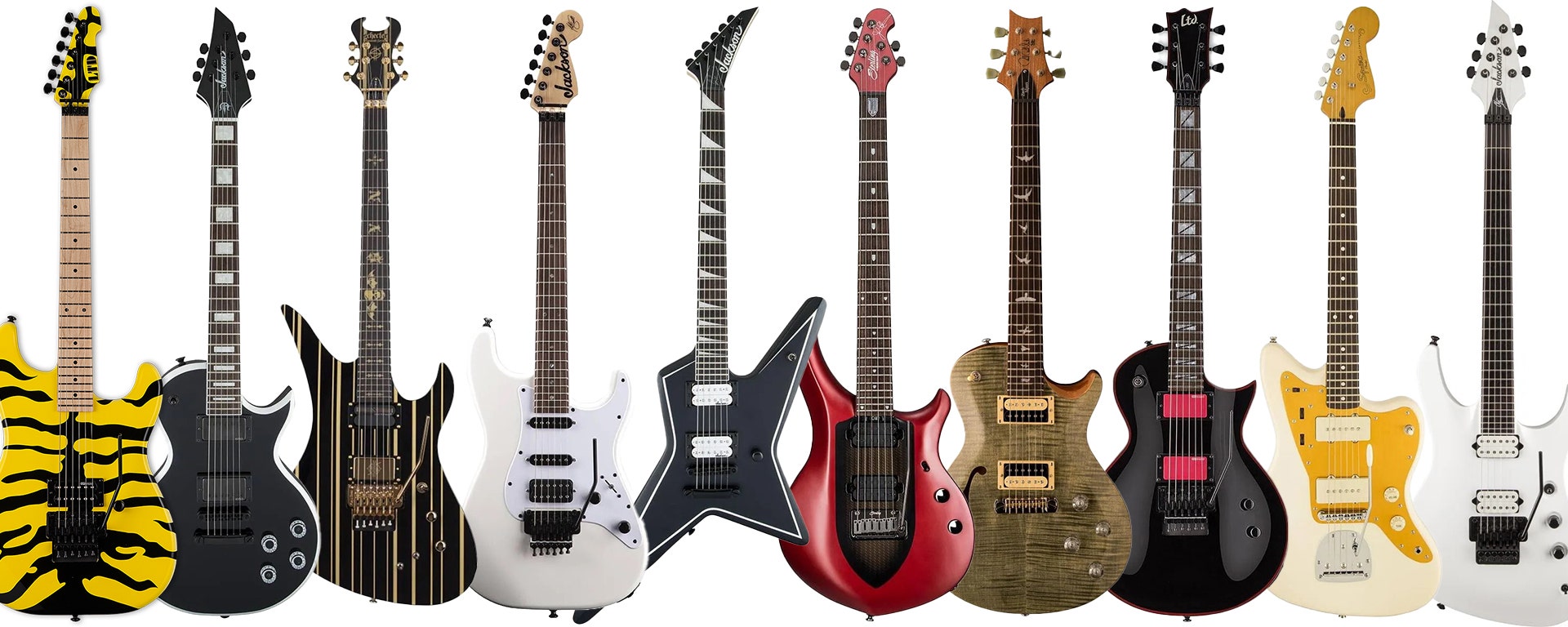 Submitted by David Slavković
If you're a guitarist, there's at least one famous player that you're obsessed about. We all have our personal heroes that got us into this wonderful instrument in the first place! And, in our constant pursuit of tone and performance, we'll also look to sound and play like them. So why not get one of their signature guitars?
But the very mention of "signature guitars" has us running away in fear of astronomically high prices. This label got a negative connotation over the years due to the higher costs of such guitars.
However, not all signature guitars are over $2000 or $3000. There are actually plenty of reasonably-priced signature models. Some of them even outperform their price tags!
You don't believe us? Well, maybe these signature models below will make you think otherwise! The best part is that there's something for everyone's taste, going from old-school blues and up to modern metal.
Jackson Gus G. Star JS32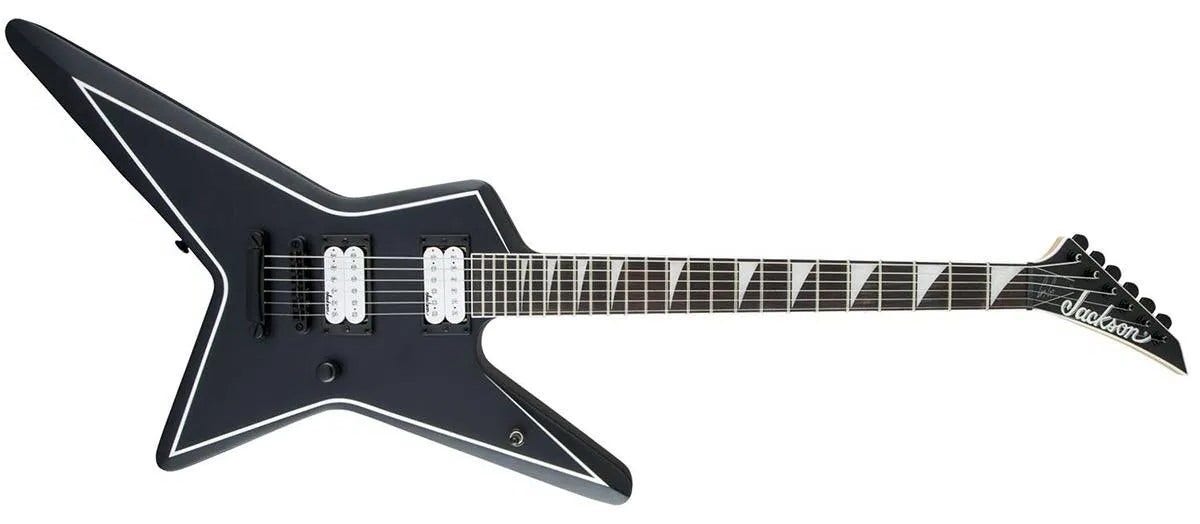 Jackson is already known for their surprisingly awesome yet very cheap Dinky guitars. But there's also a signature model within their budget-friendly line of guitars, the Gus G. Star JS32.
Now, this isn't the standard JS32, but rather an instrument with a pretty bold body design. If you're also into looking unique up on the stage, then this uniquely designed guitar will have you covered. We could say that it resembles Dimebag Darrell's guitar, bringing a different twist to this shape.
Although the electronics and hardware are simple, Jackson focused on quality rather than adding numerous features at this cost. There's the tune-o-matic bridge with a stopbar tailpiece, two Jackson humbuckers with "hot" output, a 3-way switch, and a volume knob. The lack of a tone knob might seem weird, but it's a great way to keep your tone sharper and heavier.
Aside from some nice design touches, the guitar has a compound radius fretboard, making it a great choice for lead players. This particular feature is not something that you usually find within this price level. So the Gus G. signature Jackson is way more than just a low-end guitar with a famous name slapped onto it.
Jackson Adrian Smith SDX

Another Jackson's guitar worth mentioning here is the Adrian Smith SDX model. The Iron Maiden guitarist has his endorsement with the company, and this budget-friendly option brings some of the qualities and features that are not typical of its price level.
The Strat-shape basswood body is accompanied by a maple neck. There are two variants depending on the fingerboard type, one rosewood, and one maple. But both come with a compound radius, making it easier to play leads on higher frets.
It comes with an HSS pickup configuration, with a high-output humbucker in the bridge and two stock Jackson single-coils in middle and bridge positions. We also have the standard configuration with a 5-way switch, and volume and tone controls.
Aside from a compound-radius fretboard, the Adrian Smith Jackson has a Floyd Rose Special tremolo bridge, as well as a locking nut. Although a cheaper variant, it still brings outstanding performance qualities.
ESP LTD George Lynch GL200-MT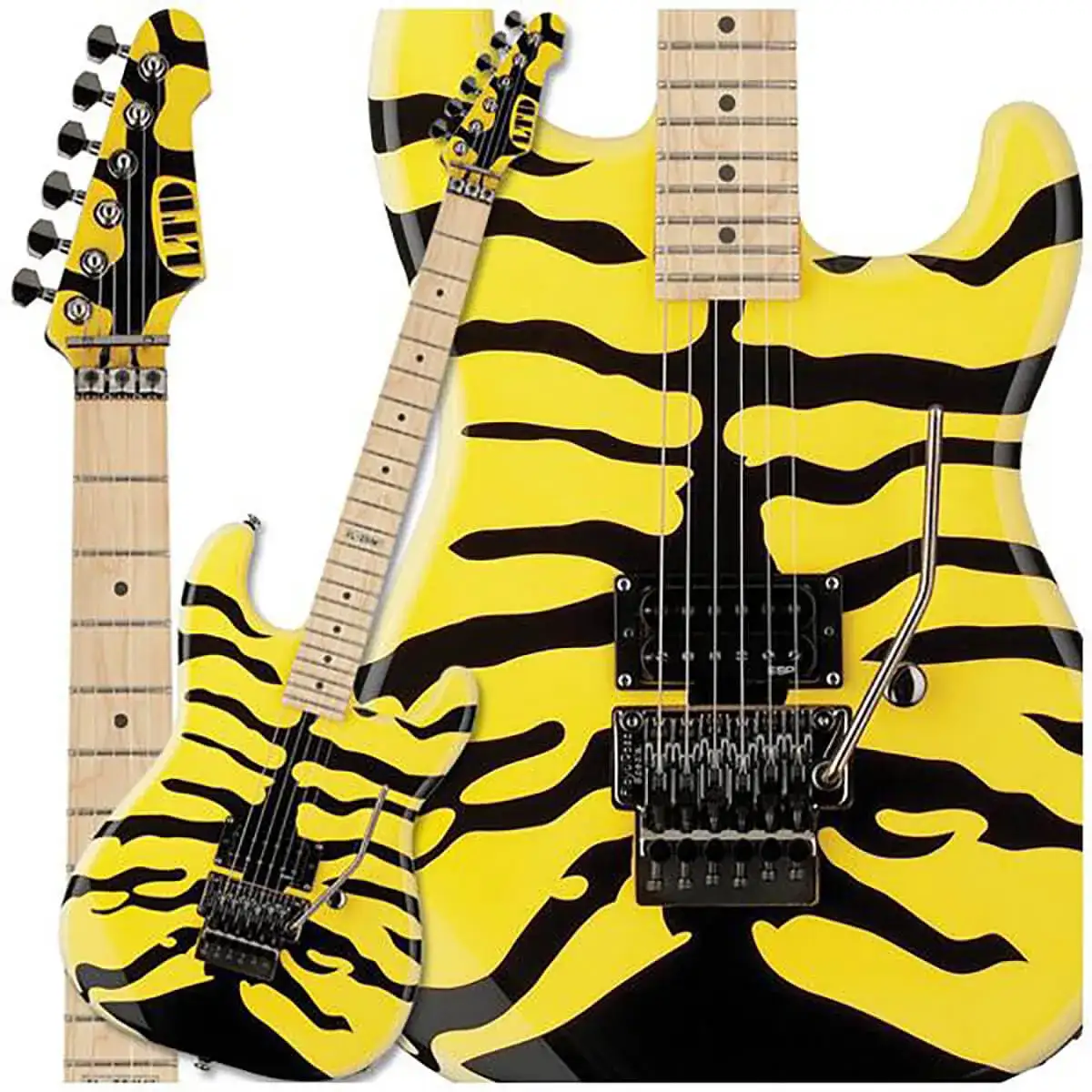 If you're a fan of the classic 1980s shredders, George Lynch has to be on your playlists. And it's not a surprise that such a virtuosic player collaborates with ESP and their subsidiary LTD.
Although a very reasonably-priced instrument, the ESP LTD GL200-MT is an outstanding one. Although essentially a "Super Strat," the guitar has somewhat simpler features. The idea was to keep a lot of high-end qualities with fewer features.
The guitar comes with only one humbucking pickup in the bridge, the company's LH-150B. It's a lower-output humbucker that lets you sound like you and allows for some dynamic response, despite being regarded as a "stock" pickup. There's only the volume control, but this setup helps you get a clearer tone.
Nonetheless, GL200-MT has a Floyd Rose Special tremolo and a locking nut. The tuning stability is pretty good, and along with a maple neck and maple fretboard, you'll get a very comfortable instrument to play.
ESP LTD Gary Holt GH-200
All the metal lovers are familiar with Gary Holt's work in Exodus and Slayer. If you're a fan of heavy-sounding stuff and ergonomic guitars, then we'd suggest you check out ESP LTD's GH-200, the Gary Holt signature model.
Its price is slightly higher than what you'd expect from budget-friendly guitars. However, what you get at this price is surprising. The body bears the classic single-cutaway "Eclipse" shape, a more ergonomic variant of the Les Paul. Aside from easy access to higher frets, it has that classic arched top.
The basswood body is accompanied by a bolt-on maple neck and a roasted jatoba fingerboard. Performance qualities are enhanced by the neck shape and extra-jumbo frets. Once again, we have a guitar with a Floyd Rose Special bridge and a locking nut, rounding up these instrument's features and qualities.
What's really awesome is that this guitar combines aesthetics with performance qualities. The humbuckers are metal-oriented LH-301, bearing red covers which complement the red binding on the edges of the body and the headstock.
Jackson Marty Friedman MF-1

Made by Jackson, Marty Friedman's MF-1 is one shredder-friendly and very versatile guitar. It has a Les Paul-like shape, but with a very comfortable body and neck joint and a headstock that keeps all the strings in a straight line.
Although we don't have some advanced features like the Floyd Rose tremolo, the idea was to cut some costs while keeping the basic features at a higher quality level. MF-1 comes with two humbuckers, four knobs, and a 3-way switch, just like on any standard Les Paul.
However, the guitar has a longer scale length of 25.5 inches, which is more typical of Fender-style guitars. Nonetheless, it still has 22 frets, and its pickups are EMG Marty Friedman signature ones. They aren't active, but they still bring quite a punch for heavier music.
The instrument not only looks unique but is also great for both rhythm and lead playing. Although gravitating towards metal music, we can definitely see this one in hands of other players as well.
Jackson Pro Series Chris Broderick Soloist 6

Just like Marty Friedman, Chris Broderick made his breakthrough while working with Megadeth. One of his favorite brands is Jackson, eventually getting his signature model within the company's Soloist series.
The Soloist 6 Chris Broderick signature model also has a cheaper variant that still keeps performance and sonic qualities at a high level. The one thing that makes it really stand out in our opinion is the access to higher frets. Its body comes with indents on both front and back sides where it meets the neck.
We also have a 25.5-inch scale length, 12-inch fretboard radius, Floyd Rose Special bridge, locking nut, and a pair of DiMarzio D Activator humbuckers. These pickups and electronics also make it stand out, especially knowing what these pickups are capable of. It's all rounded up with a useful 2-way killswitch for some extra "stuttering" effects if you're up for it!
Squier J Mascis Jazzmaster

Despite being a cheaper brand, Squier still makes some pretty awesome guitars. If you're into classic rock and blues stuff, then you should definitely check out their J Mascis signature Jazzmaster model.
It comes with all the classic Jazzmaster features, including the guitar's classic pickups designed by Fender. We also have the classic Jazzmaster controls, like the ones on original Fender models from back in the day. These might be a bit tricky to those who're not used to Jazzmasters, but it allows a lot of tone-shaping options.
Although it has single-coil pickups, we can notice a slightly "grittier" tone. But you can still make anything from those punchy funky tones, up to "fat" hard rock stuff.
The instrument also features the classic old-school tremolo bridge and tailpiece. This is the Adjusto-Matic floating bridge, allowing double action.
Although a cheaper variant of the Fender J Mascis Jazzmaster, this Squier guitar still keeps its original visual qualities. In fact, even a trained eye could mix them up if it weren't for the Squier logo on the headstock.
PRS SE Zach Myers

If you're a fan of hollow-body and semi-hollow-body guitars, the PRS SE Zach Myers model might interest you. What's really impressive is that this guitar keeps some of the pro-level qualities of higher-end PRS guitars while still keeping its price below the $1000 mark.
The body is a classic combination of maple and mahogany wood, forming a set-in construction with the guitar's maple neck. What we adored about it, however, is that it's a clever combo of ergonomic and aesthetic qualities.
The single-cutaway shape is accompanied by an indent on the front side of the body, allowing easier access. It's all followed by a slick and comfortable body design, as well as its unique "Myers Blue" finish.
Aside from PRS 245 humbuckers that gravitate towards vintage-oriented tones, we also have the PRS Adjustable Stoptail bridge. But despite the guitar's overall old-school style, it can do a lot of stuff, covering anything from old-school blues and jazz, up to hard rock and even classic metal. The semi-hollow body even helps you achieve some serious sustain.
Sterling by Music Man John Petrucci Majesty MAJ100

We're all familiar with Music Man and their groundbreaking John Petrucci Majesty guitars. And we're all familiar with their astronomical price, making it only a viable option for professional players. But there's still a viable alternative, the MAJ100 variant made by Sterling.
Of course, when it's less than the third of the original model's price, you can't expect it to be the same. However, the MAJ100 is still surprisingly great for its cost. Aside from the same body design and almost identical ergonomic features, we also have 24 frets and a 12dB clean boost.
While it lacks some features, like the Dreamcatcher bridge, DiMarzio pickups, and the piezo pickup, it still keeps its qualities at a high level. The bridge and humbuckers are made by Sterling, and they still seem pretty awesome at this price level.
Although not exactly the cheapest one, it's still far more than what you'd expect. It's a real shred-oriented instrument, although we'd recommend this guitar to anyone who's looking for a pro-level guitar at a reasonable price.
Schecter Synyster Gates Custom-S
Finally, we'd like to mention Schecter's now-famous Synyster Gates Custom-S model. Sure, most people associate it with metal music. However, you'd be amazed at what this instrument is capable of.
Aside from unique aesthetics, we have Synyster Gates humbucker in the bridge position and a Sustainer pickup in the neck. The Sustainer comes with additional features, including its "infinite" sustain (or as long as the battery allows it).
Then there's also the Floyd Rose 1500 tremolo bridge and locking nut for super-stable performance. We'd also point out the guitar's very comfortable neck, as well as very easy access to higher frets.
Again, we have a guitar with a relatively higher price tag. However, just like with many other Schecter guitars, it surpasses its price category. Honestly, the Syn Gates Custom-S is one of the most underrated guitars, allowing a lot of versatility and functionality to lead players.