Ibanez Steve Vai JEM: Guitar History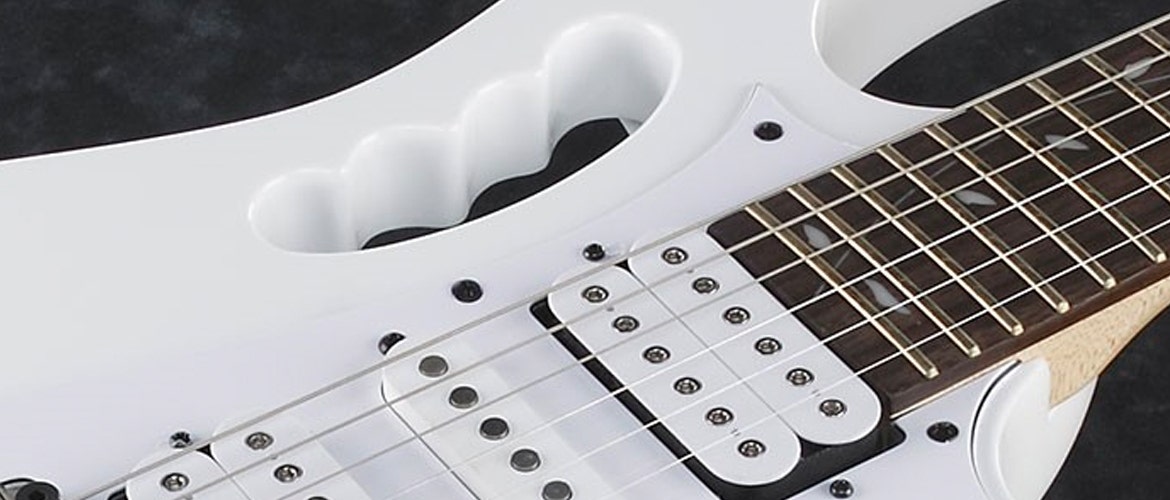 Submitted by David Slavković
Among all the instruments, the guitar is probably the one that saw the most changes in its design and features. As the guitar players kept pushing the boundaries throughout the '60s and the '70s,  the appetites grew and it was only a matter of time until someone was going to combine the best of two worlds – the playability of Fender Stratocasters and the powerful sound of Gibson Les Pauls and SGs. It was Eddie Van Halen who did it first by making his famous Frankenstrat guitar and creating the "brown sound" on his amp. However, there was someone ready to push the boundaries even further. Well, no one could have done it better than young and talented Steve Vai who, in the mid-1980s, already got some serious experience playing with Frank Zappa and David Lee Roth.
Being a newcomer to Roth's band, Vai's demands grew and he really needed a guitar that would help him express himself better, while still being able to pull out those crushingly heavy tones. Before you knew it, just a few years later, the guitar world was conquered by a brand new line of guitars – Ibanez JEM series. And that's all thanks to Vai's own design ideas. How did this exquisite instrument come to be? Well, let's find out!
The birth of JEM
As Vai once explained, he really wanted to play the guitar with a whammy bar. But at the same time, Stratocaster's sound was just underwhelming to him. On the other hand, while he loved the sound of Gibson Les Pauls, he wasn't exactly satisfied with their shape and overall lack of ergonomic features.
Stuck with his Strat, everything turned upside down when Vai saw what Eddie Van Halen did on his custom guitar, so he decided to follow in his footsteps and make something of his own. Something with 24 frets, more accessibility to higher notes, and – above all – sexier shape.
So he went to a certain guitar builder in Los Angeles (sources state that it was Performance Guitar) and presented him with the new innovative design. This guitar had features that Vai desired: 24 frets, top 4 frets scalloped, deeper cutaway, sharper design, humbucker-single-humbucker configuration with 5-way switching, Floyd Rose tremolo bridge, and a peculiar looking hole in the body, which later turned into the "handle" or the "Monkey Grip" you see on today's Ibanez JEMs.
Talking about the 5-way switching, this wasn't the ordinary 5 pickup combination you'd find on a guitar like Fender Strat. While Vai loved the rough and aggressive humbucker sound, he also wanted those crunchy single pickup combinations. Positions 2 and 4 do the coil splitting of the bridge and the neck humbuckers so you get these middle combinations emulating the classic tones of a conventional Fender Strat. This particular feature was pretty revolutionary for the times.
But the thing wasn't yet complete as Vai wanted to go both up and down in pitch, while his tremolo bar was only able to go down. So in order to make it go sharp, he needed to lose some of the wood in the guitar body right behind the bridge. Being a young talented enthusiastic musician and an innovator, he took a hammer and a screwdriver and made a hole behind the bridge, deep enough so he could go sharp on his whammy bar. Pretty radical.

Teaming up with Ibanez
Steve Vai sent his design over to a few companies out there, with the idea to start making his own signature lines of guitars. After a few manufacturers basically presented him with their own standard models just with Vai's name printed on them, he finally found a potential partner in Ibanez as the company followed through all of his demands. Including the quirky looking handle that all his signature guitars are now very well known for.
The very first variant he received was the Maxxas by the Japanese builder Hoshino Gakki who worked closely with Ibanez. The JEM guitars were developed from this model, which was later produced under the Ibanez brand. It featured a semi-hollow body, Floyd Rose tremolo bridge, 24 frets, and the 25.5-inch scale length – all of which were the specs that Vai desired.

After a few months and some additional modifications, the new guitar was finally presented to the public in 1987. The whole thing was finalized by putting in DiMarzio pickups, which are to this day present in most of the JEM models.
One of the main priorities for Steve Vai and Ibanez was making a consistent product – making them all look the same, feel the same, and weigh the same. What's really interesting here is the fact that the JEM series were the first-ever mass produced guitars to be made out of basswood. It is also easily recognizable not only by the Monkey grip but also by the "lion's claw" tremolo routing. Most of the JEM models also have frets 21 to 24 scalloped, which is another of the series' well-known features.
Notable models
The whole JEM series is divided into main sub-categories, plus a few special additional models produced over the years. These main categories are labeled as JEM 7, JEM77, JEM777, JEM555, JEM505, and JEM333. The 7-string version was also developed, although that was made into separate series called Ibanez Universe.
Most of the JEM guitars were made with basswood or alder bodies, maple necks, and rosewood, ebony, or maple fretboards. All of the models feature the H-S-H pickup combination, almost all of which are DiMarzios.
JEM777
The 777 was the first JEM guitar presented by Ibanez, back in 1987. A few different color patterns were available: JEM777SK Shocking Pink, JEM777LNG Loch Ness Green, and JEM777DY Desert Yellow.
There were some other variants, like the very rare 777VSK Vine Shocking Pink, with less than 100 of these made only in 1988.
The 30th-anniversary edition with the LNG finish was produced in 2017.
Produced until 1996, these featured DiMarzio PAF humbuckers and the DiMarzio JEM single pickups, Gotoh SG38 tuning machines, Edge or Lo-Pro Edge tremolos, Top-Lok III nut, basswood body, maple necks with top four frets scalloped.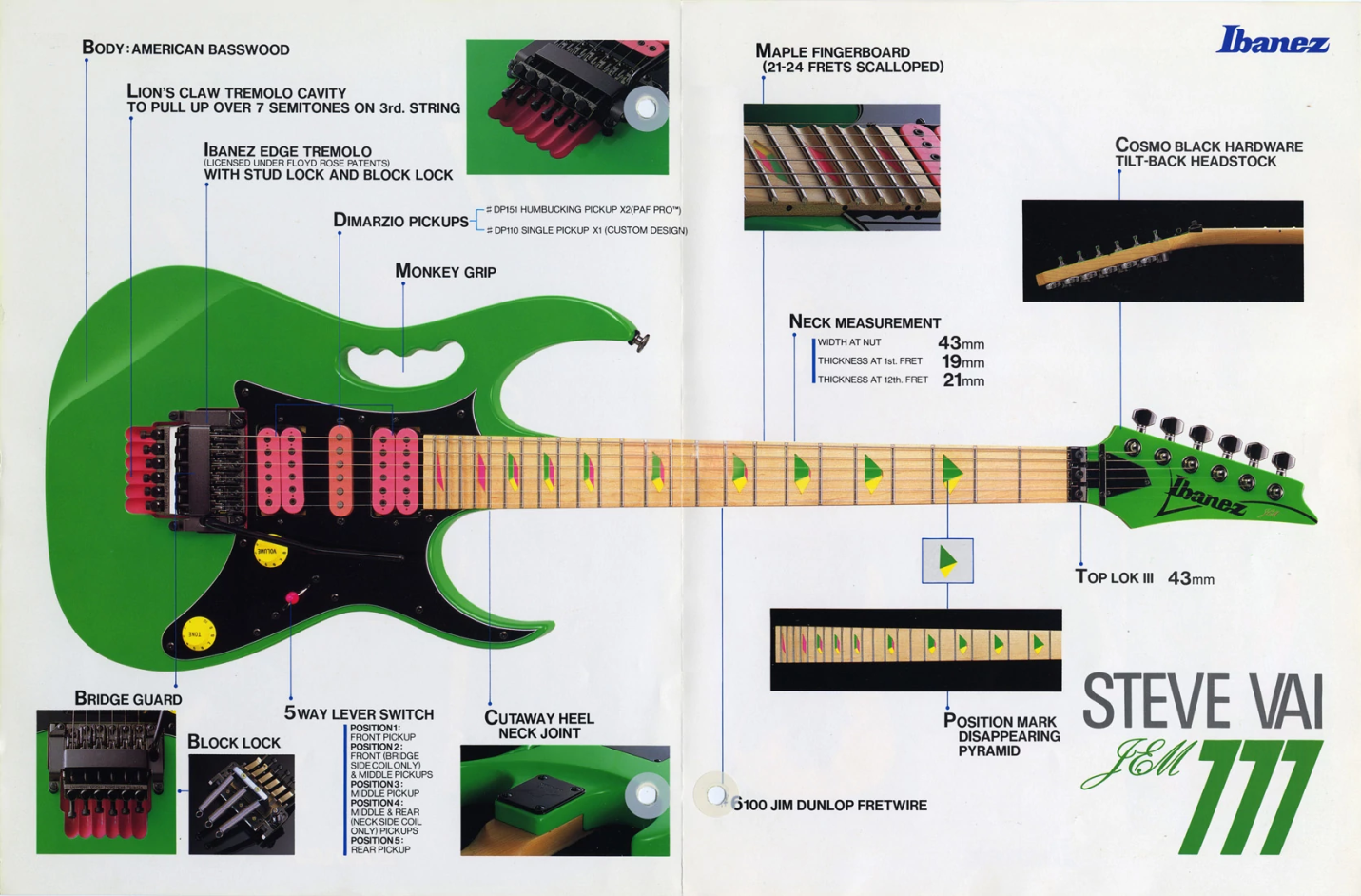 JEM77
The 77 was introduced in 1988 and had either the recognizable vine inlay, the disappearing pyramid inlay, or the regular dot inlay. The JEM77FP had the wonderful Floral Pattern color finish, pink pickups, pink pot caps and the selector switch cap, as well as the pink Ibanez logo on the headstock.
Various different models were also produced over the years, like the GMC Green Multi Color, PMC Purple Multi Color, FP2 Floral Pattern 2, and others such as the JEM77BRMR Black Rock Mirror.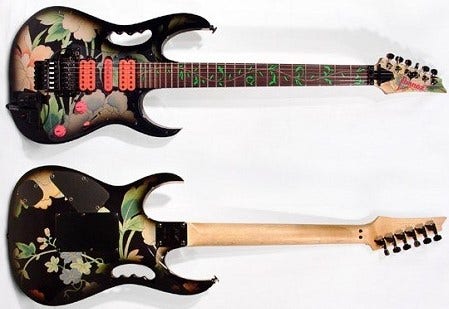 JEM7
Many JEM7 models have been made over the years with only the JEM7VWH, featuring vine inlay white finish and alder body, remaining in production to this day. These guitars are often known as "Evo" due to their DiMarzio Evolution pickups. They also feature maple/walnut combination necks.

JEM555
The 555 was a model produced in Korea, as opposed to other JEMs which were manufactured in Japan. It was conceived as the more affordable version of the series. While not that successful, due to the fact that it received negative feedback from the US buyers, it was the first model to feature a left-handed variant, the JEM555L.

JEM505
Although produced in Japan, the 505 was somewhat of a budget version, the cheapest JEM produced in the country. While sold as Ibanez, these were crafted in FujiGen Gakki, the manufacturer that is also known for making the Prestige series.
While it had some classic JEM features, they reduced the building costs by implementing the regular dot inlays, Ibanez pickups (instead of DiMarzios), and cheaper hardware. It was produced in 2010 and 2011.

JEM333/JEM-JR
First made in Korea from 2002 to 2004, the JEM-JR or JEM333 was later moved to Indonesia and produced until 2012. These were, by far, the cheapest of all the JEM models out there. It had a basswood body, maple neck (1-piece for Korean and 3-piece for Indonesian), rosewood fingerboard with dot inlays, double locking tremolo, and Ibanez Infinity series pickups.
It is not to be confused with the JEMJR, aka JEM Jr., which was introduced in 2019. Also built in Indonesia, these guitars have jatoba fingerboards (previously rosewood), meranti bodies  (previously mahogany), Ibanez Quantum pickups, and the Wizard III necks.

The legacy of JEM
While we tend to take any guitar model (or a pedal, or an amp, or any other piece of gear) for granted, we should never forget how some of these came to be. This could especially be said about Ibanez JEM series as they have pretty much turned the world of guitar upside down. While we see the Superstrat on every corner these days, it was Steve Vai who properly fused the best of Fender and Gibson into one guitar, made it more ergonomic, and added new features. On top of all that, he and Ibanez managed to create a range of mass produced quality guitar models and make them accessible to guitar players worldwide.
Anyone from prog metal shred virtuosos, over nu-metal players like Munky and Head of Korn who used the 7-string Universe models, all the way to famous mainstream musicians like Adam Levine of Maroon 5 – it seems that the Ibanez JEM has conquered the world.