Tascam Model 16 & Model 24 Mixers | Everything You Need to Know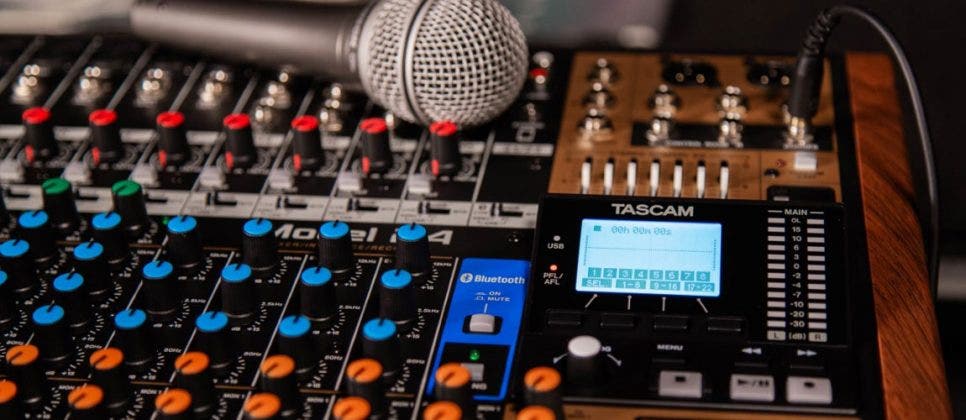 Arguably above everything else in the modern music production era, accessibility is what separates it from various other points in that art form's history. This doesn't just apply to the practice of production either; there's never been an easier time to distribute, stream and market your own music to a mass audience. It's undeniable how important this is for underground musicians looking to build a brand and image, or mold a career for their beat-production talents, singer-songwriter abilities and multimedia composition gifts.
Regardless of whether you're the next big pop act, an aspiring film scorer or sizzling session musician, you need to be up to snuff with your gear. Knowing how to take what your magical musical mind creates and capturing it in analog and/or digital form is vital to your success. Tascam understands your desire to achieve all of this, which opens up the floor to their Model 16 & Model 24 mixers.
This guide breaks down the fundamental components for each of these jam-tastic juggernauts taking center stage in your mixing session, live performance or creative workflow. Hallmarked by versatility, progression and that signature Tascam professional polish, allow the Tascam Model 16 and Tascam Model 24 to blow you away and re-invent what it means to be an analog unit in the digital age.
—
Tascam Model 16 All-in-One Mixing Studio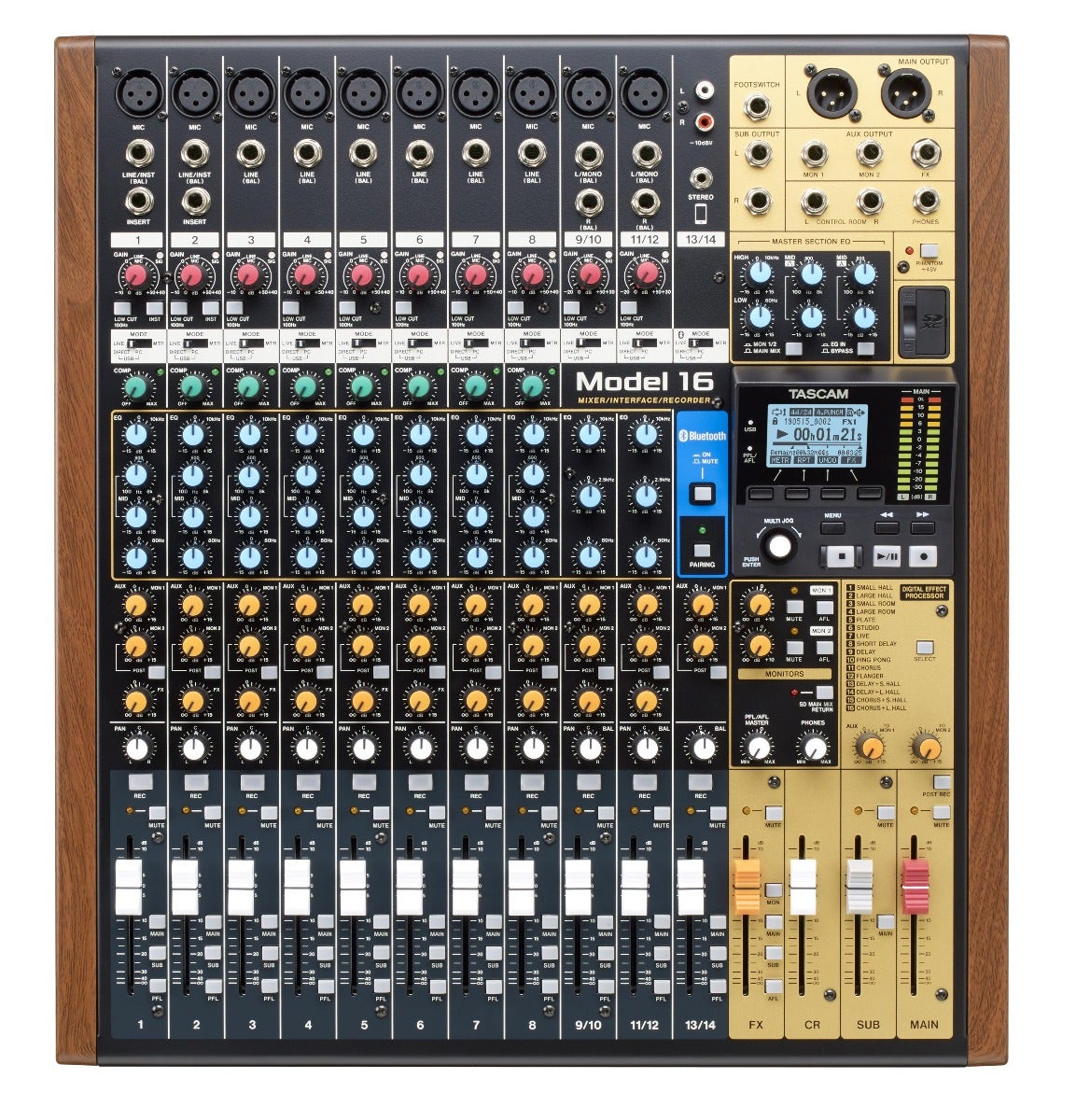 The Tascam Model 16 All-in-One Mixing Studio most certainly lives up to its Swiss Army knife functionality. The "all-in-one" part of its name encompasses the seemingly infinite scenarios where music needs to be recorded, captured, mixed and distributed. With versatility at the top of so many musician's lists when on-the-hunt for new gear, the Tascam Model 16 fits the bill.
To get the ball rolling here, it's worth observing that this audio juggernaut is an analog mixer, which is not something you necessarily see every day in the digital age. Analog used to be the go-to for engineers and producers out of necessity, before digital audio workstations, work-from-home studios and accessible means of recording stole the hearts of producers across the globe. What makes the Tascam Model 16 so special is its desire to bridge the gap between analog and accessibility in today's production market. By blending that classic analog warmth and saturation with the functionality of a digital workflow, users get the best of both worlds here for audio aesthetic and pure tone.
On that note, let's take a moment to acknowledge that pure tone that has won over so many engineers and Tascam die-hards. Courtesy of HDDA (High-Definition Discrete Amplifier) technology, sound reproduction on the Model 16 offers transparency and accuracy with ultra-low noise and even lower latency. Imagine your favorite home-studio audio interface, but with a more robust sampling rate (24-bit/48 kHz) and familiar degree of efficiency. Sandwiched in between such savory audiophile artistry is the fact that the Tascam Model 16 offers a cheese platter of versatile effects for that professional mix polish, including reverb, delay, chorus and flange. With that control also applying to a 4-band EQ, it's never been easier to get your hands dirty for sculpting the perfect mix.
This display of mixing excellence begs the question: what is the best application for the Tascam Model 16?
Versatility exists at the core of this impressive console, demonstrating a confidence for any type of recording session. Right at your fingertips, you'll have the control to manipulate 14 inputs and 2 main mix tracks, in a traditional mixing board fashion. With so many options for tracks available, you'd be in good order working the Tascam Model 16 into your band's home recording session. Mic up the drum kit, amplifiers and lead vocalist with zero issues and plenty of space for beefing up the production. These same principles can be applied to a smorgasbord of other studio or live sound applications as well; houses of worship jam-packed with instrumentalists and preachers of your faith can run through these channels and be mixed with careful attention to the acoustics and reverb in the church/synagogue/mosque.
Tascam Model 24 Digital/Analog Hybrid Mixer with Multi-Track Recorder
Prius is to the hybrid car as Tascam is to the hybrid mixer (as Linkin Park is to Hybrid Theory). The way triple-doubles are revered in basketball echoes similarly for the functionality of the Tascam Model 24 Digital/Analog Hybrid Mixer with Multi-Track Recorder; this unit is a monster with its triple threat ability for a recording experience unlike any other. Between a 22 Channel Live Mixer, 24 Track Digital Multi-Track Recorder and 24 Channel USB Audio Interface, users have a dynamic trio of approaches for bringing their sounds to the forefront with strikingly pristine quality.

Despite looking intimidating, this mixer is going to be your best friend. The perfect analog counterpart to your digital audio workstation of choice, the Tascam Model 24 grants engineers a fluid signal route to and from your computer without delay or hesitation. If you're producing music from home consistently, perhaps as a composer for television, look no further. This simplicity, as far as connectivity is concerned, will be a blessing for your home studio workflow and your desire to fuse elements of digital and analog in a creative space.
In a live setting, or if an entire band is being recorded, the Tascam Model 24 has more than enough juice to bring home the proverbial bacon. 24 tracks of digital audio offer engineers and producers a bevy of options for micing up drum kits, choirs, guitar amps or other organic instrumentation in an orderly fashion. Overdubs, punch-ins and other fine intricacies of the recording process are a breeze here, and the end result is a dynamic mixing experience in real-time. If you're one of those unique talents that takes the time to perform each and every instrument on their recordings, you'll have more than enough beef on this unit to do that, as well. Confusing layouts with annoying submenus and presets lost in the ether are non-factors here.
Of course, we'd be remiss to neglect how awesome this mixer's actual layout is. With such a sexy interface and a convenient array of controls for your sonic pleasure, it's no wonder why the Tascam Model 24 is such a staple component to the production flows of so many professional studio wizards. Smooth-as-butter 100mm faders and a one-knob compressor on select channels give users a head-start for setting levels, volume and compression. A 7-band EQ lets the most meticulous of audiophiles scoop out frequencies across the entire spectrum, and dual monitor sends offer someone behind the board the potential for pristine stereo width. Truth be told, this unit stands the test of time, staying relevant and essential in the digital era while demonstrating a "Throwback Thursday" analog philosophy.
—
Blend the warmth of analog and the innovation of digital with Tascam mixers at SamAsh.com today.