Tascam DR Recorders: Everything You Need to Know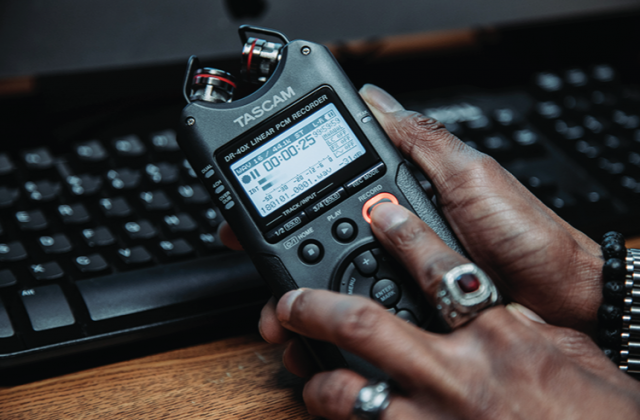 Harder, Better, Faster, Stronger – you hear the Daft Punk anthem/Kanye West sample, we at Sam Ash hear a list of qualifications for audio production in the digital age (doesn't Daft Punk also have a song called Digital Love?).
Prepare to enter the most beautiful of marriages with digital recording in the modern-production world. Now, more than ever, it's possible to achieve pristine-sounding audio without a Trojan Horse-sized array of gear. This even applies to location and setting; you don't need to lock yourself in a major studio for hours on end. With such an emphasis on working on-the-go and taking your audio gigs remotely, it's evident that digital recorders need to be able to accommodate to your travels.
Time to get to know your new spouse. The Tascam Portable Digital Recorders (DR for short) are highlighted by an impressive attention to sonic detail, easy-to-use interface, convenient portability and a confident display of versatility to tackle any audio-based assignment. Between podcasts, vocals for original music, journalism, interviews, foley production and countless other potential opportunities for the recording of content, this library of Tascam DR products will have the right fit for you.
While each item listed in this buyer's guide is all but guaranteed to kick butt and delivers the good as far as elite-sound production is concerned, it's always essential to break down each one and how they'd cater to your audio needs. What may work for a podcaster may not necessarily be what someone out in the field may need, or a singer looking to hash out demos for their latest big release.
Without further ado, let the team at SamAsh.com give you the 411 with Tascam Portable Digital Recorders…
Handheld Models
If you've been working with audio for some time and make an active effort to keep it as a part of your daily routine, you know how demanding the craft can be. In recent years, it's become more accessible than ever to take your gear on-the-go for remote projects and DIY audio gigs. But, of course, this requires the proper equipment to execute the job.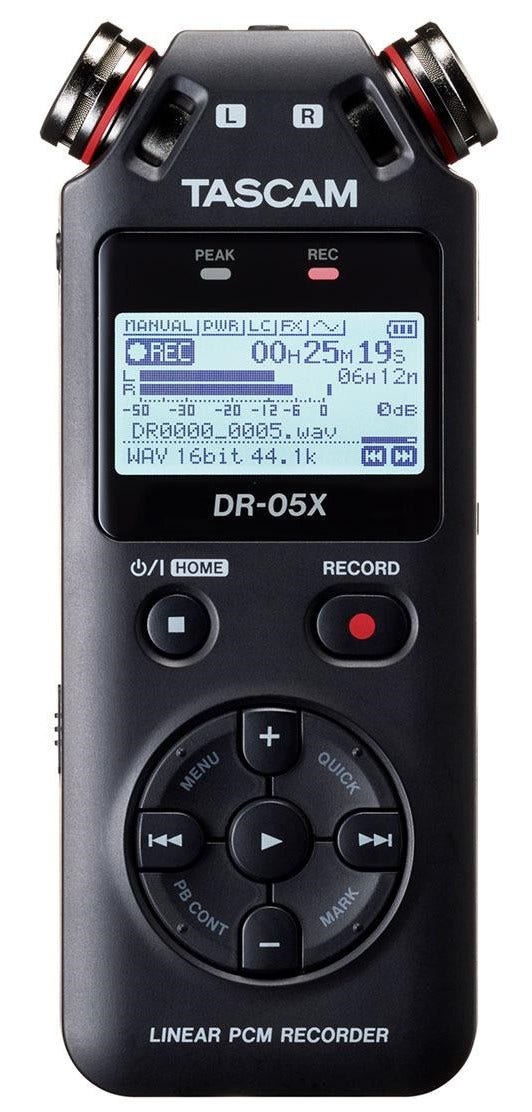 With that premium placed on transportation and portability, the Tascam DR-05X Handheld Portable Recorder provides a perfect launch-point for this discussion. The DR-05X demonstrates excellent sound quality with a wallet-friendly price and user-friendly interface. With two stereo omni-directional condenser microphones working together to capture wide dynamic range and sound up 125 dB, it's never been easier to capture your recordings with the utmost attention to detail. When you get home and kick your shoes off after a long day of audio recording, you can connect the DR-05X to your computer via USB Audio Interface mode, transforming this device into a one-stop-shop for audio mixing. And with various functions in place to assist in the vocal capturing process, like Jump-back and Speed, it's never been easier to transcribe the human voice.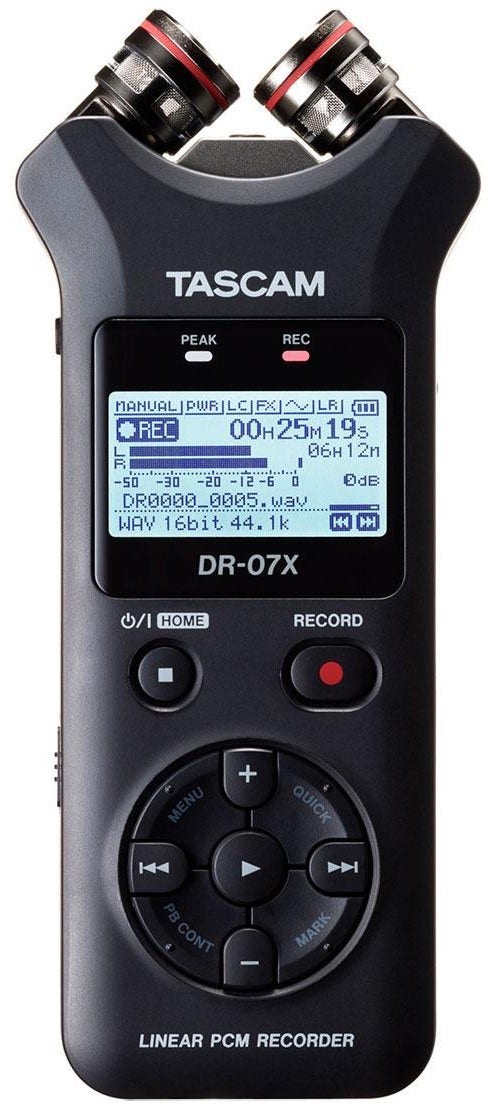 Pretty sweet, right? We'd agree. Don't limit yourself though, as the Tascam DR-07X Handheld Portable Recorder takes all of those same features and sprinkles on some extra pizzazz, salt-bae style. For one, a simple yet robust microphone-placement configuration grants users the ability to adjust the unidirectional microphones included with the DR-07X. With the opportunity to place these mics into both A-B or X-Y positions, audio aficionados will drool over the widened stereo sound and minimal phasing faux pas.
Wait… what does that even mean?
A-B configuration, in a nutshell, will provide a wider stereo horizon, opening up your mix and giving its element space to breathe. X-Y configuration, however, finds that sweet spot in the center, tightening the stereo image and implying more of a mono sound. This flexibility for microphone configuration makes the DR-07X is an asset for engineers looking to record instruments, bands, ambient soundscapes, choirs or anything with that "larger than life" feel.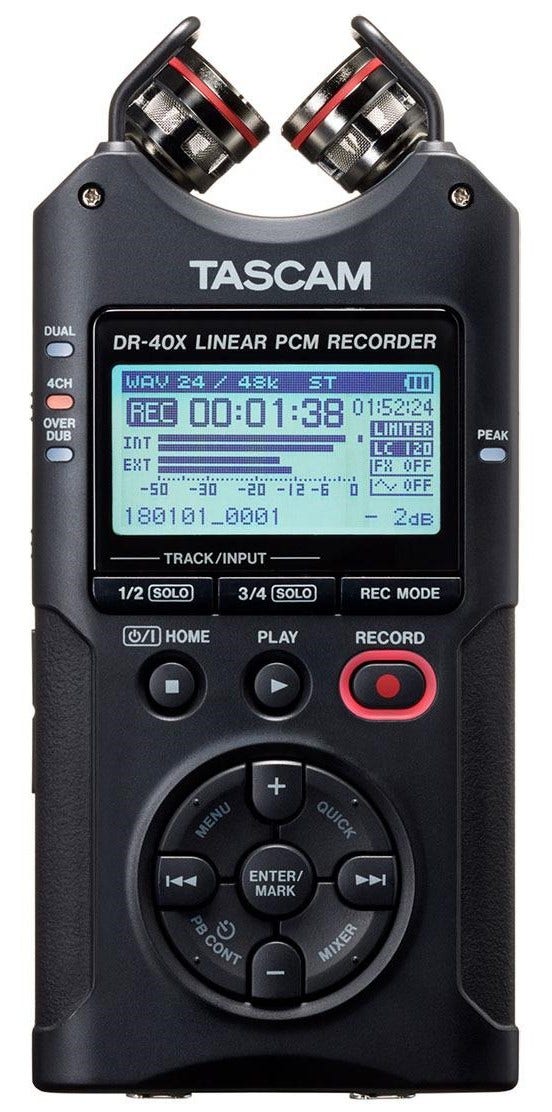 If live sound is a big part of your audio adventures, look no further than the Tascam DR-40X Handheld Portable Recorder. Dual Neutrik XLR/TRS combo jacks support both mic-level and +4dBu line-level, with plenty of gain and +48 phantom power. Looking to really enhance that live experience and make the audience an instrument, in a sense? Nothing at Sam Ash gets us more fired up than an audience going nuts over an epic drum solo. Built-in unidirectional stereo condenser microphones will capture the sound of the roaring crowd without overwhelming the band, resulting in a whirlpool of sonic excellence at a professional level. A 4-channel mode offers more options, as far as dual recording and overdubs are concerned. The more, the merrier! Never stress about capturing the raw energy of a live performance with the Tascam DR-40X in-hand.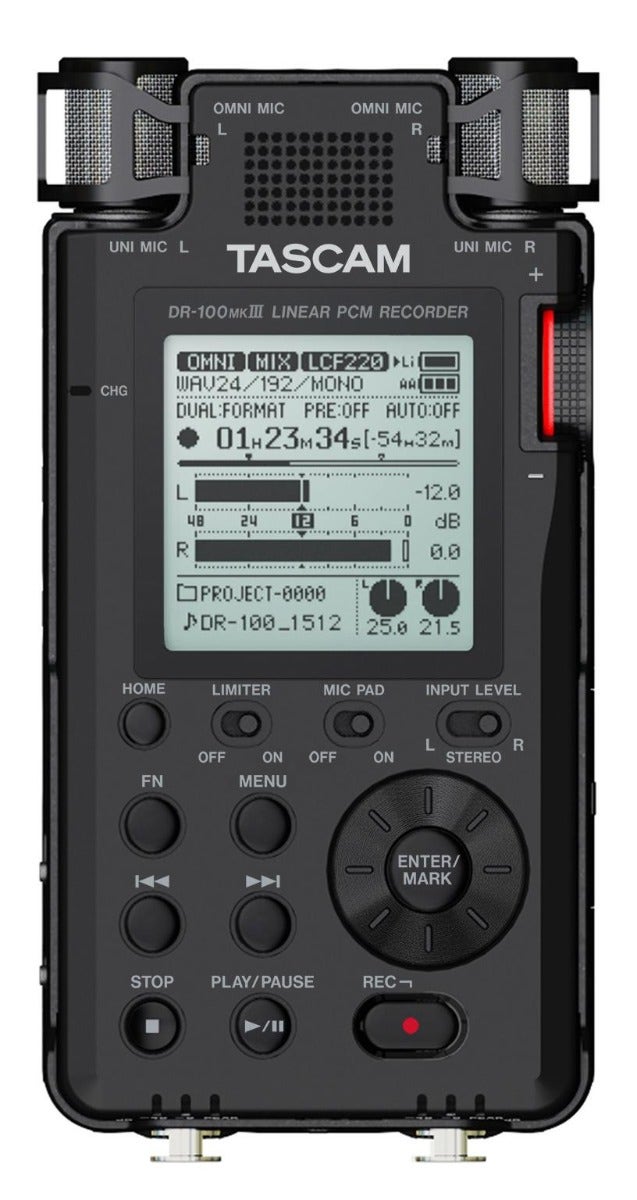 Let's dive even deeper, shall we? Hold onto your hats, because this is where digital recorders really step up to the plate and strike one out of the park. The Tascam DR-100 MKIII Portable Digital Recorder is met with two big thumbs-up from audio designers and engineers alike, with its four built-in microphones (two cardioid, two omnidirectional), two independent AK4558 ADC converters and maximized signal-to-noise ratio. Fine adjustment can be made the input level on the DR-100, with independent volume manipulation for the left and right channels. Best of all, this tough-as-nails digital recorder demonstrates studio-like tendencies with its locking XLR/TRS inputs compatible with +4dBu line level and +48V phantom power, with 20dB of headroom. It's practically an audio interface that fits like a glove. The fact that all of this is displayed in such a handheld-style unit is truly remarkable, and a testament to the innovative minds at work down at Tascam.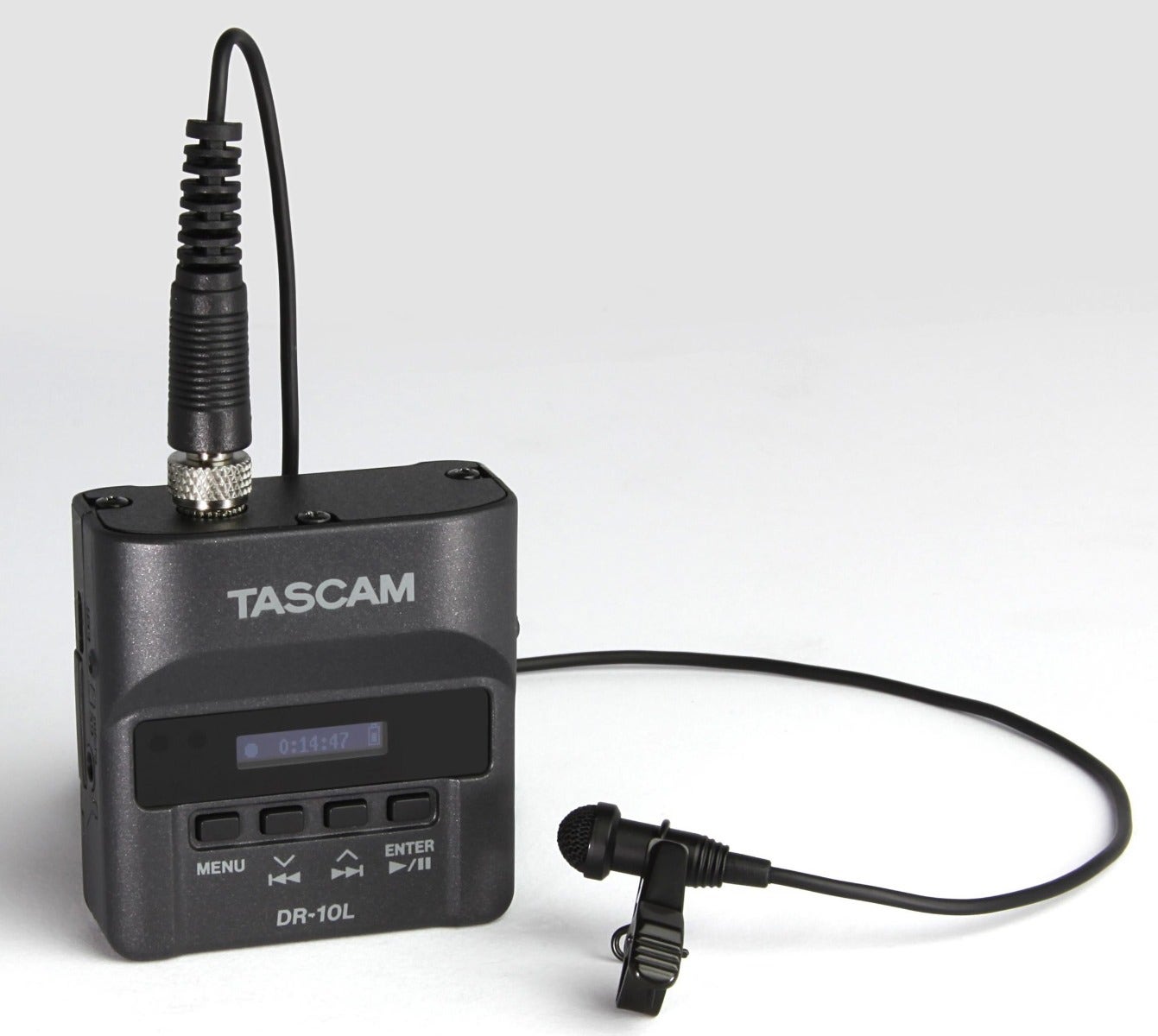 Our last selection in the wonderful world of handheld recorders, this unit looks a bit different from the previous selections. Described as discreet, easy to conceal and slick, the Tascam DR-10L Portable Digital Audio Recorder can be totally hidden on-camera if videography is a core component to your project. Documentary interviews, weddings, on-air talent, you name it; you'll get the perfect shot with perfect sound, and not a hint of the DR-10L will be seen. This unit comes with a lavalier microphone, ensuring high-quality sound and professional performance. Because it's so easily worn, it makes for a versatile little recorder with impressive sound, without the hassle of excess gear. This unit will be your best friend when it comes to smooth, no-nonsense audio in a wired capacity.
Field Recorders
While everything from this selection of recorders boasts a convenient degree of portability, it's evident that certain models are designed for a handheld-type of interface, while others tend to be a little bit bulkier as far as carrying purposes are concerned. In the case of Tascam DR models, the 70D, 60mkII and 680MKII  look a smidgen different from what you may see with a handheld unit. They also have a tendency to be a bit more robust, with more options for audio output, more channels to play with and higher definition mic preamps for stellar sound. They may even look more like a traditional audio interface in your home studio, potentially offering a familiar experience and overall layout, depending on your past audio experiences.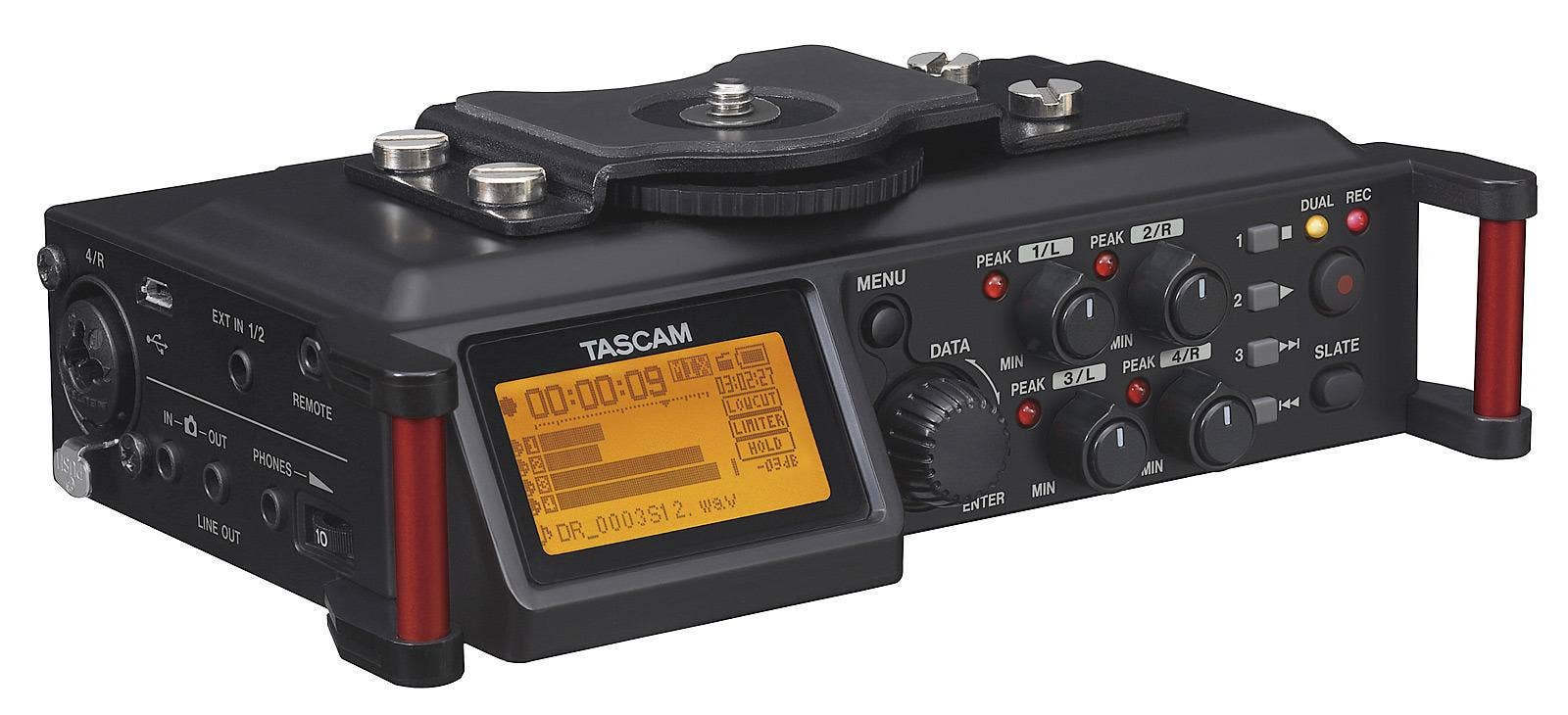 Often times, creatives out in the field will find that their audio gig isn't just fundamentally rooted in sound. There may also be video accompaniment, where picture and sound work harmoniously in an effort to make the most of that artist's particular experience. Introducing the Tascam DR-70D 4-Channel Audio Recorder, highlighted by its ability to be mounted directly between a tripod and camera. Rest assured, though, that it won't be an obnoxious add-on to your production rig. Quite the opposite! Tascam designed the DR-70D with minimalism and size in mind, making it a seamless part of your camera's setup. With a slate tone generator and recordings at resolutions up to 96 kHz/24-bit supported, this is a perfect solution for videographers and for those looking for a compact audio unit to take on-the-go.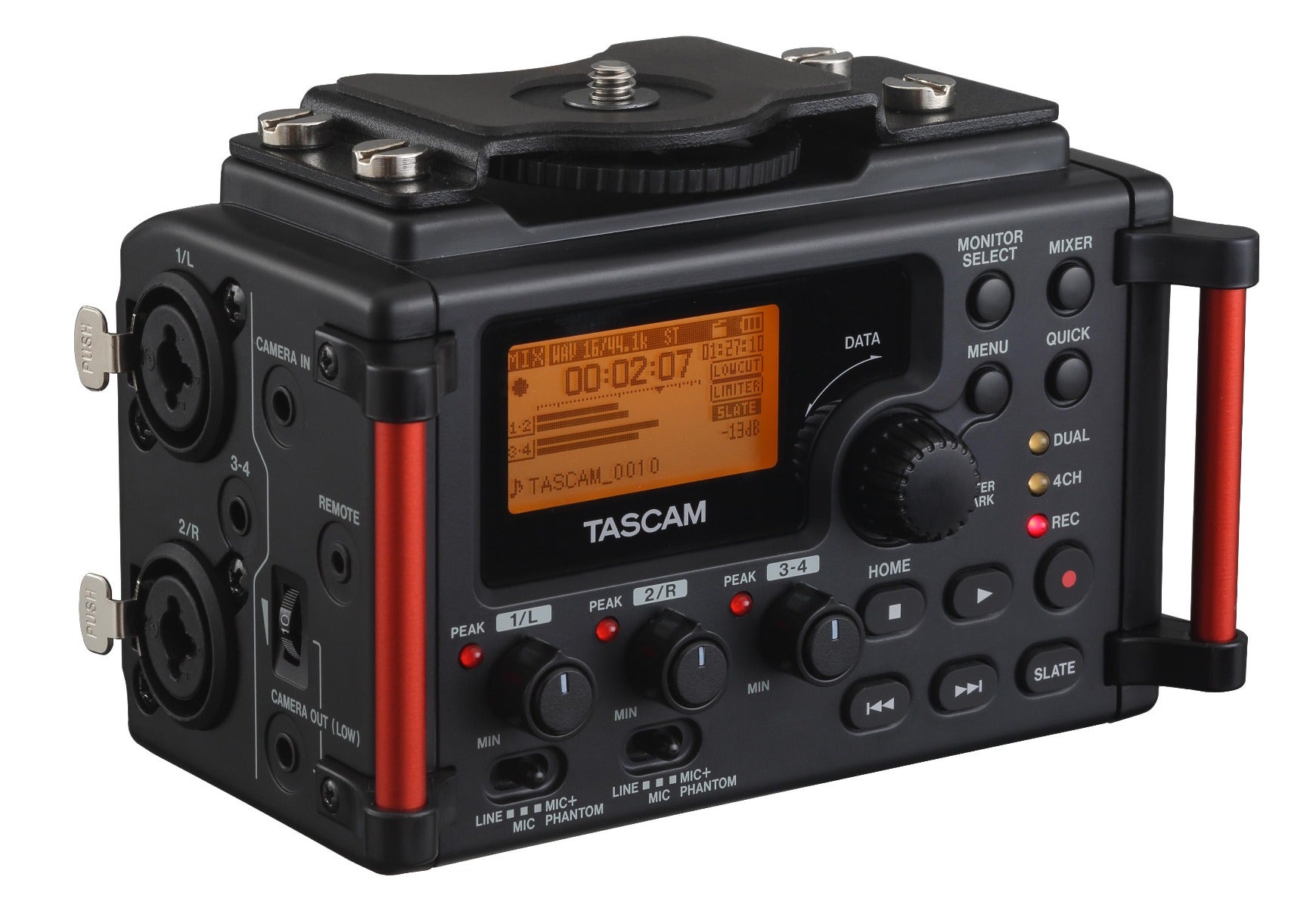 Also particularly useful for those interested in film is the Tascam DR-60mkII Portable Field Recorder, with an eyebrow-raising fair price and multiple audio-video functions for the traveling creative. Looking to work with Premiere and Final Cut? Makes sense, if video is your groove. Automatic clip synchronization makes editing with your DR-60mkII work a breeze, Dual Recording mode gives you an opportunity to create a "safety net" track in the event of a disaster. Of course, we hope your initial track isn't distorted or erased, but it always helps to have a backup when the unexpected happens. To take even further measures against clipping and distortion, the DR-60mkII has a built-in limiter. We consider this digital recorder a great fit for filmmakers, web broadcasters and YouTube personalities.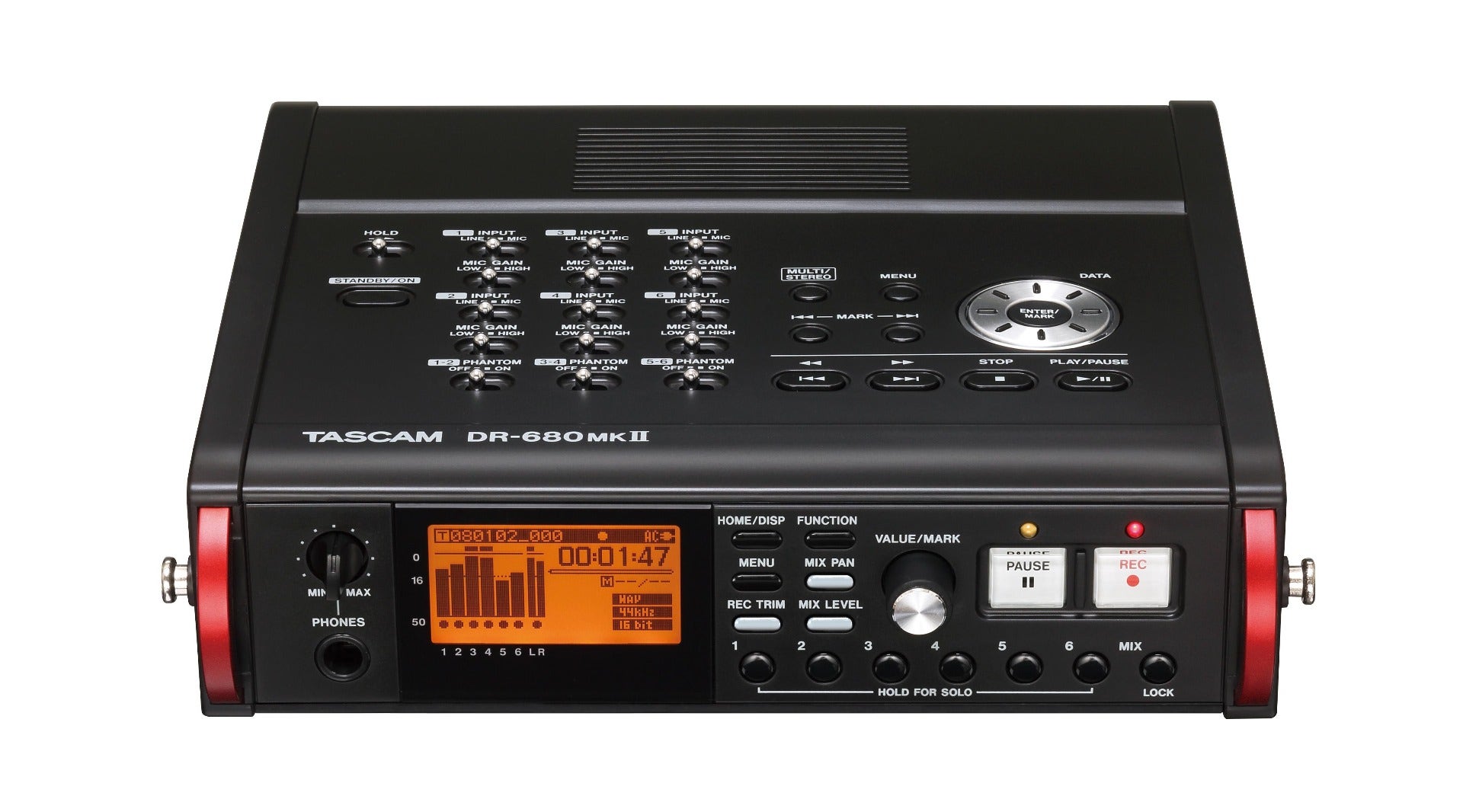 Highly -regarded and impressively versatile, the Tascam DR-680MKII Portable 8-Track Digital Field Recorder offers 6 XLR/TRS inputs, and provides a perfect solution for recording live music or performances with multiple microphones. High Definition Discrete Architecture (HDDA for short) mic preamps are specifically designed by the crew at Tascam with the intention of delivering unparalleled audio quality, with +48V phantom power to boot. And with 8 possible channels (6 tracks plus stereo track) ready at your earliest recording convenience, this is a juggernaut of a digital recorder at a reasonable price. An absolute must-have for capturing SFX in surround, live music at an esteemed venue or voices for an audio-based presentation.
—
Looking to take your talents out into the field? Let an expert at SamAsh.com equip you with the right gear to tackle any audio project on your agenda.