Guitar Effects: Sam Ash History
Since opening our very first store in Brooklyn, New York way back in 1924, we have had to constantly adapt to stock the in-demand products of the moment. Our founder Sam Ash was an accomplished violin player, which would define our selection during the early part of our history. Even as Sam's two sons Jerry and Paul started to get more involved in the business, the walls of our store were primarily filled with violins, violas, trumpets, saxophones, clarinets and other instruments that defined the Big Band era. Around this time we also started a brief foray into selling records, a fun and interesting endeavor, but not exactly what we are known for today..
Then in 1964, The Beatles showed up on the Ed Sullivan Show and changed the world and our business forever. All the sudden Beatlemania took over and everyone wanted an electric guitar and we couldn't keep them on the shelves.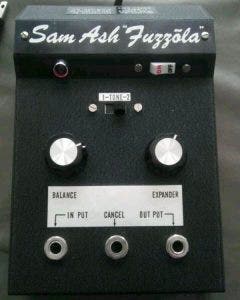 As the 60s went on, music would become more and more eclectic, making sounds that you just couldn't get from plugging an electric guitar into a basic amplifier. As Barry Horowitz, our current Vice President recounts, "My first band wanted to play the [Rolling] Stones' '(I Can't Get No) Satisfaction' and there was 'that sound' on the record. None of us really knew how the sound was achieved. Some said it was playing through ripped speakers" As Paul and Jerry, now the primary owners of the company started to get requests for these types of "ripped speakers", they started consulting with their major suppliers to search for what was creating the crazy tone everybody wanted to emulate. A few of Sam Ash's manufacturing partners would tell them about this device you would put between your guitar and amplifier but beyond unfinished prototypes, Paul Ash still didn't have a concrete solution to fill the requests of his customers. For Paul, reputation was everything, so the idea of not having what customers wanted was unacceptable to him. After all, the store was named after his father, so anything less than 100% customer satisfaction was a personal and professional setback. So Paul took matters into his own hands; he started working with Jessy Oliver and the brand Jem Sound to develop what he would call the "Sam Ash Fuzzz Boxx" and later the "Sam Ash Fuzzola", both major collector's items if you do happen to come across them. Barry Horowitz picked up one of these interesting boxes on one of his daily visits to the second ever Sam Ash store in Hempstead, Long Island, New York.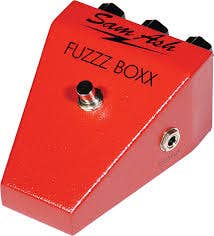 "One day I went to the Hempstead Sam Ash Music and tried a Maestro Fuzz box. That was the sound I was looking for! Once I bought that Fuzz box I went home, and was instantly the star of my band, at least for that day. Anyway, the really cool thing about that experience was that we all realized how the sound of the guitar could be changed. From then on, all of us in the band would go to Sam Ash Music regularly to see what sounds we could find with new effects. Eventually, that Maestro kicked the bucket and I replaced it with a red Sam Ash Fuzzz Boxx, which I still have to this day! Years later, when I was learning to play pedal steel guitar, I stumbled across a sort of violin section sound on a record. After some digging, I found it was created by a Jordan Boss-tone and the steel guitar. Hitting the strings with a volume pedal down with the boss tone on full, then quickly bringing up the volume so the attack wasn't heard, made it sound like a string section! How cool was that?! Yet another great sound from an effect that you wouldn't think possible."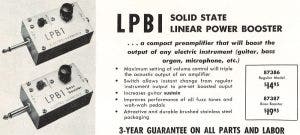 Even famous musicians started incorporating the Sam Ash Fuzzz Boxx into their arsenal of gear including Tommy Bolin of Zephyr, James Gang, Deep Purple and Ernie Isley of The Isley Brothers. (The Fuzzola would later appear on the pedal rig of Smashing Pumpkin lead singer, Billy Corgan, a full 35 years after its release. As it became clear that the pedal revolution was here to stay, Paul continued to work with electrical engineers to come up with more pedal ideas like the "Volume Baby", "Volume Wha", and a ring modulator. While the pedal buzz started spreading around Brooklyn and the surrounding areas, Sam Ash Music was more of a local phenomenon, rather than the national name musicians associate us with today. However, in 1971, a young man, named Mike Matthews, from nearby Queens, New York came down to the store looking to meet with Jerry Ash. Being a local guy, Mike had heard about the Ash brothers' reputation for seeking out the next big thing. Jerry set the meeting and a few days later Mike walked into Jerry's office with something he called a "Linear Power Booster Preamp." Eventually known as the LPB-1, this pedal would become the first ever product from a brand Mike named "Electro Harmonix" . Mike and Jerry remain close friends to this day. In fact during a recent conversation, when Jerry called Mike congratulating him on a recent industry award, Mike was quick to thank Jerry, reminding him he was the first ever Electro Harmonix dealer out of the thousands of music stores throughout the world that currently carry his stalwart creations like the Big Muff. As musicians discovered the "overdrive" bliss created by the LPB-1, electrical engineers began tinkering with various new inventions in preparation of a potential meeting with Jerry Ash in his tiny office in the back of his Hempstead, Long Island store. (You can learn more about our friendship with Mike Matthews and Electro-Harmonix in our interview with Mike.)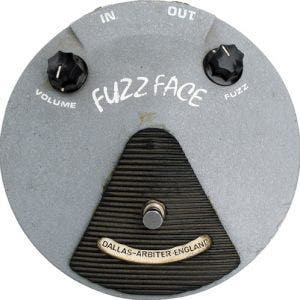 In the late 60s and early 70s, the musical instrument business was still a very small community. With so few players, many owners of these music shops were close friends as well as friendly competitors. Before there was officially a NAMM show, a few of these dealers would get together for impromptu events held by famous manufacturers like Ludwig and Fender. It was during one of these events that Jerry struck up a friendship with a British man named Ivor Arbiter. At the time Ivor owned some famous UK shops including "Drum City" and the "Fender Sound House" (the former famously sold Ringo Starr of The Beatles his first Ludwig drum kit and designed the famous "drop-T" bass drum logo that has become synonymous with the band to this day). Ivor later created a company called Dallas Arbiter who created the iconic "Fuzz Face", a device now associated with a Seattle born guitar player who first made it big in the UK named Jimi Hendrix. As Jimi became a star in his home country, Jerry made an agreement with Arbiter to become the first dealer in the United States to sell the Fuzz Face. Shortly after, Jerry made a similar agreement with another UK company called Colorsound to distribute their famous Wah pedals. Jerry and Paul would go on to form many other relationships with lesser known pedal makers, giving them a platform to share their creations with musicians, who would put them to good use throughout the 70s. Our commitment to the pedal market was a key factor in the early growth of Sam Ash Music from a two store operation to a regional powerhouse with music stores throughout the Tri State Area.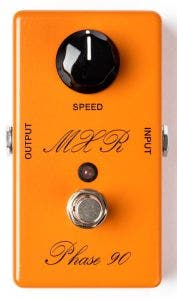 Two people who paid close attention to the power and excitement of the guitar pedal market were Jerry's two sons, Richard and Sammy Ash. As guitar players themselves, they would check out the various new pedal models coming through the store, telling Jerry what the tone of the moment was. It was also around this time that Sam Ash Music purchased a small storefront on the legendary "Music Row", 48 Street in New York City. As the new kids on the block, Sam Ash Music had to compete with the legendary Manny's Music. Manny's was the premier destination for every rockstar visiting New York City and the established kings of Music Row. As a salesman, a young Richard Ash would envy Manny's and the other major dealers on the block. In an attempt to set Sam Ash Music apart, Richard decided to put renewed focus on the guitar pedal market, like his father had done years before. Through a friendship with Keith Barre, cofounder of MXR, Sam Ash Music became the first major retailer to carry the full MXR assortment. When MXR was purchased by Jimmy Dunlop, Sam Ash Music became the first retailer on 48th Street to embrace Jimmy's other brands like Dunlop, Way Huge, and the iconic Cry Baby Wah pedals.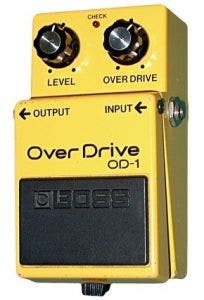 By the mid-80s the stompbox market Jerry Ash had helped pioneer was turned upside down by the advent of the rack effects unit. Offering hundreds of tones and effects in a rackmountable format, this new product was often purchased with a Marshall Stack as everybody chased that sought after big 80s shredder tone. It was during this tumultuous time for stompbox sales that Tom Beckerman from Roland's USA branch paid a visit to Richard Ash on 48th Street. Richard was expecting to talk about the latest Roland synthesizers, another huge seller at this time, when Tom dropped these Japanese made boxes bearing the name Boss on his desk. These individual pedals offered dedicated effects for sounds like flanger, chorus, and phaser. While the rack effects market was strong, these original Boss Pedals became big sellers, starting a new trend of guitar players visiting the store after each pay day to build out their pedalboards.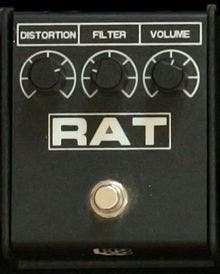 The next generation of Sam Ash Music was quickly earning a reputation that mirrored Jerry and Paul's in the pedal market, so it came as no surprise when Sammy Ash got a call from a man named Charlie Wicks. Charlie was itching to show Sammy a new distortion pedal he had created called the "Rat". Sammy recounts, "I said to him, 'really Charlie, another distortion pedal?'. But I was good friends with Charlie and respected his ear for tone so I took the meeting and brought the Rat into our stores. Thankfully the pedal became a runaway success and once stars like Joe Perry, Jeff Beck and David Gilmour started using them, we couldn't keep them in stock! We were the first retailer to carry Proco and still one of the biggest supporters of the Company."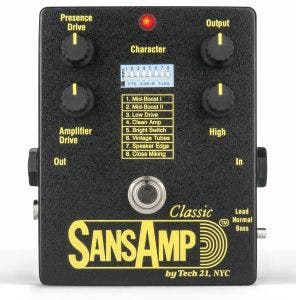 In the late '80s, Andrew Barta formed Tech 21 to introduce his revolutionary invention, the SansAmp –an all-analog tube amplifier emulator. No one had really ever heard of such a thing before and it was initially perceived as a high-priced "boutique" distortion pedal. Fortunately, Barta had a relationship with the purchasing manager, Bob Capel, at Sam Ash who took one on consignment. Within hours, it was sold to Phil Collen of Def Leppard. The rest, as they say, is history! Funny enough, some people later mistakenly referred to it as SamsAmp, thinking it was a Sam Ash product!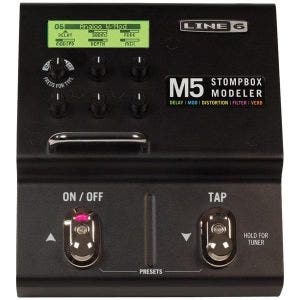 As digital technology really started taking off in the late 80s and early 90s, Sammy and his purchasing team would visit the annual NAMM show in search of that next big thing. That's when one of the industry's premier manufacturer's representatives, Hyman Peller, brought Sammy to the infamous Hall E (known jokingly as the "hall of misfits" around the industry) to visit a little booth that displayed the name "Line 6" The booth was being manned by a man Sammy knew quite well named Marcus Rhyle. Marcus had developed pioneering recording and synthesizer technologies including the ADAT, Quadraverb, QuadraSynth and the Digidesign Sample Cell. However, this particular day, Marcus was showing off a product called the Flextone AxSys 212. When Sammy asked Marcus what he called this device, he responded by saying "It's a modeling amplifier." With the ability to emulate famous amplifiers and the inclusion of onboard digital effects for even more tonal possibilities, Sammy quickly placed one of the first ever Line 6 orders. Line 6 modeling devices remain an important part of every Sam Ash Guitar department to this day.
In recent years, we have been seeing a shift back to boutique pedals. These smaller companies often get their start hand wiring pedals in a basement waiting for that big break. Sammy Ash fully embraced the "back to boutique" movement as one of the first retailers to carry brands like Keeley, Source Audio, and DOD pedals (Fun Fact: we used to call them Donnie Osmond Devices since they were made in Salt Lake City!). Our friend Dave Koltai, owner and operator of Pigtronix and most recently Supro recently spoke to us about his first encounter with Sammy at the 2003 Summer NAMM Show.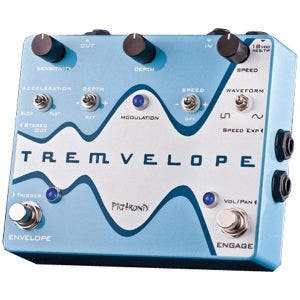 "There I was, EP-1 Envelope Phaser in hand, debuting Pigtronix for the first time as an exhibitor. After a few hours on the show floor, it became apparent that I would have to get proactive about making some connections in the industry if we wanted to sell some pedals. So, unable to leave the booth, I simply started calling out the names on the badges of everyone who passed by… Hey Sam! (Pauses… reads badge more closely)… SAM ASH." Sammy tried the pedals and placed a large order bringing Pigtronix effects into the lives of countless guitar players.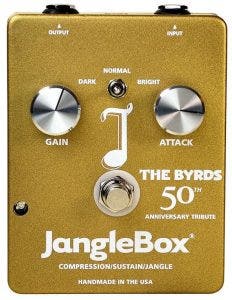 Of course we are always looking for new pedals and continue to find them in interesting ways. Sam Ash Vice President, Howie Mendelson recalls, "A few years ago, a group of us were having lunch in NYC with Roger McGuinn, founding member of the Byrds. During the meal, I mention to Roger that he cost me a lot of money, as I had to purchase a MapleGlo 360-12 to get his sound. I asked him if he performed with the guitar in stereo, using two amps. He laughed and said 'Nobody bothers with that. Don't you have a JangleBox?" We contacted the company the next day, Howie got a sample that he couldn't put down, and we became JangleBox dealers.
Other recent lines Sam Ash has taken on include Empress Effects, EarthQuaker Devices, JHS, Wampler, Hotone Audio, and Death by Audio just to name a few.
The pedal market has come a long way since the Sam Ash Fuzzz Boxx and Jerry Ash's initial meeting with Mike Matthews. Sam Ash has been a proud sponsor, participant and host of dedicated guitar pedal events including The LA/New York Stompbox Exhibit, Fear the Riff Guitar Gear Expo, the LA Amp and Pedal Show, EarthquakerDay and more. In addition to our deep selection of pedals from over 40 different brands, we also boast a huge selection of used pedals and effects, and will pay top dollar to those looking to sell or trade in their pedals for new gear.
While speaking with his grandson Ben recently about Sam Ash's history with guitar pedals, the incredibly humble Jerry Ash made an uncharacteristically prideful statement. Said Jerry, "We are the living history of guitar effects pedals."