Guitar Modeling Amps: Gear Guide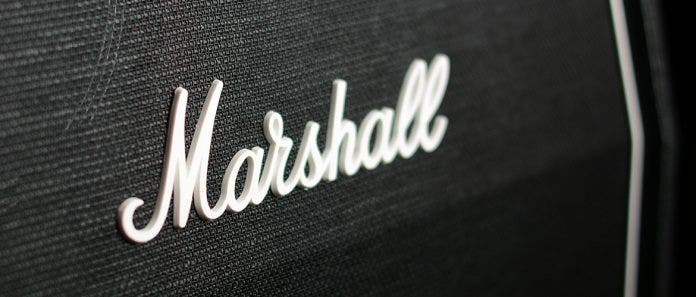 What is a Modeling Amp?
A modeling amp is a type of amp that's designed to re-create all the sonic and tonal qualities of specific existing amplifiers. For instance, modeling amps may replicate various amps ranging from the world's most coveted vintage tube amps to contemporary, top-of-the-line boutique amps. This type of amp is favored by gigging musicians and studio guitarists alike for many reasons, but one of the main reasons is that modeling amps give players a massive palette of premium, studio-quality amp voices in the convenience of one single unit. Let's take a look at some of our favorite modeling amps available today.
Marshall CODE Series
The Marshall CODE Series amplifiers come in a variety of configurations to fit the needs of any player, including the CODE25 25-watt combo, the CODE50 50-watt combo, the CODE100 100-watt combo, and the CODE100H 100-watt amp head.
Equipped with 24 onboard effects and 100 editable presets
Instant access to a vast range of authentic vintage and modern Marshall tones thanks to exclusive Marshall-Softube (MST) modeling
Connectivity features including Bluetooth, USB, MP3/AUX input, headphone output
Integrated FX loop for use with outboard effects
             Marshall CODE25 25-Watt Combo Amp
With the CODE Series amps, you can download the exclusive Marshall Gateway app that'll expand the CODE amps' capabilities. With the Gateway app, you have access to additional controls and can conveniently control the parameters of your amp right from your iPhone or Android device. You can even store up to 100 presets in the Gateway Library, and then upload them onto a friend's CODE amp to share your sonic creations. You can even register for My Marshall, Marshall's cloud service, to access and download a huge range of presets from other users. Via the USB jack, you can easily connect to your computer and use the CODE Series amp as a DAW interface for recording. You can also use it to play music from your library, update the amp's firmware, and control via MIDI. You can purchase the optional 4-way footswitch PEDL-91009 to recall stored presets on switches 1, 2, and 3, or scroll through all available presets on switch 4.
Kemper PROFILER™ Series
The award-winning Kemper PROFILER Series amps take amp modeling to all new heights. You can purchase a Kemper PROFILER Rack or PROFILER Head if you're just looking for the Kemper amp modeling preamp, but if you don't already have a power amp in your rig, you can also purchase the Kemper PROFILER PowerRack or PROFILER PowerHead, both featuring a built-in 600-watt power amp.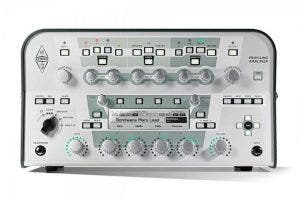 Kemper PROFILER Head in White
Exclusive PROFILING™ technology captures the sonic DNA of any amp with just the press of a button, letting you leave your prized vintage amps home
Keep the genuine sounds of all your amps in one place
Comes right from the factory with hundreds of pre-installed world-class amps
Professional audio inputs and outputs ideal for both recording or live performance
High-quality onboard FX including drives, wahs, EQs, pitch shifters, and more
Available for Windows and OSX, you can download the free Kemper Rig Manager app, which gives you the ability to preview and manage your collection of PROFILER Rigs and Performances. You can easily tag Rigs with keywords and create Performances via drag and drop. You can even gain access to over 12,000 free Rigs from pros and enthusiasts alike, and you can filter content of interest and preview directly inside your PROFILER with just one click. What's more? The Rig Manager gives you access to Rig packs created by famous artists that use the Kemper PROFILER amps. You can opt to purchase the Kemper PROFILER Rack, Head, PowerRack, and PowerHead models with the Kemper PROFILER Remote for the ultimate control of your amp. This versatile, user-friendly, easy-to-set-up foot controller allows for seamless control over your amp, and can even unlock the amp's exclusive looper effect. Made specifically for Kemper, the Mission Engineering EP1-KP expression pedal will further unlock the potential of your Kemper amp. The PROFILER Touring Bag is a high-quality bag that's perfect for transporting your amp to the studio or your gigs. Featuring a durable polyester design, padding with soft lining, high-quality zippers, a convenient outer pocket for cables & accessories, an adjustable shoulder belt, and more, you can be sure this amp will be protected no matter where you go.
BOSS KATANA Series
Made to deliver a huge array of unparalleled rock tones, the BOSS KATANA Series amps are available in several configurations including the KATANA-50 50-watt combo amp, the KATANA-100 100-watt 1x12" combo, the KATANA-100/212 100-watt 2x12" combo amp, the KATANA-HEAD 100-watt amp head that can be perfectly paired with the KATANA Cabinet212 2x12" cab. The KATANA-Artist also has 100 watts of power, and comes with enhanced features for the professional performing guitarist. The series also includes two awesome practice amps including the KATANA-MINI 7-watt, compact, battery-powered combo amp, and the groundbreaking 20/30-watt KATANA-AIR, which is the first completely wireless guitar amp that employs revolutionary BOSS wireless guitar technology. Let's take a look at some of the main features of the stage-ready KATANA amps (the KATANA-50, KATANA-100, KATANA-100/212, KATANA-HEAD, and the KATANA-Artist).
Easy-to-use design with ultra-powerful features
Four distinct amp voices including Clean, Crunch, Lead, Brown, and even Acoustic for use with an acoustic guitar
Massive selection of premium, legendary, built-in BOSS effects with the capability of using up to three at one time
Tone Setting memories allow you to store and recall your favorite amp and effect settings
Power Control function for achieving killer sound even at low volumes
Combo amp models include a cabinet tilt mechanism for superior sound monitoring while you play
Small speaker equipped in the KATANA-HEAD for use without a cab for practicing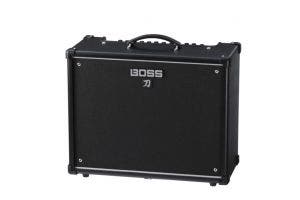 BOSS KATANA-100 100-Watt Combo Amp
With an integrated USB port, you can easily connect your KATANA amp to your computer for recording. Not only that, but if you download the free, exclusive BOSS Tone Studio app available on Mac or Windows, you can plug your amp into the computer and edit the settings of your amp's internal effects. To expand the capabilities of your KATANA amp, you can purchase the optional BOSS FS-5L footswitch, optional BOSS expression pedals including the EV-5, FV-500L, and FV-500H, and the optional GA-FC foot controller for hands-free control of your BOSS amp.
Fender Mustang GT Series
With an amp model for every musical application, the Fender Mustang GT Series amps come in 3 varieties. The Fender Mustang GT 40 40-watt amp is a great choice for recording or practicing, the Mustang GT 100 100-watt amp is equally suited for the studio or smaller performance venues, and the Mustang GT 200 gives you 200 watts of power that'll deliver massive tone for bigger live performances.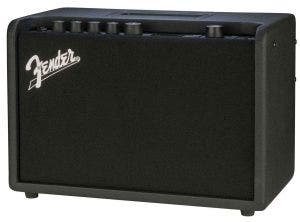 Fender Mustang GT 40 40-Watt Combo Amp
First ever Bluetooth-capable and WiFi-equipped combo amps
Built-in WiFi makes adding new sounds to your amp a breeze
Bluetooth capabilities allow you to stream music wirelessly or customize presets from your phone via the Fender Tone app
A vast array of genre-specific presets and artist-specific presets, ranging from old-school to modern and everything in between
User-friendly controls and features
Setlist function allows you to group presets, making it easier and faster to recall your favorite presets on-the-fly
When you download the free Fender Tone app for iPhone or Android devices, you can control, edit, and manage your Mustang GT amp conveniently from the app via Bluetooth. Thanks to a massive selection of presets created by artists, Fender engineers, and other players, plus many other features, you'll have an endless amount of sonic options right at your fingertips. The optional MGT-4 4-button footswitch (included with the GT-200) will not only give you superior hands-free control over your Mustang GT amp, but it even unlocks the powerful built-in 60-second looper offered on these amps. To protect your amp, Fender offers a GT 40 amp cover, a GT 100 amp cover, and a GT 200 amp cover.
Line 6 Spider V Series
To meet the demands of guitarists from all walks of life—whether you're looking for a high-quality modeling practice amp or a stage-ready modeling amp—the Line 6 Spider V amps are offered in several variations including the Spider V 20 20-watt combo, the Spider V 30 30-watt combo, the Spider V 60 60-watt combo, the Spider V 120 120-watt combo, the Spider V 240 240-watt combo, and the Spider V 240HC 240-watt head/combo, which is the only amp head equipped with integrated stereo speakers for standalone use without a speaker cab.
Access to over 200 amps, cabs, and effects (via Spider V Remote app for Spider V 20)
128 presets ranging from classic to contemporary (16 onboard presets for Spider V 20)
Equipped with built-in tuner, metronome, and jam-along drum loops (except for Spider V 20)
Onboard 60-second looper and built-in wireless receiver for use with Line 6 Relay transmitters on Spider V 60, 120, 240, and 240HC models
XLR direct outputs for connecting to a PA system or mixer on Spider V 120, 240, and 240HC
USB interface on all models
        Line 6 Spider V 60 60-Watt Combo Amp
Download the free Spider V Remote editing software for Mac or Windows, plug in your Spider V amp via USB, and take full control of your Spider V amp right from your computer. You can select amps, cabs, and effects, or even switch up tones, adjust parameters, and more. For complete hands-free control over the amps and effects on your Spider V amp, you can use the optional FBV 3 Advanced Foot Controller that'll let you take full advantage of everything this amp has to offer. It's designed to withstand the rigors of touring, plus it features 13 footswitches, 5 with assignable color LEDs that'll make keeping track of active effects and amps an absolute breeze. It even features an onboard expression pedal for sweeping effects like wah, bank up/down switches for easy scrolling through presets, and much more!
Blackstar ID:CORE V2 Series
The Blackstar ID:CORE V2 Series amplifiers are available in three different models: the ID:CORE Stereo 10 V2 with 10-watts of power, the ID:CORE Stereo 20 V2 with 20-watts of power, and the most powerful in the series, the ID:CORE Stereo 40 V2 with 40-watts of power on tap.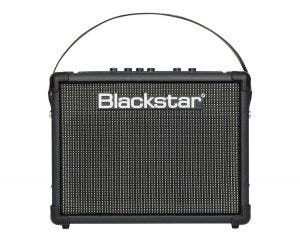 Blackstar ID:CORE Stereo 20 V2 20-Watt Combo Amp
Enhanced voices including Clean Warm, Clean Bright, Crunch, Super Crunch, OD1, and OD 2
Blackstar patented ISF control to dial in your ideal tone on each individual channel
Enhanced onboard effects including reverbs, delays, and modulation effects in Super Wide Stereo for an immersive, rich sonic experience
Intuitive controls with the added flexibility of programmability so you can custom-design your sound
Re-voiced MP3/Line input featuring dynamic EQ for powerful, richer sound for music playback
Built-in tuner, Emulated/Headphone out for silent practicing with cab simulation, and USB connectivity for recording and sound editing on your computer
The ID:CORE Series amps come with included user-friendly, professional-grade PreSonus Studio One DAW software made specifically for Blackstar, making this amp a truly great tool for recording. Blackstar's INSIDER software allows for incredible sound editing capabilities, while also allowing you to share patches, upload patches, and even download other user patches via the online community. INSIDER even comes with useful features that'll help you hone your craft like an integrated audio player for jamming along to your favorite backing tracks and a built-in "phrase trainer" that allows you to loop and time-stretch sections of music so you can master those challenging riffs and chords! Purchase the optional Blackstar FS-11 two-button footswitch with your amp and you can get hands-free control your ID:CORE amp.
Yamaha THR Series
The convenient Yamaha THR Series desktop combos are offered in five unique models, each featuring their own set of built-in amp types. The THR10 V2 and THR5 V2 were designed to deliver authentic tube tone, and they share all the same amp types with the addition of Bass, Aco, and Flat amp types on the THR10. For faithful emulation of genuine boutique tube amp tones, Yamaha offers the THR10C model while the THR10X is designed to dish out the nastiest, most brutal high-gain tube tones for heavier genres like hard rock, hardcore, and metal. The THR5A was designed to produce beautiful organic acoustic sounds with its five onboard amp types. These amps are ideal for players looking for unparalleled off-stage sound for practice and recording.
Authentic tube sound
Virtual Circuitry Modeling (VCM) effects capture the subtle nuances that you just can't achieve digital simulations for superior musical performance
Yamaha Hi-Fi Audio technology for superior stereo sound makes it perfectly suited for delivering top-notch guitar and stereo playback sounds
Yamaha Extended Stereo Technology for a wide, spacious sonic response Dual effects circuits with organic, incredibly musical onboard effects
USB connectivity for recording/sound editing and AUX input for stereo playback
Virtual Tube Illumination makes it look like the THR is a genuine tube amp that's warmed up and ready to rock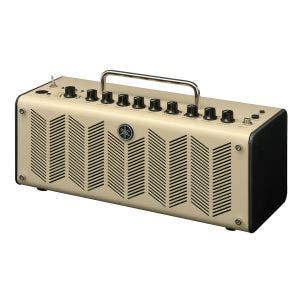 Yamaha THR10 V2 Combo Amp
You can download the Yamaha THR Editor for your THR Series amplifier that will let you really dig in and edit your amplifier's amps and effects parameters to perfection on your computer—you can even unlock additional in-depth control like noise gate and compressor functions. On top of that, the THR amps come complete with fantastic DAW software, Steinberg Cubase AI, for pro-quality music production and recording.
Now that you've read all about some of the best-selling modeling amps available today, you can decide which modeling amp may be a good fit for your unique needs as a guitarist. Still need some help finding your perfect amp for you? Call 1-800-472-6274 and speak to one of our experts today for personalized help from real musicians!