Martin Guitar Buyer's Guide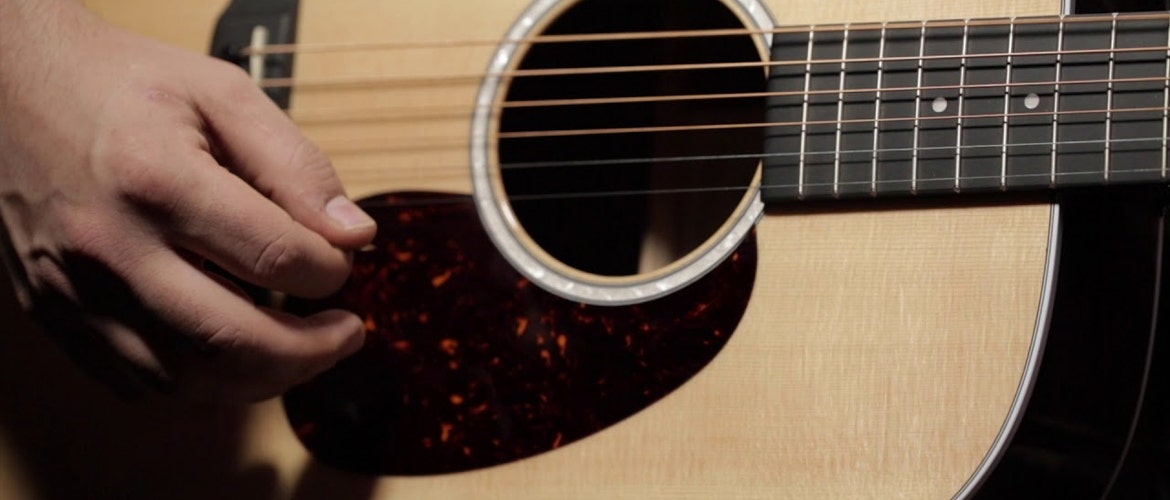 C.F. Martin & Co. is about as respected and revered as any instrument maker in the world. They've been in the business since the mid-1800s and have never faltered in their commitment to premier acoustic craftsmanship.
Martin has brought forth countless innovations which have changed the province of the guitar including X-bracing, a 14-fret design, and of course, the introduction of the most widely used acoustic guitar body style—the dreadnought.
They've also come up with innovations in strings, like the first high-tensile steel-string core wire, the first nickel acoustic strings, and titanium core strings. Despite how long they've been around, it's no doubt that the minds at Martin are always looking to improve and stay on top of their craft. Nowadays, Martin is even helping to pioneer ecologically friendly design techniques, by developing instruments crafted from sustainable woods and innovative alternative materials.
Design and Build
Martin Guitars is renowned for forging beautiful instruments from the finest materials. Their processes involve painstaking attention to detail to assure incredible quality, from body, to neck, to strings.
Body
Martin guitars have a very classic style, which doesn't stray too far from their tradition. As the inventor and pioneer of the dreadnought body, you'll find many Martin guitars occupy that perfect shape and size, though there are a variety of differing iterations. There are also some parlor style guitars, as well as travel models.
Martin has a few 12-fret models, many 14-frets, and even a 15-fret baritone. Some models sport a cutaway or sloped shoulder, while others opt for the full-bodied curves all around. And of course, there's a 12-string guitar or two for the player that enjoys that sound.
To craft their guitars, Martin uses a number of excellent tonewoods. Popular body woods include Brazilian and East Indian rosewood, Hawaiian flamed koa, and mahogany. You may also find a Martin body made from a type of maple, sapele, or walnut. These fine woods are used for the back and sides specifically. The top is consistently made from a variety of spruce—perhaps red spruce, Italian alpine, Sitka, or Engelmann. All the woods are perfectly paired and prized for their aesthetic and sonic beauty.
Neck
Martin offers 6 neck shape options for their production guitars. Some of these neck shapes are available in multiple widths, affording even more options for the discerning player. For a more classic feel, there's low oval, modified V, and the ever popular modified low oval. The performing artist shape is prevalent amongst players who like a sleeker, more modern feel, as is the low profile shape. In addition there's a tenor neck shape, measuring only 1 ¼ width at the nut and 1 ½ at the 12th fret.
Additionally, many Martin guitars are "pleked" i.e. adjusted by a precision computerized machine which dresses the frets and assures peak playability of the instrument.
Finish
While the Martin style is relatively reserved, there's no shortage of glaringly attractive instruments. Many Martins allow the natural beauty of the wood to shine through, though a few higher-end custom instruments have particularly bold colors.
Certain American-made Martins feature the "Vintage Tone System"—a process of modified torrefaction which addresses tonal properties commonly associated with vintage instruments and gives them a special color hue. This overlaps with the "Vintage Gloss Finish" – a rediscovered recipe which was hand-applied by Martin's builders in the early 1900s to final-dress the lacquer on their guitars.
Electronics
Some Martin Guitars come equipped with an onboard pickup and preamp system, making it easy to plug in and play. Martin makes use of the very reliable Fishman electronics. Currently, Martin guitars are outfitted with Fishman MX-T in their Mexican made models, and either Aura VT Enhance or Matrix VT Enhance systems in their American made guitars.
Cost
Most Martin guitars are not cheap—nor should they be. After all, we're talking about the best of the best in acoustic craftsmanship here. There are some very attainable made-in-Mexico instruments with price points in the mid-to-upper hundreds. However, the top-quality American Martins begin just above a thousand, with many exceeding that. You'll find a good number of Martins in the Sam Ash Guitars of Distinction collection.
Series
Martin has so many great guitars that we can't possibly highlight them all. Nonetheless, this guide encompasses the majority of their series and a look at some of the best aspects and models each has to offer:
Backpacker
[caption id="attachment_16673" align="alignnone" width="1492"]

Martin Backpacker Acoustic Travel Guitar with Gig Bag[/caption]
The Backpacker is a uniquely-styled travel guitar from Martin – likely the most uniquely styled they make. With its slim, neck-sized body, light weight, and low-price, anyone can afford to take the Backpacker anywhere.
Little Martin
The Little Martin is the smallest, cheapest option from Martin guitars. Made in Mexico, its modified 0-14 fret, non-cutaway body is crafted from a variety of high-pressure laminate woods. The small size makes it good for students and people on-the-go. Some models even come equipped with Fishman electronics.
[caption id="attachment_16674" align="alignnone" width="793"]
Martin DXK2AE Acoustic-Electric Guitar[/caption]
One of the nicest models in the series, the Martin DXK2AE features a beautiful Hawaiian Koa HPL body and is supported by Martin's D1 style bracing, for stability and resonance. This model also has a 20-fret black Richlite fingerboard, sealed chrome tuners, and a Fishman Sonicore under-saddle pickup.
Junior
[caption id="attachment_16675" align="alignnone" width="1492"]

Martin DJR-10 Sunburst Dreadnought Junior Acoustic Guitar[/caption]
Slightly higher in price from the Little Martin, the Martin Junior Series is also made for easy portability, while sporting full figure and tone. The Junior has classic dreadnought style in a smaller body, with a 000-depth and soft back edges. It's carved from solid sapele with a Sitka spruce top. The Junior comes with a soft gig bag for easy, comfortable mobility. One of the more popular versions, the DJR-10 Sunburst stands out for its excellent playability and very nice finish.
X Series
The Martin X Series includes a wide variety of guitars that are both high-quality and relatively affordable. This series has more than enough options for any player to find a great fit. These guitars are crafted with a variety of high-pressure laminate tonewoods and come with quality electronics. You'll find a number of styles in this series including 000, OM, Grand Performance, and classic dreadnought, with and without cutaways.
[caption id="attachment_16676" align="alignnone" width="1493"]

Martin DX Woodstock 50th Anniversary Acoustic-Electric Guitar[/caption]
Also within this series is the very cool Martin DX Woodstock 50th Anniversary guitar—perfect for the fans of unique, commemorative instruments, which don't break the bank.
Road Series
The Martin Road Series sports numerous well-made acoustics, stocked with excellent electronics so they can be played out night after night. Within this made-in-Mexico series you'll find a few Grand Performance models, dreadnoughts with and without cutaway, and 000 models. The bodies are sapele, mutenye, or siris, and mostly sport Sitka spruce tops for classically delightful acoustic sound. The appointments in this series, including the rosette, pickguard and finish, are slightly elevated from the X Series.
[caption id="attachment_16677" align="alignnone" width="1493"]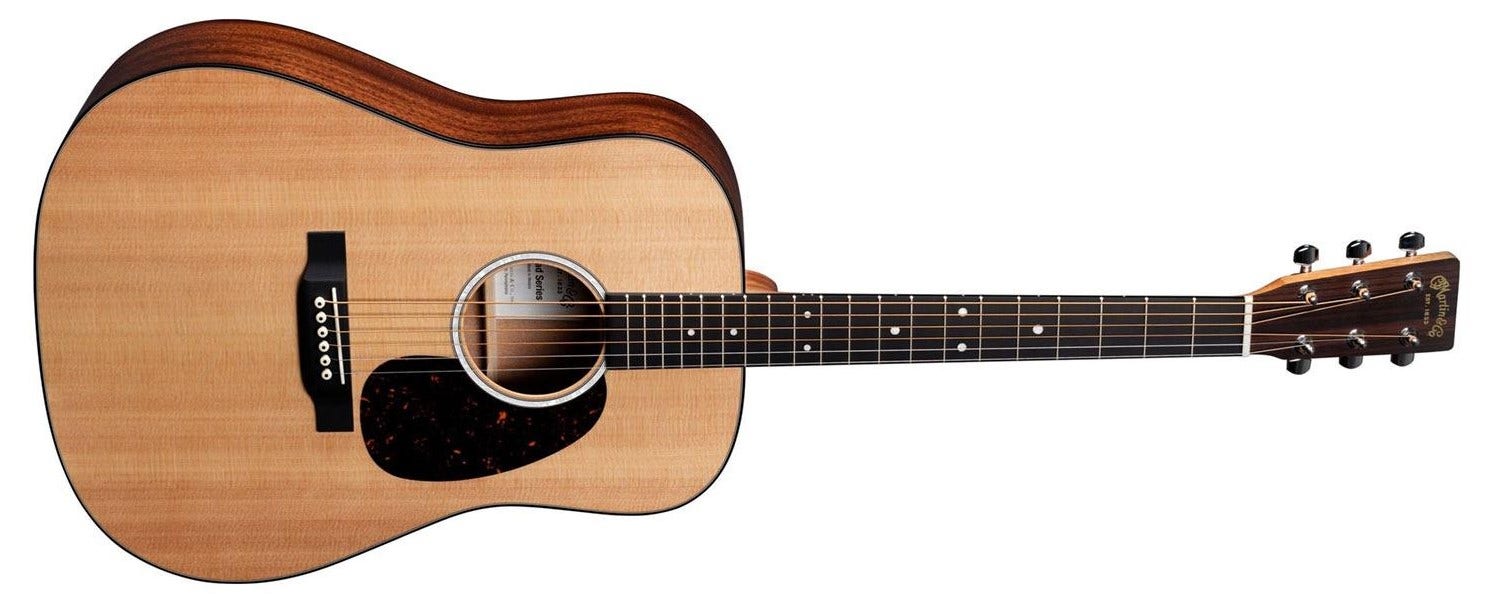 Martin D-10E Road Series Acoustic-Electric Guitar[/caption]
If this moderately priced Martin line appeals to you, the D-10E is one guitar to look into. A fitting member of the Martin Road Series lineup, the D-10E features a traditional 14-fret dreadnought body that's crafted using a Sitka spruce top with sapele back and sides, to deliver a warm, balanced voice with outstanding projection. The contemporary Performing Artist neck, with Martin's high performance taper, provides excellent playing feel while Fishman MX-T electronics make the D-10E the ideal choice for gigging guitarists.
[caption id="attachment_16678" align="alignnone" width="1491"]

Martin GPC-13E Road Series Acoustic-Electric Guitar[/caption]
For a slightly different vibe from the Road Series, check out the GPC-13E. It's crafted from muteneye, with a Sitka spruce top. The 14-fret design has a slightly more compact Grand Performance body with cutaway. It also has Fishman MX-T electronics, making it a solid choice for gigging.
15 Series
[caption id="attachment_16679" align="alignnone" width="2124"]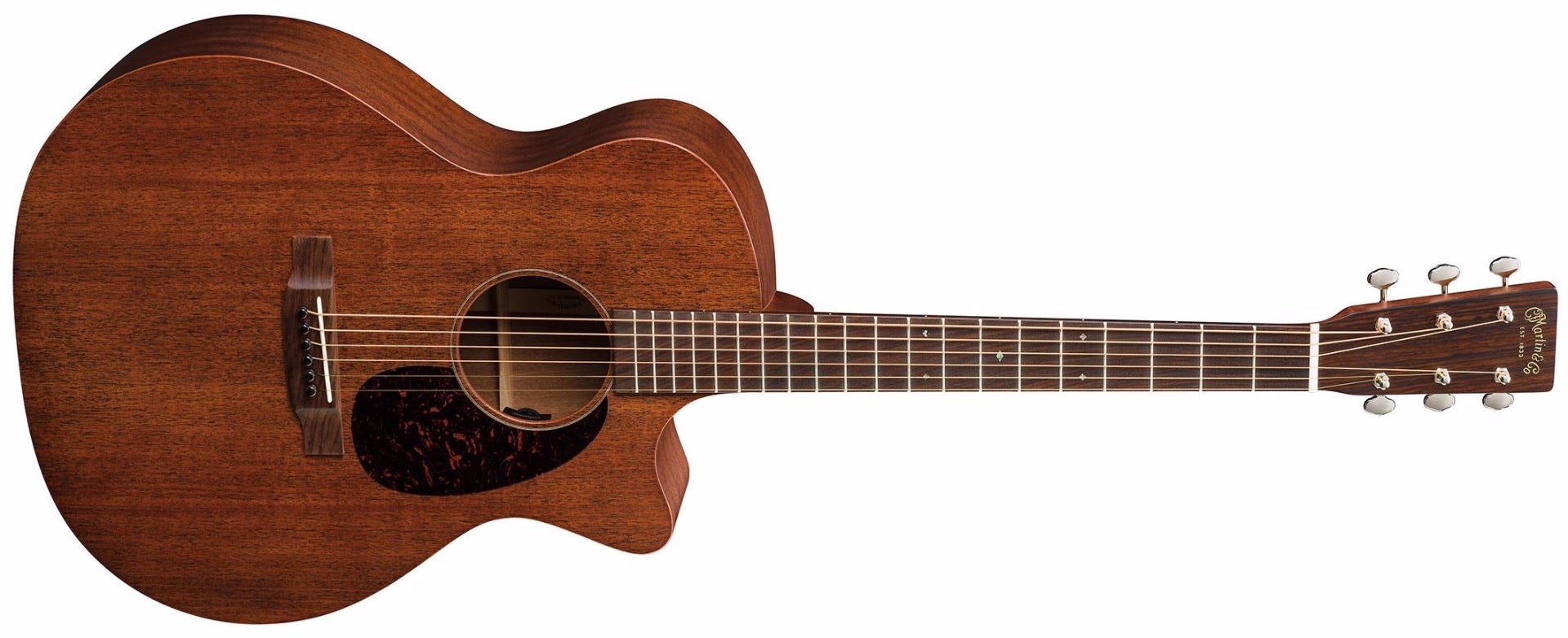 Martin GPC-15ME Grand Performance Acoustic-Electric Guitar[/caption]
The 15 Series is the beginning of the American made Martins. The back, sides, and top of these models is crafted almost exclusively from mahogany (besides the 000-15 Special). You can find Grand Performance models in this series— like the GPC-15ME, fully stocked with Fishman Matrix VT Enhance electronics, as well as 000s – like the 000-15M, sporting legendary 000 body style in a handsomely distressed satin finish. And of course, there's no shortage of dreadnoughts—like the DC-15ME.
16 Series
[caption id="attachment_16680" align="alignnone" width="793"]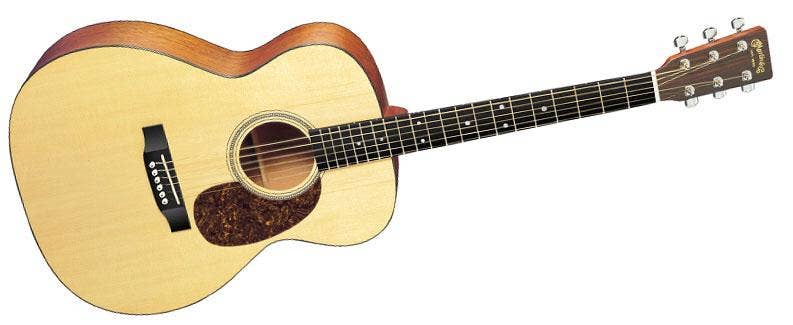 Martin 000-16GT Acoustic Guitar[/caption]
A small step up in price from the 15, the 16 Series is a bit more restrained, with just a few guitars occupying it. The D-16GT is one of the more popular models in the series. It features a traditional 14-fret dreadnought body with modern specs. The back and sides are mahogany with a Sitka spruce top finished in polish gloss.
Similarly, the 000-16GT has the same tonewoods, but with a smaller 000 body size, and modified low oval neck with standard taper.
The 16 Series also includes the 000C Nylon, a 12-fret nylon stringed guitar for the classical player.
17 Series
[caption id="attachment_16681" align="alignnone" width="1493"]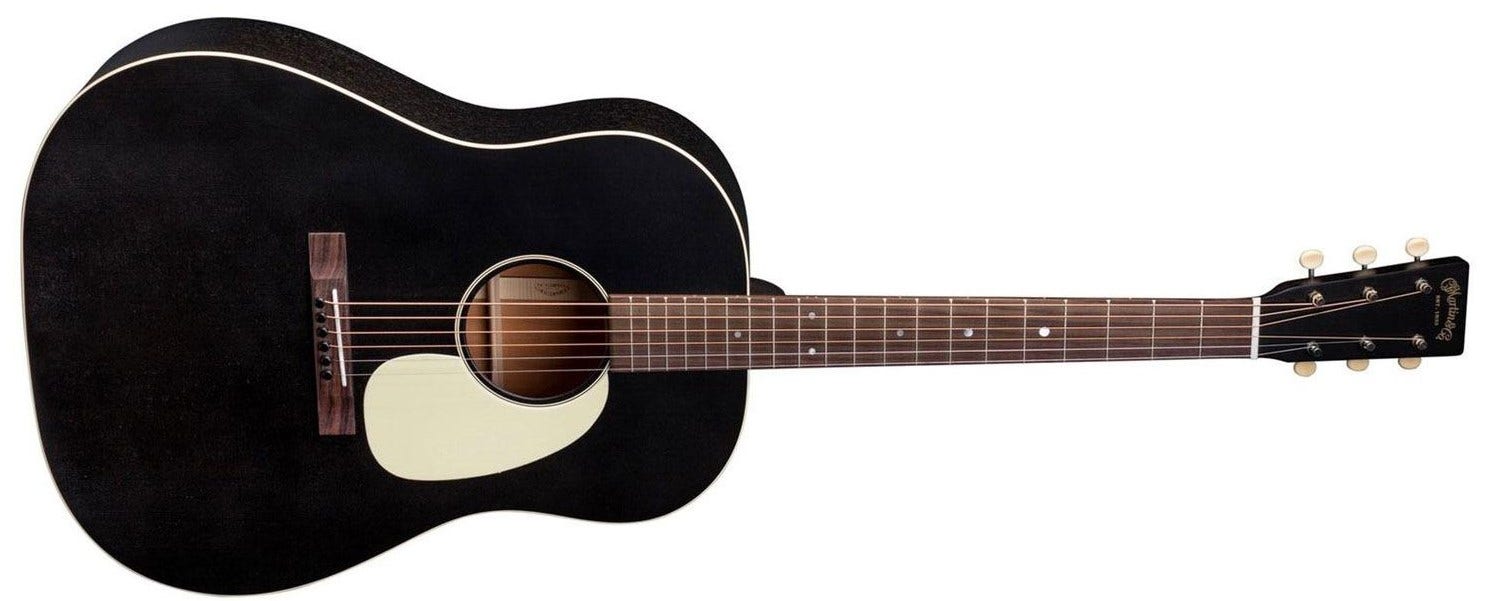 Martin DSS-17 Black Smoke Acoustic Guitar[/caption]
Martin's 17 Series is a uniquely interesting one. This series is comprised of sloped shoulder dreadnoughts, like the DSS-17, as well as 00 and 000 models. These guitars are made from mahogany with Sitka spruce tops and rosewood fingerboards. There are no cutaway designs and all models are completed in two alluring finishes – black smoke and whiskey sunset.
Standard
The Standard series is, as its name suggests, the crux of the Martin American series. With a higher price point, these are the guitars the gigging musician saves for years to eventually buy.
This series has all the varieties of models you could want: the infamous D-28, the OM-18E, the GP-35, and many more. Most of them fall in to our Guitars of Distinction category.
[caption id="attachment_16683" align="alignnone" width="1500"]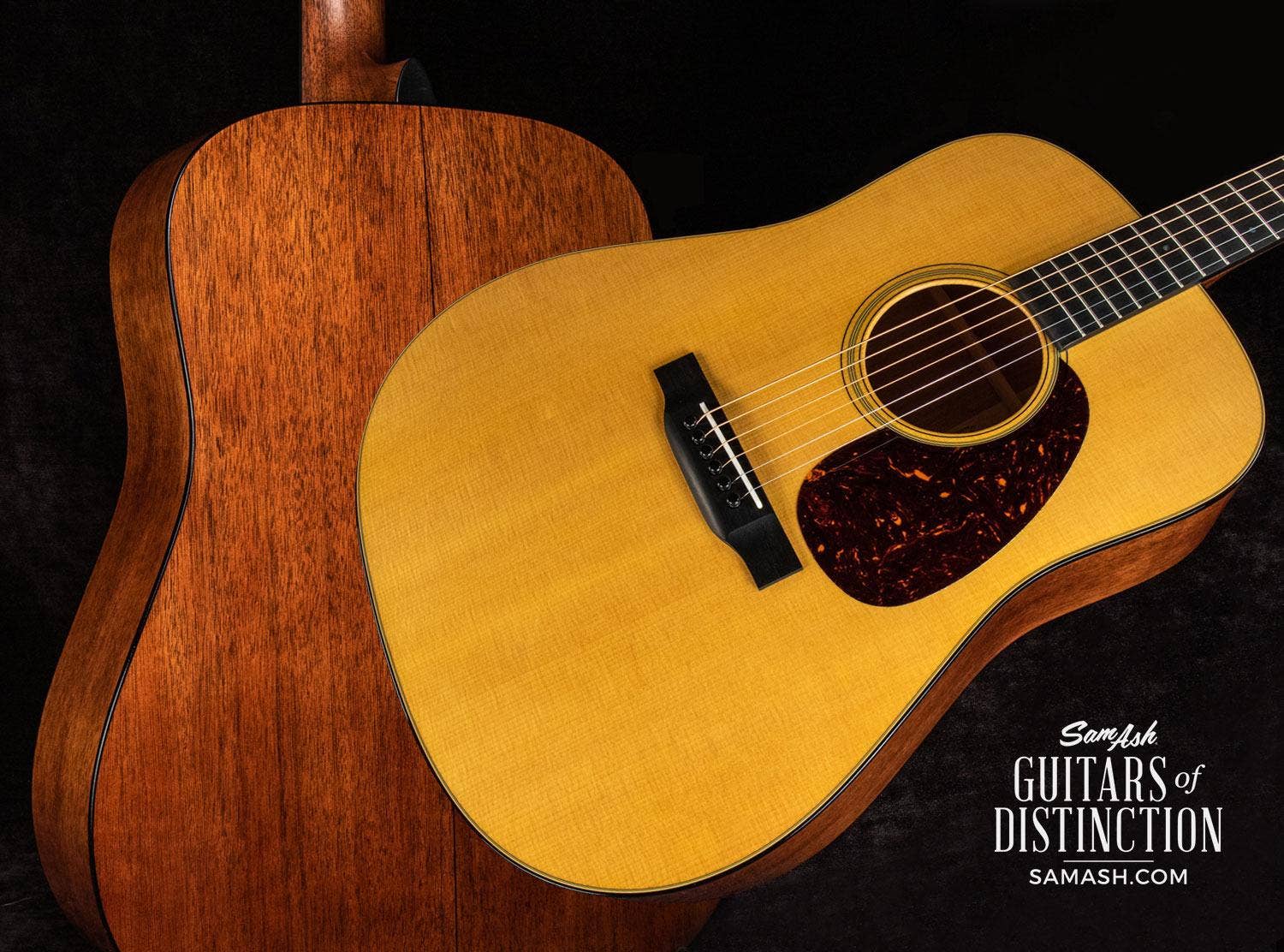 Martin D-18 Dreadnought Acoustic Guitar[/caption]
Take the classic Martin D-18 for instance, with its mahogany body and spruce top, modified low oval neck with high-performance taper and ebony fretboard with abalone inlays. There's also the East Indian rosewood/Sitka spruce combo of the OM-21 and the HD-35. There is no shortage of options in the Standard Series.
Retro
This intimate series recreates many wonderful guitars of bygone eras. Using precision craftsmanship, these retro-styled instruments capture the mystique and tonal emotion of priceless, pristine, and well-aged Martin guitars.
Custom Signature
[caption id="attachment_16670" align="alignnone" width="1500"]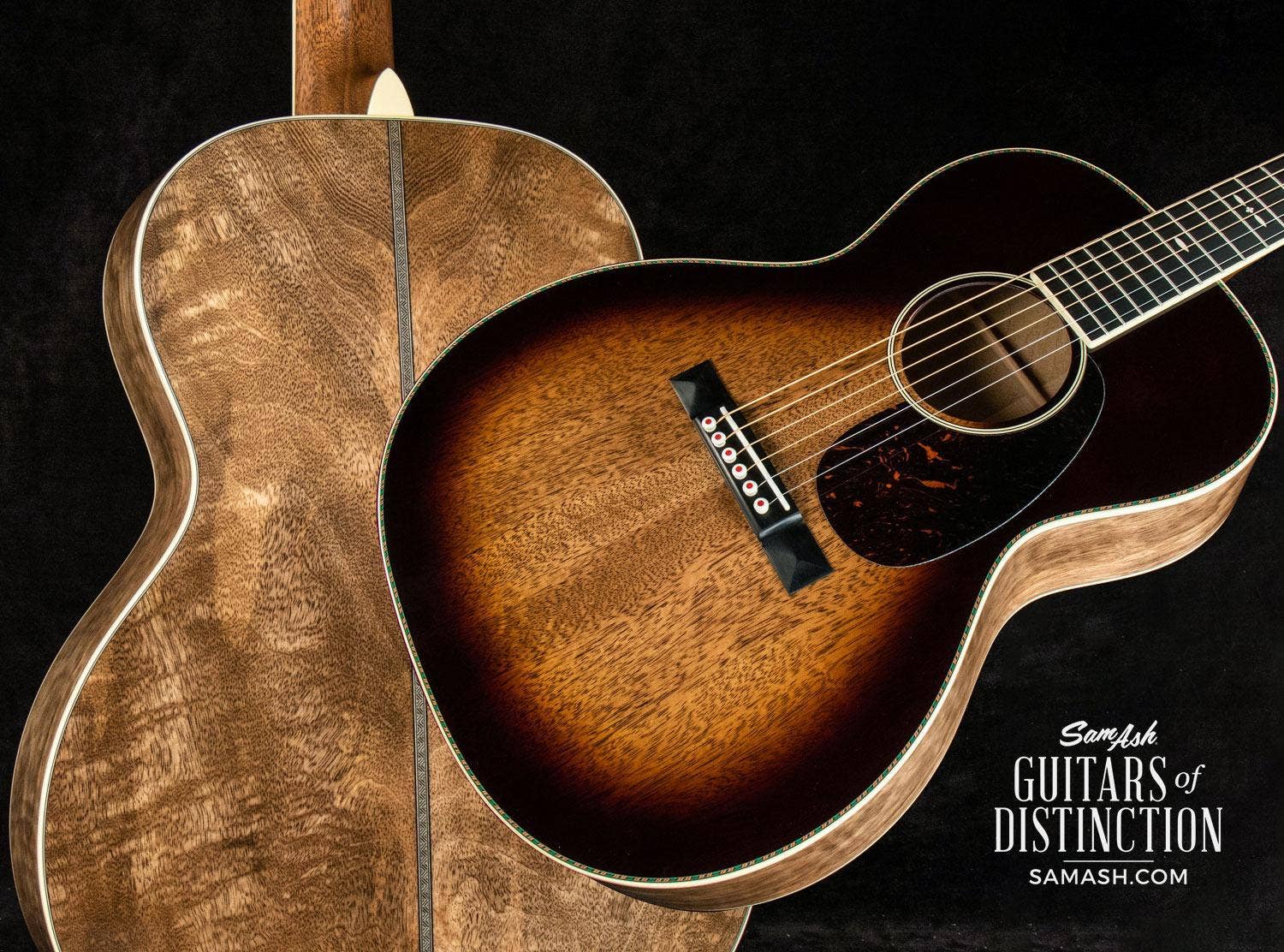 Martin CEO-9 00-14 Fret Slope Shoulder Acoustic Guitar Mango Sunset Sunburst[/caption]
There's no other way to put it – this series is special. Looking for the Jimmy Buffett Custom? It's here. How about the D-45 John Mayer? Got it. Even the surprisingly affordable Ed Sheeran signature edition is in this series. The Custom Signature Series is also home to the Martin CEO guitars – those special, limited edition guitars where Chris Martin gets to supply the specs and sign his name.
Authentic
If you have some money to spend and you'd like to find yourself in possession of a dead-on accurate recreation of a 1930's guitar, this is the series for you. It also includes a replica Size 1 De Goni Authentic 1843 guitar and a 000-30 Authentic 1919 guitar.
Modern Deluxe
[caption id="attachment_16671" align="alignnone" width="1500"]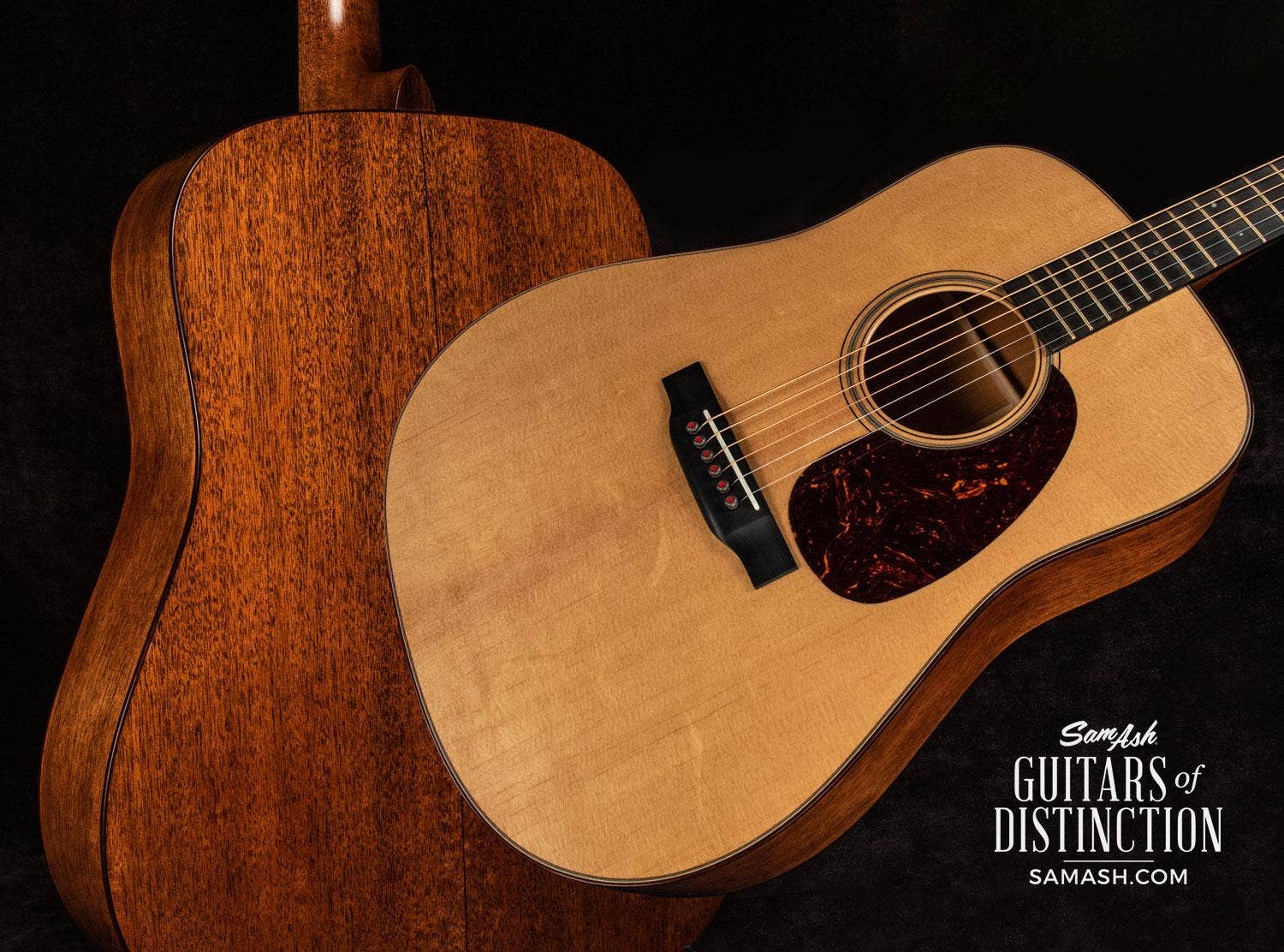 Martin D-18 Modern Deluxe Acoustic Guitar[/caption]
What do you call brand-new Martin guitars that look vintage? The Martin Modern Deluxe Series. The models in this series feature a Sitka spruce Vintage Tone System (VTS) top, top-quality wood binding, stylish gold frets, gold open-gear tuners, and a unique 1930s style script logo inlaid in pearl on the headstock. These guitars have rich, fully aged Martin tone that has moved mountains. All are crafted from East Indian rosewood, aside from the D-18 Modern Deluxe, which is made of genuine mahogany.
Special Edition
[caption id="attachment_16672" align="alignnone" width="1500"]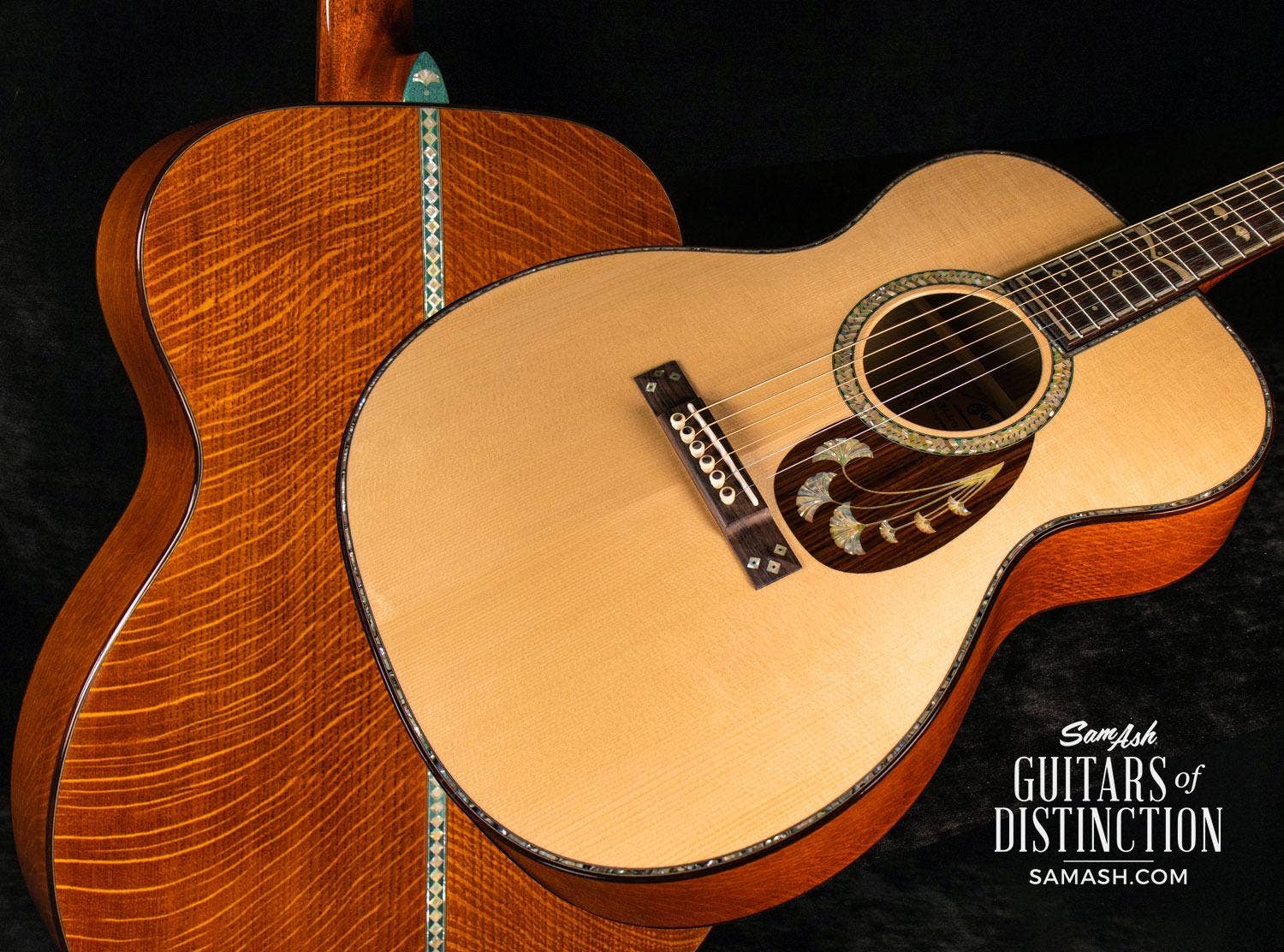 Martin OM-Arts & Crafts-2018 Acoustic Guitar[/caption]
The guitars which appear in this series are few and far between. Their production can be highly limited and is usually in honor of a specific person, place, thing, time, or idea. This collection has included a tribute to the late 1800's Arts & Crafts movement, a Woodstock 50th Anniversary guitar, and a collaboration with a renowned inlay artist.
Limited Edition
The limited nature of this series lends itself to beautiful-quality builds which go above and beyond Martin's high-caliber normalcy. Delicately finished, ornate, or belonging to a famous guitarist, this series has it all. Most of these guitars will be in our Guitars of Distinction collection.
Martins are Pretty Great, Aren't They?
They really are. We know that well. And while this buyer's guide has covered a lot, there are some more Martins we didn't touch upon which you might really love. Give us a call, come to the store, or check out all we have to offer from Martin here, on our website.