JBL PRX800 Series Loudspeakers Buyers Guide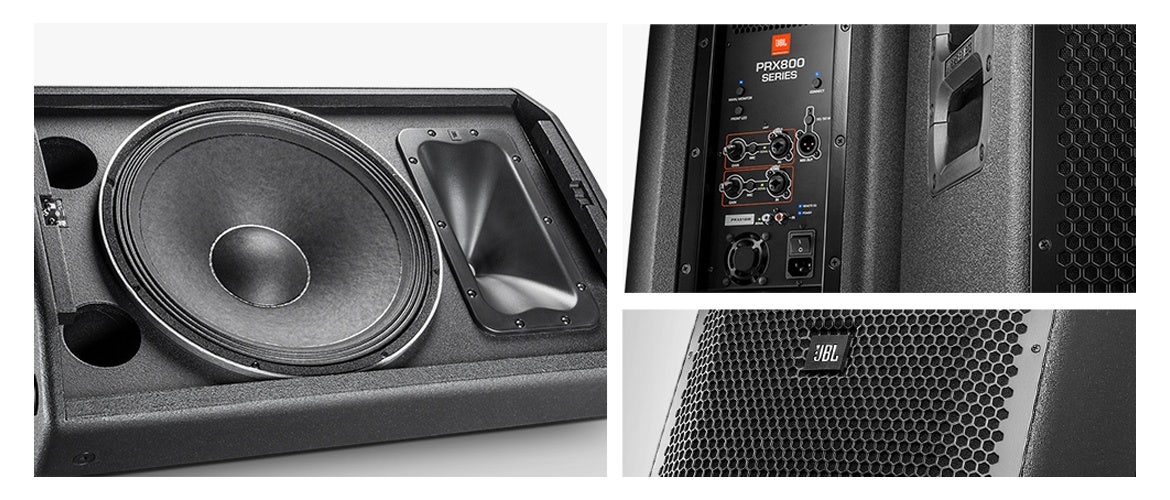 Founded by James B. Lansing shortly after the end of World War II, JBL has been at the forefront of Loudspeaker technology for 70 years. JBL innovations have helped artists, entertainers and leaders reach their audiences—while enabling audience sizes to grow larger, performances to sound better and events to impact the lives of generations.
About PRX 800 Series:
JBL Powered Loudspeakers have long been appreciated for their power and versatility, and the latest generation, PRX800W, provides unprecedented control for its class.
The JBL PRX800W family of portable, high-powered sound reinforcement speakers is the first in its class to include Wi-Fi for wireless control. Using the free PRX Connect app, users can set up and optimize the performance of their live sound system faster than ever before. An ultra-efficient 1500-watt class-D amplifier and JBL's patented Differential Drive technology provides best-in-class power handling while greatly reducing system weight. The rugged all-wood cabinets feature a redesigned input panel and universal power supply for easy, reliable operation at gigs worldwide. Thoughtfully designed from the ground up, PRX800W delivers legendary JBL sound and represents the next generation in smart live sound reinforcement

Why You Need PRX800
Wi-Fi Control for Easy Setup and Optimization
Wi-Fi control allows users to easily customize their sound and manage their loudspeakers for any application using the PRX Connect app. PRX Connect provides control of internal DSP functions including level, gain, mute, 8 Parametric EQs and more from anywhere in the venue using a tablet. Easily connect and control one speaker using the speaker's onboard Wi-Fi, or use a simple wireless router to connect and control up to 12 speakers, making it easy to expand the size of the system and better manage it in more challenging environments

1500 Watts of Power
PRX800W pairs its unparalleled control with 1500 watts of Class D power, offering higher SPL and more dynamic range for more demanding applications. JBL designed the woofer from the ground up, using proven technologies found in our top-of-the-line systems. JBL's patented Differential Drive technology uses two voice coils to greatly reduce the weight and increase the power handling of the speaker. The patented Progressive Transition Waveguides give the widest coverage on the market, reducing the need for excessive gear.
100-Hour Torture Testing
JBL speakers are known for their durability and roadworthy construction, and PRX800W is no different. Each speaker design is run through a vigorous, 100-hour torture test to ensure that it can withstand anything that is thrown at it.
PRX800W speakers will withstand years of touring, application and transport, and will continue to function and look as they did when they were fresh out of the box.

Meet the Family:
The PRX800W line offers six speaker options so users can easily build the ideal system for any application. The PRX812W and PRX815W single speaker, 2-way options provide a compact footprint with M10 suspension fly points, so the speaker can be flown in nearly any configuration. If more output is needed, the PRX825W offers a dual 15", 2-way system capable of allowing users to achieve great SPL and sound quality. And if a wider dynamic range is needed, the PRX835W features a 15", 3-way system, offering smoother frequency response across the spectrum and allowing users to forego a subwoofer. If more bass response is needed, the PRX800W series offers two subwoofer options in the 15" PRX815XLFW and the 18" PRX818XLFW, completing the system and wowing audiences in nearly any application.

The Sam Ash Difference
At Sam Ash we work very closely with our customers to find the best product for their needs. Come into any of our locations to experiment with our huge selection of live sound equipment and discover the latest technologies and accessories that can help improve your performances and make your life easier. We have live sound experts who know what you need. Not near a store, not to worry, give us a call at 1-800-472-6274, we have experts waiting to talk gear, gigs, and technology.