An Interview With Paul Reed Smith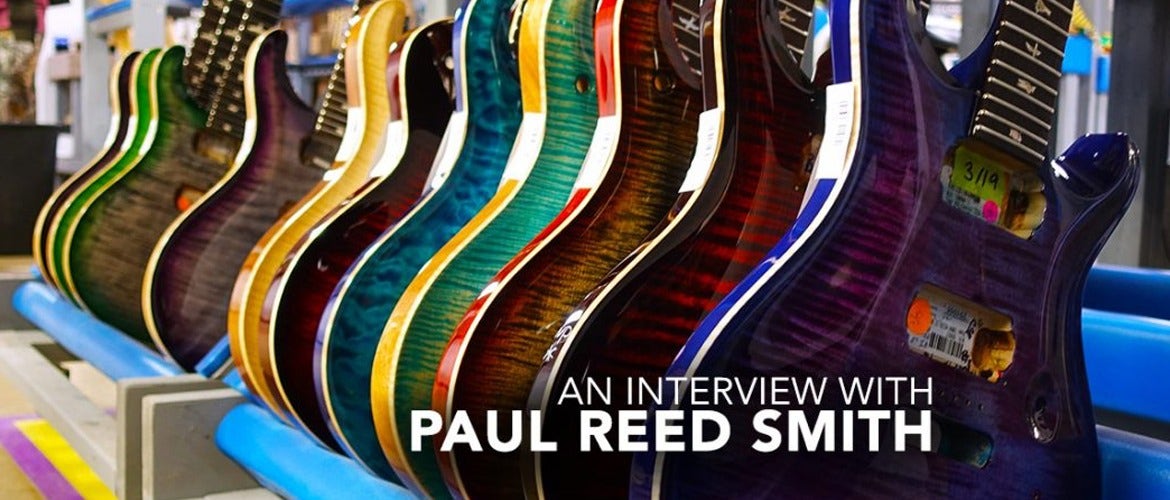 On a recent trip to the PRS factory in Stevensville, MD, we sat down with Paul Reed Smith for an in-depth conversation about PRS Guitars, Sam Ash Music, and the shared history of these two industry giants.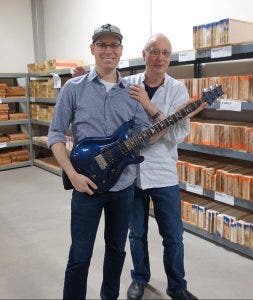 Ben Ash with Paul Reed Smith holding one of Paul's prototypes owned by Sammy Ash
BA: We wanted to talk to you today, because everyone has their PRS interview, discussion, but you go way back with Sam Ash Music, literally to the beginning…
PRS: You can track it by the age of my son.
BA: Why, was he born when you first built the guitar? PRS: Yeah and his name is Sam.
BA: How old is Sam?
PRS: I think he's 31
BA: So you've been around for 31 years…
PRS: With you guys, yeah.
BA: How did the relationship between Sam Ash Music and Paul Reed Smith, the person and the company, start?
PRS: Well your father, Sammy, sent me to go see, your Uncle Richard on 48th Street and Richard took the two prototypes I brought him and REALLY put them through the test, with all the sales guys in the store. When he was done he goes, I don't think we can sell curly maple but I really like the guitars. All the sales guys say, "NO, no, we can sell curly maple!" So Richard says "Ok, well then I'll order them." Richard wrote me out an order on a piece of paper that said I want two of these and two of those and two of these and two of those and two of these and two of those and two of these and two of those and I want you to repeat it once every four months for four months. And he added "I want it in this store and this store, this store, this store. The multiplication factor was frightening. I walked out of the store that day and my car was in the parking lot next door on 48th Street and I couldn't find it! I knew that I had just taken am order and it would never be the same if I couldn't deliver. It was a huge order. Richard told me that day, "Listen, my father [Jerry] had a talk with me. You know, when there was a company that came in here and tried to sell us stuff and it wasn't the best stuff but my father gave them a big order. And I said 'Why are you doing it, dad?' 'Well (Jerry said) because one day they're going to be huge and we want to get started on the ground floor with them.'" And Richard looked at me and said, "I'm doing the same thing for you." And that's how it started and that order was the fundamental basis of me being able to get investors. The investors would call Richard and they called Robert Levin [of Chuck Levin's Washington Music Center] and asked "are these orders real?" And Richard took those calls.
BA: That's awesome! PRS: Yeah! So when you have a company, you need a product, you need customers, and you need an ability to make them. And that was all three pieces. We built a factory, we had product, and we had customers. Had you heard that story before?
BA:  I've heard the cliffnotes version so I know most of that.
PRS: Let me tell you one story you might not know: I walked into the store and I have two cases in my hand and Richard is on his hands and knees on the floor with a razorblade opening a keyboard box. He turned around like the exorcist to me and he goes, "Didn't expect to see me down here, did ya?" And he was down opening up a keyboard box so he could sell it. He was trying to get the keyboard out of the box; it was a big box. That's how it all started; he dragged me into the other room and they went for it! And by the way Richard can play guitar!
BA: Yes he can! He's got chops!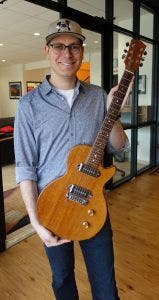 Ben Ash holding the first guitar Paul ever built
BA: So you're a guy from Maryland who's making guitars. How is it that since Sam Ash Music didn't exist in Maryland, how did you hear about us and decide you wanted to sell your guitars with us?
PRS: My response to this is, "You've gotta be kidding me". I'm a guitar player and I don't know about going to New York and being on 48th street and seeing all the stores and you guys being a fundamental piece of that whole thing? It was Stuyvesant, We Buy Guitars, Manny's, Rudy's, Alex, and it was all these stores.
BA: You had all these stores on the street so why come to us?
PRS: Why not? Music Row was the mecca of the guitar sales business on the east coast. That was it! All the musicians went there. We had Chuck Levin's Washington Music Center which was the largest music store in the world at the time but New York's 48th street was just mecca. There was stuff in the windows people just couldn't deal with. It was so rough on that street at one point that salespeople used to come out on the street and argue about pricing for a customer or something, yelling at each other, and then they'd have a beer at the end! It was so rough at one point you couldn't play guitars in some of the stores without handing them a credit card. They didn't have the time nor the people to handle all the customers. This was New York City! You know, two streets away from the diamond district. This was IT! Now it's all busted into pieces.
BA: Yeah now it's all Rockefeller properties. PRS: Your 48Th Street stores moved and you have a beautiful new store on 34th Street.
BA: Thank you. PRS: And it's right near B&H, right? I mean that's another mecca.
BA: For photography yeah absolutely.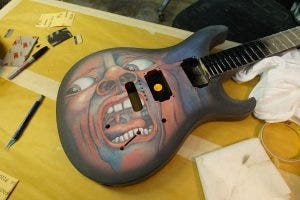 Guitar being made for King Crimson guitarist Jakko Jakszyk
BA: What has made it unique working with us?
PRS: So we go to NAMM 2018 and your father [Sammy] was involved in what was the products of the show because you guys are Sam Ash. There was energy from you guys around the [Mark] Tremonti MT-15 amp towards us; that's leadership. I've been around your dad since he was around your age and I've been around Richard since he was just getting married. Powerful stuff. I've had a long relationship with Barry [Horowitz, Senior Vice President], Howie [Mendelson, Executive Vice President Of Sam Ash Music], Jerry [Ash, Chairman of Sam Ash Music], Richard [Ash, CEO of Sam Ash Music], Mike Rock [Vintage Guitar Buyer], everybody.
BA: Do you remember any favorite collaboration you did with Sam Ash Music?
PRS: I remember it all. We would be in our [NAMM] booth 10 years into our company and your whole crew would walk in and order a ton of guitars and it would make our trade show. We'd go to 48th Street and sit down with all the sales guys and talk about what it is that we were doing. For me, you being here today at the factory with the crew, is awesome! I remember our dinner after an event in Manhattan; you, me, your pops and a bunch of other people went out to dinner, I remember that. I remember almost all of my conversations with your dad and with you and with Richard, most all of them with Jerry, most of the conversations with Paul [Ash]. I'm gentile by birth and a Jew by godparents and training. I wear both a Star of David and a cross around my neck. I got taught a lot and you've gotta remember I wasn't in a family of merchants. YOU guys are merchants. You guys taught me so much. I mean, can you imagine: here's this guitar maker from Maryland and I'm around some of the best salespeople in the world that know how to run companies? What are you talking about? I grew up amongst mathematicians and physicists! To me, the godfather of my children is from New York and I'm very engrained there. The first experience I had with a really good musical instrument was when my uncle, Paul Cianci, was the number one chair for the Music Union. When they had a thing with the best musicians in town where they were on call for a recording session, Paul was sitting in the first chair. He had a Guadagnini violin which is considered as many as good as a Stradivarius and he played it for me once in their apartment in NYC and it sounded like God. It was unbelievable! In a way, getting accepted by your family was a big deal to me. That's the way your dad talks about it, right?
BA: Yeah.
PRS: I remember he called me a mensch one day and I knew what it meant but I didn't expect to hear the word used towards me.
BA: That's my dad, for ya. PRS: I got accepted by the Levin family. I got accepted by the Ash family. To me, it's almost personal.
BA: On a more personal note, has there been any advice, life lessons you have learned from working with our family?
PRS: Huge amounts of those stick with me. It was things like "I got taught by my dad and now I'm teaching you." Jerry would teach Sam and Sam would teach me. Most of it was me watching and listening like a hawk rather than being sat down like and explained to like a kid. Same way you learn; you watch. There's a legacy in your family that I have been allowed to be around and I have loved and will always love.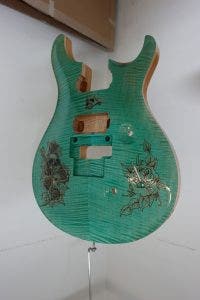 BA: What advice have you gotten while working with Sam Ash Music that you would share with other people trying to make their own company in this industry?
PRS: You've got major players in this industry and they move around. Guitar Center's been a part since the 80's and you've been a part of it for decades before that. So if you're going to have a relationship with the music business you have to have a relationship with Sam Ash Music. That's just the way it is. I think there's really good people at Sam Ash and I think that Sam Ash's number one goal is that they have very happy customers. The new player is Sweetwater in this country and there are people like Mars Music that have come and gone but you guys have always been a staple. If you're going to do business in the MI business, the musical instrument business, you need to know these good people that care about their customers. Sage wisdom? "You see the same people going up as you do on the way down": that was a Chuck Levin-ism. "You've gotta give new people that deserve a chance a chance": that was a Richard-ism. "It's all about relationships": that's a Sam-ism.
BA: I've heard that one a million times. PRS: It's true! Sam Ash has always done what's best for the customer and I think that's good. Always what's best for the customer, always. I've never seen them not try to take care of a customer, ever. When someone calls with a complaint, you guys are all ears.
BA: Sammy is the one that answers those phone calls. He literally talks to the customers that call him at the office. PRS: He gives out his cell phone number which is extraordinary.
BA: And his email! On that note, what have you noticed working with family companies like us and the Levins' compared to working with people who don't have a name or family associated with themselves. PRS: Depends who you're talking about. Some places behave exactly like a family business. It's all positive. There are some businesses which are family businesses which are just jointed. If you walk into a store and someone says, "Can I help you?" and they mean it, that's a good start. When I walk into corporate and they ask, "Can I help you" they mean it. It's just the way it is. I remember one time (true story) we were in the Hilton bar and a lot of business would get done at that bar.
BA: At NAMM?
PRS: At NAMM. Somebody walked up to Sammy, Richard and Larry Thomas (at the time Larry was running Guitar Center) and said, "Why don't I just get a map and some push pins and you guys just be done with the argument right now?" It was hysterical! In other words, there was all this discussion whether Guitar Center was coming to New York City, was Sam Ash going to go to California; it all washed out.
BA: What year was this? 80s? 90s?
PRS: 94, maybe?
BA: So mid-90s, right when we were expanding and so were they. PRS: I don't think anyone got any push pins or a map but there was an expansion that happened. You guys walked right into California; that's their territory. They walked right into New York City and everybody got along somehow. And somehow it worked.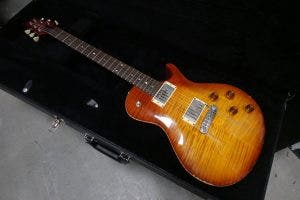 Dave Baksh of Sum 41's PRS Singlecut he used in the music video for "In Too Deep"
BA: How did you know suddenly you became a household name for guitar players?
PRS: So what happened was, or as we say in the Baltimore hood, "Wha ha happened was", we went to NAMM every year and you would hear people muttering, "Gibson, Fender, Ibanez… Ibanez, Fender, Gibson… Taylor, Gibson, Fender… Martin, Taylor, Fender… Fender, Gibson, Fender, Gibson, Fender, Gibson…" and one day they were muttering, "Fender, Gibson, PRS…" and that was the day we knew something shifted. It was at a Nashville NAMM.
BA: It's a pretty cool, defining moment to say that people are talking about your brand.
PRS: You could hear it when you were walking around. I mean you hear people talking about, "Hey what's going on with Fender, Gibson and PRS?" It was the talk amongst people as they were walking around. Sam Ash started with guitars. All these companies started with guitars. Guitars are a fundamental core of the MI business and we're the number 3 manufacturer in the United States.
BA: That's unbelievable!
PRS: It's Fender, Gibson, PRS now.
BA: It's impressive considering there are these guitar luthiers who put their name on the headstocks of their guitars who are still trying to struggle to be recognized in the mainstream as a guitar maker. What was the hurdle you were able to jump that a lot of self-made guitar luthiers can't seem to get over?
PRS: There's something beautiful about being a small, boutique maker. In the beginning, we only had orders on the east coast. The first time I walked into a Guitar Center to do business, I kinda got thrown out. You never know how it's going to go. It was never looked at that way but rather in baby steps; what are we going to do tomorrow, next month, six months from now, etc. It was never "what are we gonna do in ten years?" It was never "we're going to have a big factory". What we have is a hell of a facility.
BA: Yeah it is! PRS: Baby steps. It was all done in baby steps. I never looked to try and get to some place that the other boutique guys weren't getting to. Now I can tell you that we were making forty guitars a day at one point and some other manufacturers went into manufacturing electric guitars at forty a day and whose ass was that going to come out of? It was gonna come out of my ass. I think this team of people have fought gallantly to stay in high quality, improving quality growth mode. What you're talking about eventually comes. Growth mode is a big deal. Grow 5 to 10 percent a year over a long period of time you get to what you're talking about.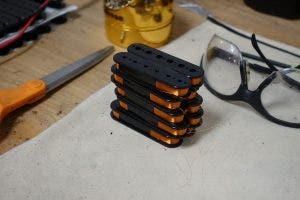 A stack of PRS pickups
BA: One thing I've found both inspiring and impressive is that there are a lot of brands that are usually good at one thing or hopefully two or three. What I was impressed with was while going through this factory that you are tackling everything you can involving guitar whether it's electric guitars, acoustic guitars, basses, amps, and pickups.
PRS: And the pickup thing is going very well!
BA: There are other brands that try to do the whole gamut and they're really good at one thing, pretty good at another and the rest is fodder.
PRS: Take Fender for example. The pillar of amplifier making. The pillar of guitar making. The pillar of accessories and lots of things. The one business we're not in is pedals.
BA: …yet?
PRS: Ehh.
BA: You thinking about it?
PRS: I don't know yet. I have two prototypes that I adore but no.
BA: Cuz-
PRS: No.
BA: That's fine. You had me a "no".
PRS: We try to stay within one trade show. We try to stay within NAMM. We don't go to Frankfurt anymore
BA: I'm asking about you tackling all things guitar because I am wondering why?
PRS: When I met Doug Sull I thought you're capable of being a gifted amp builder. The acoustic thing was I got my hands on an acoustic that just rocked my world: an original Taures (spelling?) which is the father of the guitar and it was a little teeny 3-inch deep guitar that had more bass than anything I had ever heard. I thought, "That's not an accident. Somebody understood something about physics that nobody else understood"; that's been an interesting journey which I love. As far as the basses go, Garry Grainger helped us get in the bass business.
BA: I saw that you have an award for Best Bass of the year by Music and Sound which you competed with people who only make basses for a living and you still made a better bass.
PRS: It was very sweet when they gave it to us. I looked at Garry when we got it and went, "Good job!" and he said, "Thanks!" Pickups have been since day one. Let's say you're in a national touring band and you were here and wanted your pickups adjusted. I didn't want to have to wait three weeks; I wanted to go downstairs and get it done right on the spot. Also, the prices were higher than I thought I could tolerate for a per guitar price and I wanted to make them ourselves. I knew it was going to be difficult but it's really worked out. The pickups we're putting in, the 594's, are going very, very well. There are a lot of things that are going extremely well.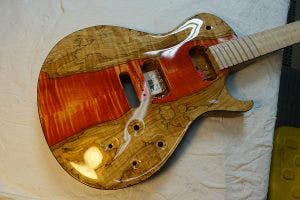 BA: Where do you see your company heading both on its own and with Sam Ash Music?
PRS: Right now, it's our time. Nobody gets tackled unless they have the football. We've got a large backorder right now. You guys are here because of the growth that's going on. We're becoming more of a player all the time; we don't have to beg people for orders anymore, we're just getting them. Things have changed. You're saying the business is getting more high profile which is implied in your questions. Where are we going with Sam Ash? We've got real growth years ahead of us together. PRS has got growth years ahead of us. All the people running Sam Ash Music and John [Conley, Guitar Buyer] and you will see that we're going to be growing. You wouldn't be here if you didn't think we had good days in front of us. If this looked like a dying business you wouldn't be here, no matter how much we liked each other. I think this is good.
BA: I think this is GREAT.
PRS: I think we've got good days in front of us. Real good days. When the economy took a dump, I took my wife Linda outside and said, "Do you see how pretty it is outside? That's a hurricane, that's a storm, I've gotta go back to work." The other day I said, "Do you see how pretty it is outside? That's the way it is."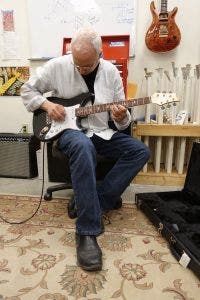 Paul playing a Silver Sky