IK Multimedia iRig Guitar Smartphone Interfaces: Gear Guide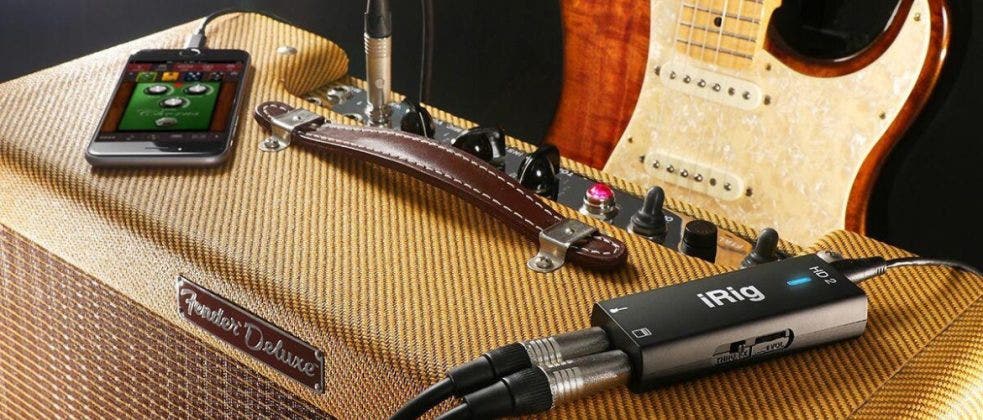 Nowadays, it seems we spend more time on our phones than almost anything else. Why not take that time as a guitarist to be productive? While there are desktop interfaces that are great for the computer, by the time you open up your DAW and turn on your interface that idea you had is gone forever. For those that like to jam, perhaps you'll looking for a fun, compact way to rock out without using an amp. With help from our friends at IK Multimedia, they've come up with multiple solutions through their iRig series to connect your guitar to your phone so you can keep your ideas fresh and play to your hearts content!
The simplest and most cost-effective way to get your guitar connected! Simply plug in a pair of headphones and your instrument cable, and then connect the iRig 2's 1/8" TRS output to your phone and you're good to go (dongle will be needed for Apple devices)! No need to worry about rocking out with a dry signal; the iRig 2 comes equipped with AmpliTube FREE so you can start testing out different tones. IK Multimedia understands that not all pickups are equal so if your guitar signal needs an extra boost. If you'd like, there's even a ¼" out so you can use and external amplifier and continue to play outside of a set of headphones! Lastly, if you want to play live, it comes equipped with a microphone stand Velcro strip so you can use this little device and your phone as your "portable pedalboard"!
Features:
FX and THRU dual-mode switch to turn on and off effects
Input gain thumbwheel to change signal control
Includes AmpliTube FREE
If you like the features of the iRig 2, this is practically the same with some additional enhancements. For one, rather than the 1/8" connector which is becoming an obsolete way to connect devices, the iRig HD 2 offers Micro-USB so there's less worry to connect to whatever device you own. Additionally, while you get a taste of AmpliTube for iOS with the iRig 2, this interface gives you the full version of the app! The most important difference of all is with 96 kHz Digital Audio with 24-bit A/D Conversion it's sounds even better than its predecessor!
Features:
96 kHz Digital Audio with 24-bit A/D Conversion
Includes AmpliTube 4 and full version of AmpliTube for iOS
Powered by the iOS device or USB
Detachable cables for Lightning and USB included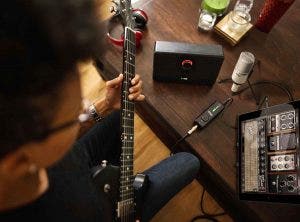 Consider this a serious upgrade that is less for the casual performer and more for the recording musician. Unlike the previous interfaces, this not only has a ¼" input for guitar, that input can be used as a line input for various other instruments and also has XLR for microphones. Now when I say microphones, it's not just for your standard, handheld dynamic mic. Thanks to the 48v phantom power switch on the side, you can use condenser mics without worrying about damaging your microphone! When it comes to your headphones, it still has the 1/8" input but now comes equipped with a volume knob so you can adjust the sound to your liking. For those that like to mess around with MIDI, we dare you to find a smaller interface that has built-in MIDI ports to allow connectivity of controllers, sound modules, and more! You can even power the iRig Pro in two ways: 2 AA batteries or a DC adapter sold separately (which can help charge whatever smart device you're using)!
Features:
Neutrik™ combo input for guitar, microphone or other instruments with a professional quality preamp, phantom power and gain control
Powered via USB, 2 AA batteries or the optional iRig PSU 3A (PSU simultaneously charges iOS device)
MIDI in and out (thru)
Includes AmpliTube for iOS, AmpliTube 4, SampleTank 4 SE, T-RackS 4 Deluxe with Mic Room and more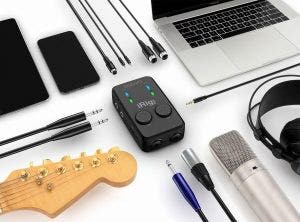 While the Pro I/O is nothing to scoff at, the Pro DUO I/O adds just a few extra features to give it a leg up. While it works almost identically to it's sibling, this little box sports not one but TWO ¼"/XLR inputs so you can record two guitars, a guitar and a microphone, or whatever combination you prefer! It also includes MIDI 2.5mm IN/OUT with breakout cables to connect more complicated devices.
Features:
2 XLR / ¼" combo guitar, mic & line inputs
2 balanced 1/4" outputs
Runs off 2 AA batteries (included) USB power or optional PSU
Includes USB-C, Lightning and USB cables for iPhone, iPad, Android & Mac/PC
Additionally, Sam Ash Music is offering two bundles: one that comes paired with Samson SR950 headphones and another called the iRig Pro Duo Studio Suite that comes packaged with the iRIg Mic Studio XLR and the iRig Headphones.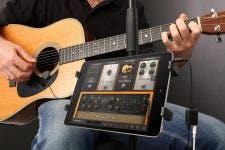 We promise we didn't forget you, acoustic guitarists! We just wanted to save the best for last! Many competitors make acoustic pickups that can sometimes require an permanent installation or be finicky to put into your guitar. Even scarier; it could ruin the finish of your guitar! IK Multimedia, however, has found a simple and elegant solution so you can mic up your acoustic without those previous problems. With it's MEMS (MicroElectrical-Mechanical System) microphone, you simply adhere the pickup to the soundhole of your guitar (or ukulele) using it's rubberized clamp so you know it's safe on your guitar. While such a small pickup seems questionable, you'll be wildly surprised by the accuracy of the tone it can gather from your instrument! Unlike the software for the other guitar interfaces in their catalog, this pickup comes equipped with the dedicated AmpliTube Acoustic software which will allow you to sculpt the tone to your will, including changing the tone to emulate other body shapes, a 12-string emulator, octave pedal, and more to discover!
Features:
1/8" output for headphone monitoring
Works on acoustic, classical, acoustic bass, and ukuleles
Comes with AmpliTube Acoustic FREE
Sam Ash Music: The Recording Experts
You can find these and more interfaces, as well as all of the iRig series and other IK Multimedia's products, on SamAsh.com. If you're still undecided, have questions, or need assistance with your purchase, give us a call at 1-888-977-0074 where we have music and audio experts at the ready to help you fulfill your needs.