IK Multimedia AXE I/O Interfaces: Everything You Need To Know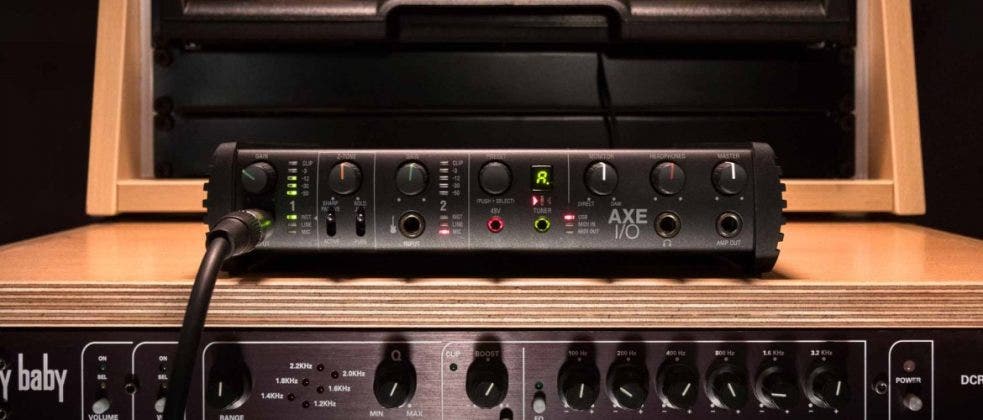 As a guitarist, you have a bevy of interface options to choose from at Sam Ash Music. However, if you're a guitarist, you want an interface that'll cater specifically to your needs. Thanks to our friends at IK Multimedia, they've come up with a series of interfaces as part of their AXE IO series that will do everything you hope for and more!
AXE I/O Series

If you're an electric guitarist, you may find yourself playing with countless settings just to make sure your direct signal into an interface is the sound you would normally get from playing live through an amp. Additionally, guitars have so many different aspects that can make one different from another. What kind of pickups are in your guitar? Do you want a transparent tone or color it up when recording?
One truly unique feature is the ability to choose the right setting for your guitar so it sounds stellar with whatever guitar you use when recording. Using a standard electric with passive pickups? Flick the switch on the front for "PASSIVE"! Have a more modern guitar with active pickups and don't want to overload the signal path? You guessed it: flick the switch to "ACTIVE"!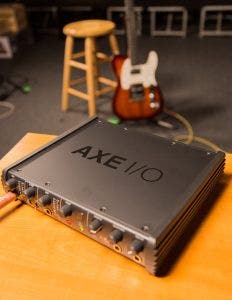 Everyone has their preference of tone, especially in the first step of recording guitar. Some guitarists like to plug in with a dry signal and play around with settings in post-productions. Others, however, want as true a guitar tone as possible while in the midst of recording. Once again, IK Multimedia gives you a choice! Want a clean and transparent preamp? Flick the switch to "PURE"! Prefer a Class A JFET input buffer that'll enrich your tone? Flick that switch to "JFET", instead!
Another unique property of these interfaces is IK's Z-Tone circuit. If you're particular about your tone, this knob is going to do wonders for you! Guitar tone can be influenced by impedance so by using this knob, you can turn it down to "SHARP" for a crisper, tighter sound. Turn the knob to "BOLD" and you'll get a thicker, beefier tone.
If you're a tone chaser, sometimes you want to re-amp so you can test out different combinations of gear for the tone you want. While most other interfaces create an obstacle of cables and signal paths, IK Multimedia makes it SO much easier for you to do! It's a simple as a cable going from the Amp Out output to your guitar amp, then setting up a mic and connecting it to the interface's microphone preamp and you're good to go! Say goodbye to unnecessary setups and get ready to cut your re-amping time in half (and then some)!
Acoustic guitarists: don't fret (pun intended)! This interface works great for you as well! Using the PURE mic preamp, you'll get a transparent, flat frequency response so you can record you acoustic with a microphone and get the truest tone possible! It's also great for vocals as well for singer-songwriters!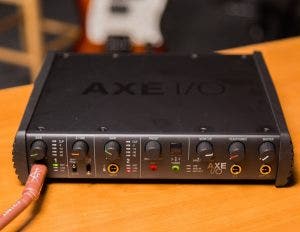 If you want more freedom when controller certain parameters of your recording, these interfaces come with MIDI ins and outs, as well as External Control ports allowing for expression pedals or changing parameters in the software such as using a wah or changing volume, pan, etc. Great for automation while recording!
While the interface is incredible by itself, wouldn't it be nice to get a little bang for your buck? What if we told you that when buying either interface, you'll get over $1000 in software and plug-ins?! No, that's not a typo!
Included in the software is AmpliTube 4 Deluxe which includes:
33 stompbox models
25 amplifiers
29 cabinets
29 vintage and modern individual speaker models
12 microphones
15 rack effects units
2 tuners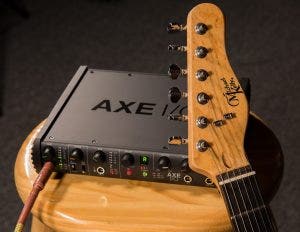 Also, you'll receive 10 T-RackS 5 processors which include the following:
Vintage Compressor/Limiter Model 670
EQP-1A Vintage Tube Program Equalizer
White 2A Leveling Amplifier
Black 76 Limiting Amplifier
White Channel
Mic Room
Tape Echo
De-Esser
CSR Room
ONE
While both interfaces share many of the same features, below are some other distinct and specific features between the AXE I/O and the AXE I/O Solo:
AXE I/O Features:
2 ins and 5 outs
Preset knob to change tones on the fly
Built-In Tuner on interface panel
Control Panel application to change and manage your settings on your interface
Controller tab to customize preset knob and controller inputs
DC Powered
2 ins and 3 outs
USB Powered
Sam Ash Music: The Recording Experts
You can find these and more interfaces, as well as all of IK Multimedia's products, on SamAsh.com. If you're still undecided, have questions, or need assistance with your purchase, give us a call at 1-888-977-0074 where we have music and audio experts at the ready to help you fulfill your needs.