Flanger Effect Pedals Buyers Guide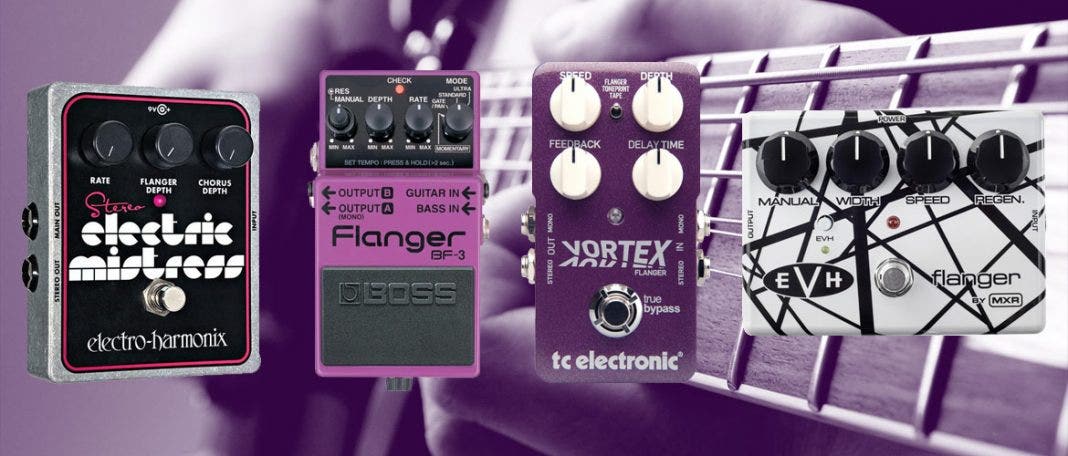 Flanger Effect Pedals: Everything You Need to Know
The mystical flanger…
Many questions surround its purpose and operation. What does it even do? Do you need one? How does it fit in on your pedalboard?
Flanger is an effect that is actually based on delay. It's created by mixing two identical signals, adding a little bit of delay to one of those signals, and continuing to vary the delay time. This result is signal fluctuations which give us the sound of the flanger.
The origin of the flanger dates back to the analog days—we're talking reels of tape here kids. It began with two reels, holding identical recordings, played together. Someone would then place their finger on one of the reels to slow it, and thus alter the characteristic of the recording.
Of course things got a little easier over time, particularly when the flanger pedal was born, followed by digital effects options in recording programs, like plug-ins, and the likeness.
Early flange use can be heard on classic rock staples like "Barracuda" by Heart, "Bold as Love" by Jimi Hendrix, Led Zeppelin's "Nobody's Fault But Mine," Van Halen's "Unchained," and "The Spirit of Radio" by Rush. In slightly more recent rock times, the flanger was used on Rage Against The Machine's "Killing In The Name," Muse's "Stockholm Syndrome," and Lenny Kravitz's "Are You Gonna Go My Way."
Nowadays, you won't have to strategically press down on a tape reel to make a flange effect. We have some pretty great stomp boxes that let you get the flange sound you need. Let's check out some of the best stomp boxes in the flanger effects pedal world.
TC Electronic Vortex Flanger  
On the more affordable end of the spectrum, the compact, purple monster—the Vortex, provides you with the foundation of flanger pedals. Its four knobs allow you to adjust Speed, Depth, Feedback, and Delay. This pedal ranges from a brain twisting tape echo over more contemporary sounds, to an all-out flange-war, which ensures you will always be able to find the appropriate flange for the moment. Vortex Flanger's through-zero option also gives you the ability to get both a negative and a positive effect to your flange sounds. With dual input and output, as well as true bypass, TC Electronics assures excellence in sound.
Electro-Harmonix Stereo Electric Mistress Flanger/Chorus Effects Pedal
Electro-Harmonix is the typical frontrunner in innovative pedal technology. Their sparsely decorated Stereo Electric Mistress will bring your flanging into another dimension. You can get your Jimi style flange on, or use Filter Matric mode to manually flange or select a flange point that freezes tones. This is the only pedal where lush Stereo Flange and Stereo Chorus work together seamlessly for the richest modulations that undulate and flow over any stage or recording.
Boss BF-3 Flanger Guitar Effects Pedal
Boss is the standard against which all other pedals are measured. They even have "standard" (i.e. mid-ranged) prices. Now, overtaking the legacy of the BF-2, the BF-3 Boss Flanger features bright pink aesthetic and classic Boss typeface, covering circuits that let you flange your heart out. The BF-3 features the classic standard flange mode as well as two updated modes, ultra and gate/pan mode, for ultra-fat, very low noise flanging. Another updated mode of the BF-3 is the momentary mode which provides you with the ability to instantaneously apply the flanger whenever it is needed within a phrase. The BF-3 also includes a tap tempo function which allows you to set the rate to the tempo at which the pedal is pressed and now comes with an input specifically for basses.
Eddie Van Halen's tone is the stuff of legends—and you know a little bit of his magic goes into every EVH product. Sporting a casing that mimics the stripes of his infamous guitar, this awesome flanger boasts bucket-brigade technology, which provides the sweeping, whooshing magic of the original MXR. Dunlop also added the EVH Switch, which instantly calls up Eddie's "Unchained" sound with the exact same Manual, Speed, Width, and Regeneration settings that he used to get one of the greatest guitar tones of all time.
EarthQuaker Devices Pyramids Stereo Flanger Effect Pedal
The EarthQuaker Devices Pyramids rounds out our list, costing the prettiest penny, while also affording the most options. With a wild, mildly psychedelic aesthetic, the purple and teal pedal has a whopping 8 knobs, 5 Presets, 8 Modes, and a rate/tap switch. It also has a multifunction Modify control, positive and negative feedback, and a variable Mix control, which is something you don't see on a flanger every day.
To see all the other flanger effects pedals we have to offer, as well as all the other excellent pedals, visit SamAsh.com!