Famous Fender Stratocaster Players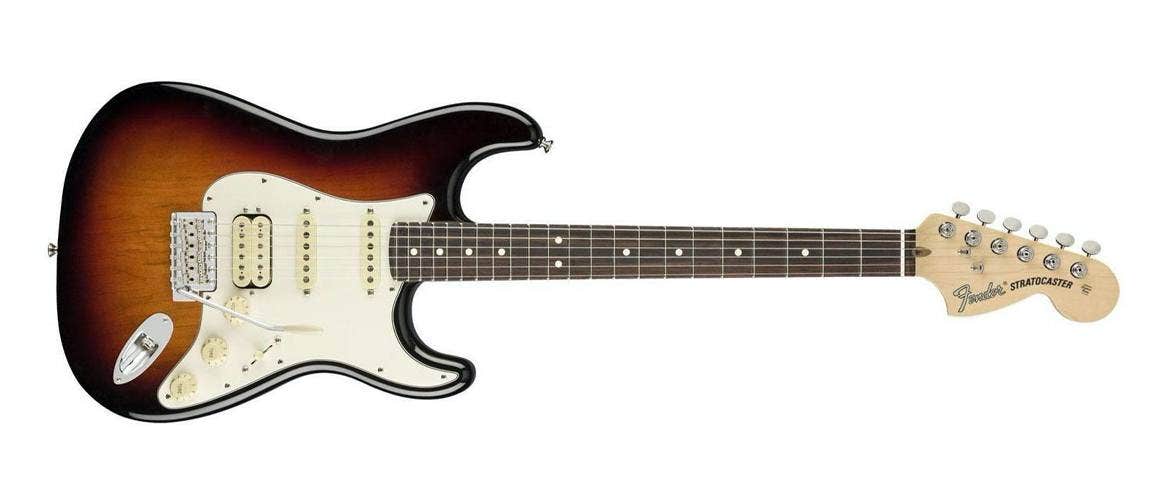 Who Plays A Stratocaster?
There are too many great Stratocaster players to mention them all and we doubt that there are many great electric guitar players that don't own at least one Strat, but here is a partial list of some of the heroes of the Stratocaster and the models that give (or gave) them their sound:
Bille Rae Carson – Bill Carson was a western swing guitar player raised in Amarillo Texas who moved to California. In 1951 he walked into the Fender factory to ask about the new Fender Broadcaster (now called the Telecaster) electric guitar. Carson became friends with Leo Fender and began telling him what was wrong with the Tele. He took the Telecaster out on the road, talked to players about improvements in design, and this led to the development of the Stratocaster, which he said, "fits better to your body like a well tailored shirt should."
Buddy Holly – Buddy Holly is one of the first great heroes of the Stratocaster and one of the pioneers of Rock n' Roll of the late '50s. He played both lead and rhythm guitar and beginning with his performances at the Apollo Theater in 1957, with his band the Crickets, was one of the first white performers to include black neighborhood theaters on his tour. Among his many hits, his song "That'll be the Day" is ranked 39 on Rolling Stone's list of The 500 Greatest Songs of All Time. On February 2, 1959, the "Day the Music Died" a plane crash claimed his life along with Ritchie Valens and The Big Bopper. Buddy Holly's tombstone is decorated by images of his beloved Stratocaster and sun glasses. If you're ready to impress your Peggy Sue, choose a Squier Classic Vibe '50s Strat, a Fender Classic Series '50s Stratocaster, or the Fender American Vintage '57 Stratocaster Reissue.
Dick Dale – One of the fastest guitar players on earth, Dick Dale is a pioneer of surf rock and one of the first to own the Stratocaster, given to him personally by Leo Fender. His sound, which included heavy use of reverb, was a huge influence on Jan and Dean and the Beach Boys. Dick Dale is a lefty who plays a righty guitar so his signature strat has a reverse headstock, making it look like a lefty, but is a right handed guitar.
Al Jardine – Founding member, rhythm guitarist and occasional lead singer for the Beach Boys. His Stratocaster helped give them their distinctive sound, which includes principally Fender instruments. For the Beach Boys sound go for the Squier Classic Vibe '60s, the Fender Classic Series '60s Strat, or the Fender American Vintage '62 Stratocaster Reissue.
Ritchie Valens – lost on "the day the music died" in 1959, Ritchie will always be remembered for his great version of "La Bamba" on which he played a sunburst Strat.
Pete Townshend – lead guitarist for The Who and a great solo artist has used the Stratocaster almost exclusively since 1989 – before that Pete had used various Rickenbacker, Gretsch, Gibson, and Fender electrics and smashed a few Danelectros and Vox guitars on stage. Pete's Strat is a specially modified version of the Eric Clapton Signature Strat with Lace Sensor pickups, but on the Tommy album his 12-string is a Stratocaster Fender Electric XII. He first let his love for Stratocaster open the door in the 1967 Monterey Pop Festival. Dave Marsh's "The New Book of Rock Lists" ranks Pete as #3 on his list of Best Guitarists.
Stevie Ray Vaughan – The younger brother of Jimmy Vaughan (who also has his own signature Strat), Stevie Ray Vaughan was one of the most beloved and influential Texas Blues guitarists of all time. Stevie's incredible guitar work on "The House is A'Rockin," "Crossfire" and "Pride and Joy" really highlights the sound of the Stevie Ray Vaughan Strat with its great Texas Special pickups. Vaughan died in a helicopter crash in 1990, but his music, honored with Texas's Stevie Ray Vaughan Day by former governor Ann Richards, lives on.
Bonnie Raitt – Here's something to talk about: Nine time Grammy winning blues guitarist, singer, and activist Bonnie Raitt, is the daughter of Broadway and film star John Raitt. She is particularly famous for her bottleneck guitar playing and has just released her 18th album. Bonnie has performed with such blues legends as BB King, Roy Orbison, Stevie Ray Vaughan, Taj Mahal, and Jackson Browne. Bonnie's Signature Stratocaster is no longer made, but it had an alder body, Texas Special pickups, a Vintage style tremolo, with vintage tuners, and 22 medium jumbo frets. Many of these features are available on the value priced American Special Strat. Bonnie also uses the Fender Pro Junior amp and amps and effects from Vox and Boss.
Mark Knopfler – Number 27 on Rolling Stone's 100 Greatest Guitarists of All Time, Mark Knopfler along with his brother David founded the band Dire Straits in 1977. He is not from Down South – London Town, but was born in Glasgow, Scotland. Knopfler's work with Dire Straits, his solo work and collaboration with other artists, and his film score work is enduring. His many songs include unforgettable guitar riffs, think of "Money for Nothing," "Walk of Life" and "Romeo and Juliet" for just a few. In his teens, Mark wanted a Fiesta Red Stratocaster, but had to settle for something less. Today, the Mark Knopfler Stratocaster comes in that hot red finish, with an Ash body, '62 vintage C-shaped neck and three Texas Special Humbucking Pickups. Set its 5 way switch in position 2 to recreate the sound of "Sultans of Swing."
Bob Dylan – Bob Dylan has owned an use a lot of different guitars. His acoustics have been mostly Martins and Gibsons throughout his career, but the man who invented folk-rock and became the voice of his generation has been fairly consistently a Stratocaster player for his electric guitar work. Just as he can't be pinned down on his musical style, his opinions, or even his religion for very long, Dylan can't be pinned down on his choice of Stratocaster. He has been photographed with maple and rosewood fingerboard models, has used a Bonnie Raitt Signature model, and has owned and sold a 1993 aluminum Stratocaster model. He appears to prefer the 3 single coil models like the Fender American Standard Stratocaster.
John Lennon – John Lennon used a 1961 Stratocaster during his recording sessions for "Help!" and during the "Sgt. Pepper" sessions. It features prominently on the track for "Nowhere Man".
George Harrison – George Harrison got his first Strat in 1965 and used it to record the "Rubber Soul" album. He can also be seen playing it (with his own hand painted psychedelic paint job and the guitar's nickname "Rocky" on the headstock) in the films for Magical Mystery Tour and the Concert for Bangladesh.
Eric Clapton – Everybody's favorite guitar hero, Clapton has played the Stratocaster since 1970. His first Strat, named "Brownie" was featured on the original recording of "Layla." His guitar "Blackie," was made of parts from 3 different guitars and was ultimately sold at a charity auction for $959,500 in 2004. His own nickname, Slowhand was given to him by producer Giorgio Gomelsky and is the title of the album that contains "Lay Down Sally," "Cocaine," and "Wonderful Tonight" three of Clapton's most popular singles. The first model in the Signature Series was the Eric Clapton Signature Strat. Sorry to say, you missed Sam Ash's exclusive Eric Clapton Antigua model in a beautiful off white Antigua finish with part of the proceeds going to the Eric Clapton Crossroads foundation, but you can still get the Eric Clapton Signature Stratocaster and the Eric Clapton Custom Shop Stratocaster. Both guitars are built to Clapton's exact specifications and feature a soft "V" shaped neck, block tremolo, and Vintage Noiseless Pickups. Owning either is like being invited by Eric Clapton to take one of his favorite axes.
John Mayer – Originally known for his work in acoustic rock, Grammy winning John Mayer in 2005 began a transition to blues by collaborating with BB King, Buddy Guy, and Eric Clapton and performed at Clapton's Crossroads Guitar festival in 2007. Rolling Stone featured him on the cover in February 2007 where he was nicknamed "Slowhand Jr." proclaiming him one of a new generation of guitar gods. The John Mayer Stratocaster is made to John's exact specifications and features three "Big Dipper" single coil pickups that heavily emphasize the rich bass and treble tones and limit the midrange. The guitar has an alder body (we resist the temptation to call it's body a wonderland), African rosewood fingerboard, and larger C shaped neck.
Jimi Hendrix – possibly the most influential blues/rock guitarist of all time, Jimi Hendrix is closely associated with the Fender Stratocaster. A lefty, he turned his right handed Stratocaster upside down and reversed the strings. He owned many Strats during his career and gave many away as gifts. One of his 1968 Stratocasters with a sunburst finish sold at a Christie's auction for $168,000. There is no Jimi Hendrix artist or signature model, but if you want to be Experienced with his guitar, get a white Squier Classic Vibe '60s, a Fender Classic Series '60s Strat, or the Fender American Vintage '62 Stratocaster Reissue, play it through a Marshall Stack, with a Vox Classic Wah Wah pedal, a Dunlop Jimi Hendrix Fuzz Face Distortion Pedal, and Dunlop UV1 Univibe Effect Pedal (for that Leslie rotating speaker effect). If, like Jimi, you are a lefty, also consider the Hal Leonard Picture Chord Encyclopedia for Left Handed Guitarists and the Hal Leonard Guide to Left Handed Chords for Guitar to help your technique.
David Gilmour – Since 1967, David Gilmour has been the voice and lead guitar of Pink Floyd. Guitarist magazine considers him the greatest Fender guitarist ever (beating out Jimi Hendrix and Eric Clapton), an issue that can hardly leave you comfortably numb. Gilmour has several successful solo albums. There are actually two David Gilmour Stratocasters produced by the Fender Custom Shop: a Relic reproduction of his own 30 year old customized guitar and an NOS (new old stock) version that is the same guitar without the wear and tear of 30 years on the road. The Gilmour Strats feature an alder body with sunburst finish covered over by a black lacquer (or a simple black nitrocellulose lacquer finish on the NOS version) with black a pickguard, a vintage tremolo with shortened tremolo arm, and a maple fingerboard on a 1983 thin shoulder "C" shaped maple neck. It includes three custom pickups: At the neck is a Custom hand wound Fat 1950's single coil Strat pickup, at the bridge is a Seymour Duncan SSL-5 Single Coil Strat pickup, and in the middle is a Custom Wound Single coil Strat pickup. Both guitars also feature a Deluxe black hardshell case, Evidence Audio high end cable, and David Gilmour's 3 disk Live in Gdansk CD/DVD package.
Buddy Guy – As a acknowledged major influence on Jimi Hendrix, Eric Clapton, and Stevie Ray Vaughn, 5 time Grammy winning Buddy Guy is one of the greatest examples of the Chicago Blues Style. Fender's Buddy Guy Standard Stratocaster is black with a polka dot finish, and features a maple fingerboard on a soft V-shaped maple neck, alder body, and 3 ceramic pickups. It comes with a deluxe gig bag.
Kenny Wayne Shepherd – Self taught Kenny Wayne Shepherd released his first album when he was 16 years old. A collector of vintage guitars and vintage Dodge autos, he is in the latest generations of great blues musicians. His affordable Kenny Wayne Shepherd Stratocaster is based on his beloved 1961 Strat and features his three custom voiced Kenny Wayne Shepard single coil pickups.
Billy Corgan – Smashing Pumpkin's Billy Corgan, the son of a blues guitarist, cites as influences, Black Sabbath, The Cure, and Cheap Trick (performing guitar on their live recording of "Mandocello"). Billy is featured on bass in nearly every Smashing Pumpkin's album and is well know for his guitar solos. The Billy Corgan Stratocaster is a hard tail (no tremolo) model, with three Dimarzio pickups to recreate his famous 1990's buzzsaw tone.
Next: Fender Pickups