Epiphone Les Paul Buyer's Guide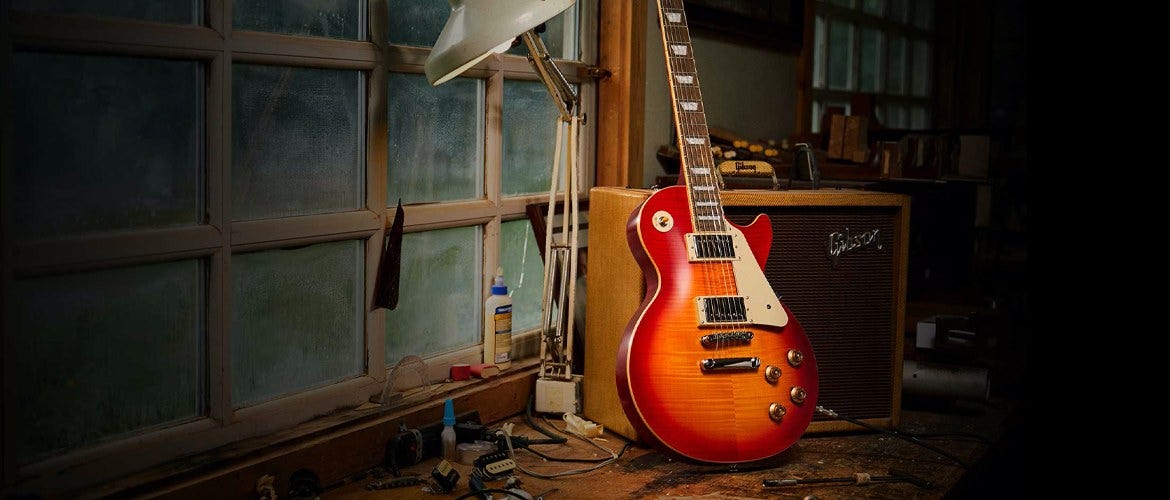 When it comes to Les Paul guitars, Epiphone occupies a uniquely important space. Many players have a burning desire for a Gibson Les Paul, but are constrained by the realities of their cost. That's where Epiphone comes in. The Epiphone Les Paul provides a more affordable option, which comes near to rivaling an authentic Gibson—after all, Epiphone was acquired by Gibson in 1957.
There are far more similarities than differences between an Epiphone and a Gibson Les Paul guitar. Everything from the exquisite craftsmanship to the components of an Epiphone Les Paul is perfectly suited to give you that famous Les Paul sound. In fact, Epiphone Les Paul guitars are often made to the same exacting specs, with many of the same features as a Gibson.
Design and Build
Epiphone Guitars are made in Gibson's own factory in Asia. Because Gibson owns the Epiphone factory overseas and doesn't use contract manufacturers, you can be sure that your Epiphone Les Paul is made to the exacting standards of the Gibson Company.
Body
Like the Gibson Les Paul, Epiphone Les Paul guitars are commonly made with mahogany (though a few cheaper models are crafted from okoume or poplar). Some have a veneer maple top while the more expensive lines have fully carved tops made of flame or quilt maple. Aside from certain "DC" or double-cutaway models, all feature the traditional Les Paul single-cut design, endlessly imitated since its inception.
Neck
A few Epiphone Les Pauls have a mahogany bolt-on neck, but most models use the traditional mahogany set-neck design of true Gibson Les Pauls. A good number of Epiphone Les Pauls have a high quality rosewood fingerboard, though some are made with pau ferro. You may, in some instances, also find a deluxe ebony fretboard.
Finish
Epiphone Les Paul guitars are made with a cost-effective polymer finish, which varies a bit from Gibson Les Pauls. Despite the differences in the finishing process, both companies produce guitars that are equally appealing to the eye, giving you plenty to gaze at.
Cost
Although these differences have a minimal effect on the sound of a guitar, they have a drastic effect on the manufacturing cost. Accordingly, Epiphone Les Pauls cost a great deal less than a Gibson model. However, the more expensive, fully featured Epiphone Les Paul guitars do overlap with some of the lowest priced Gibson Les Paul models.
You'll find some of the cheapest Epiphone options for beginners start out around $150. Many models sit in the midrange, costing a few hundred dollars. More delicately crafted, limited edition, and signature models, near $1000—but you can be sure they're worth it.
Series
Epiphone offers a whole mess of options when it comes to Les Pauls. While some mimic their Gibson siblings, many have their own style. Here's a rundown of the most popular Epiphone Les Paul series.
Les Paul Standard
The Les Paul Standard is a versatile music machine. These Epiphone models run the gamut from artist signature to legends remade.

Touted as the most popular electric guitar of all time, Epiphone brings the Les Paul Standard to a price that's feasible for most. The tried-and-true Les Paul mahogany body with maple veneer top affords all the sweet natural tone you desire. The mahogany neck is cut into 1960s slim taper "D" profile and capped with a pau ferro fretboard. The Standard comes complete with dual Epiphone alnico Classic Humbuckers.

Adding blazing good looks and advanced specs to the archetypal Les Paul Standard, the PlusTop PRO features a AAA flame maple veneer top, 1960's slim taper "D" profile, and ProBucker pickups with coil-splitting.
Les Paul Custom
There are plenty of options to choose from when it comes to Les Paul Custom models. With many artists opting for this infamous series, it's no wonder the Custom is one of the most popular Epiphone Les Paul iterations.
Much like its Gibson counterpart, the Epiphone Les Paul Custom PRO has an elevated look and excellent sound, powered by advanced electronics. It's got a fully bound mahogany body with maple veneer, slim taper "D" neck with satin finish, and gold hardware. The dual ProBucker pickups are wired with coil-splitting and phase switching capability. There's also a Koa Custom PRO model, a Custom Classic PRO with Gibson USA pickups, and a 1970's Inspired Les Paul Custom Blackback PRO.

Going in a slightly different direction, the Prophecy Les Paul Custom Plus Ex is made for shredders. It's got a quilt maple top for awesome style, speed taper "D" profile neck, and dual EMG pickups. There's also a Les Paul Custom Plus GX, which houses Gibson USA humbuckers with coil-tapping. These axes beckon for some serious playing.

As a longstanding Epiphone shredder, Matt Heafy of Trivium has a signature Les Paul Custom. He designed it with a 1960s slim taper "D" neck, EMG active pickups, and 22 medium jumbo frets.  It's also offered in a "Snofall" version, which is finished completely in an alpine white gloss. Both of Matt Heafy's signature designs are available as 7-strings.

Jared James Nichols 'Old Glory' Les Paul Custom is a unique design from one of Epiphone's newest signature artists. This model mimics the personally customized axe Jared James Nichols originally created himself. Based on a 1955 Les Paul Custom, it sports a one-of-a-kind "Blues Power" cover plate, Grover Rotomatic 18:1 ratio tuners, and a single P-90 pickup.
Les Paul Special
The Les Paul Special models from Epiphone give players a simpler, even more attainable Les Paul option.

The Les Paul Special VE is a stripped down axe, available in multiple vintage-worn finishes. It offers a lightweight poplar body with okoume neck in 1960s slim taper "D" profile and Epiphone open-coil humbuckers.
Les Paul Studio
The Les Paul Studio was introduced in the early '80s. As its name suggests, it was made for studio musicians, offering a simplified aesthetic with strong Les Paul tone.

The modern version of the '80s classic, the Les Paul Studio offers a lightweight mahogany body with plain maple veneer top. The mahogany neck has a 1960s slim taper "D" profile with pau ferro fretboard and pearloid dot inlays. The pickups are open-coil Epiphone alnico Classic humbuckers, affording sweet rock tone. The Les Paul Studio is available in a variety of colors.

The Les Paul Studio LT is similar, but features a full-mahogany carved top, a bolt-on neck with tapered heel joint, and zebra-coil ceramic humbuckers at the neck and bridge.

The Goth Les Paul Studio is one of the coolest Epiphone has to offer. It's got classic Les Paul features, like a mahogany body paired with set mahogany neck, finished in pitch black satin with black hardware. It also has black open-coil alnico Classic pickups.
And Many More
There are tons more Les Paul options from Epiphone.

Take the Les Paul Ultra-III for instance—AAA flame maple top with chambered mahogany body and Shadow NanoMag pickup system, which features USB, mono, and stereo outputs, to capture the Les Paul's subtle body acoustics and string harmonics.

There's also the Les Paul Tribute Plus, sporting an AAA Flame Maple top, Gibson USA '57 Classics humbuckers with series/parallel switching, and wild color options.

Or there's always the Les Paul Express—a 22″ scale length travel version of the Les Paul—if you're often on-the-go.
By now, you see where this is headed.
Epiphone has more affordable options than any one buyer's guide can handle. So check out what we've got on Samash.com for all the newest and coolest Epiphone Les Pauls available.