Delay Effects Pedals Buyers Guide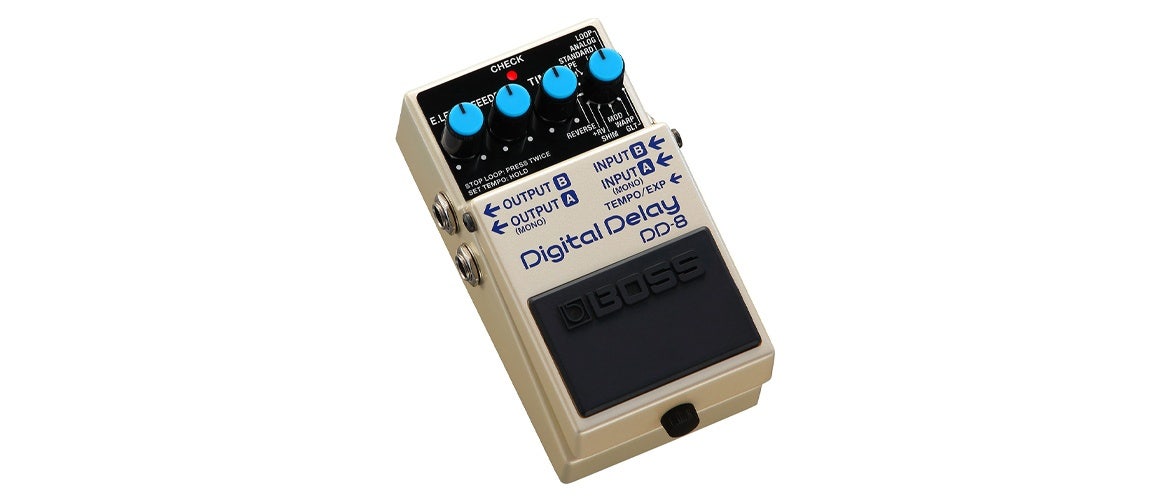 In most contexts, "delay" is a bad thing. Whether you're talking about a flight, shipping, or getting in the door of a venue, no one is ever happy about delay—unless you're a guitar player. If you play guitar, "delay" means a cool sound effect which makes your playing seem even better.
Delay is distinctly special amongst all the effects one can use on their sound. Though similar, it's not as subtle as reverb and not quite as encompassing as echo. Delay repeats your guitar's signal in a certain way, a certain number of times, and blends it into your sound. Most delay effects allow you to adjust aspects such as the time of the delay, how the trail tapers off, and how present it is in the mix.
There are plenty of excellent delay effects pedals out there to choose from. While they all do similar things to your tone, there are some differences between them. Check out all they have to offer to see what works best with your rig.
Excellent Delay Pedal Options
Electro-Harmonix Deluxe Memory Boy Analog Delay with Tap Tempo Guitar Effects Pedal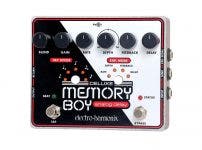 New York City's own Electro-Harmonix has made interesting pedals across the effects spectrum for decades now. The Deluxe Memory Boy Analog Delay pedal is another super-cool design from EHX. The large pedal gives you a lot of tone-shaping controls, from blend and gain, to depth and feedback. This all-analog pedal also has triangle and square wave modulation with adjustable rate and depth for grander chorus, vibratos, and sweeps, as well as a designated expression pedal input to enhance your capabilities on the fly.   Empress Effects Echosystem Delay Effect Pedal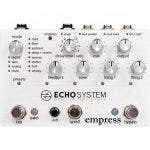 On the digital end of the spectrum, the Empress Effects Echosystem offers about as wide an array of delay options as possible. This pedal has 36+ studio quality algorithms, comprised of 12 algorithm types, with multiple versions of each option. Dual engine functionality allows any 2 of these delays to be used together, routed in parallel, series, or left/right configuration. The advanced controls, including tap tempo, gives you unrivaled control over all aspects of your sound, and the analog dry path leaves the signal intact while mixing in the wet delay signal, for optimal sound design.
Boss DD-500 Digital Delay Guitar Effects Pedal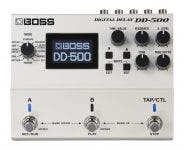 From one of the most renowned names in the pedal business, the DD-500 gives you plenty of delay options, with quality assured by the Boss name. Sporting 12 unique delay modes, the Boss DD-500 has a few integral control knobs including Time/Value, Feedback, E. Level, Tone, and Mod Depth, which help you create the right effect. This awesome pedal is also equipped with a built-in Phrase Looper and the choice of selectable buffered or true-bypass operation.  
TC Electronic Flashback X4 Delay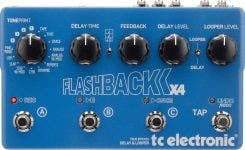 With a bold blue rectangular chassis, this straight-forward pedal from TC is a no-frills delay stompbox worth examining. It's got 16 delay types, three presets, and a tap tempo, to set the most accurate delay effect suited to your playing. The 4 TonePrint slots allow you to download your favorite artists' delay style to your pedal. The Flashback X4 also has a 40 second looper, so you can advance your practice technique, be a one-man-band, or just add another "player" to your existing line up. The Flashback X4 is analog-dry-through and can be set to either true bypass or buffered bypass.
MXR M169 Carbon Copy Analog Delay Guitar Effects Pedal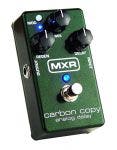 A classic pedal with a reputation that precedes it, the MXR Carbon Copy creates some of the most beautifully authentic analog delay effects known to man. The sleek, attractive design keeps it simple to use, but it remains highly functional. With its three knobs the Carbon Copy lets you adjust the delay time, how much of the effect is in the mix, and the "Regen," i.e. how many times the delay repeats. There's also a small Mod button which adds modulation to your sound. You can adjust the Mod width and rate via two internal trim pots. The Carbon Copy is a great option that can fit on any pedalboard.
Hotone Binary Series Eko Delay Guitar Effects Pedal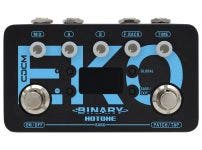 Hotone's Binary Series Eko is a very compact digital effects pedal which houses 17 delay types. It features analog, digital, tape, dual, ping pong, filtered, modulated, and slap back effects, amongst others. Run on a dual-DSP platform and advanced CDCM (Comprehensive Dynamic Circuit Modeling) system, each sound coming from the Eko is as authentic as possible. The Eko also has stereo I/O and expression pedal support, for the utmost sonic potential.
Don't Delay…uh wait. Do Delay
What we mean is, don't waste any time choosing one of these delay pedals. Any one of these excellent options will improve your sound and inspire your creativity. You can check out even more delay pedals, and tons of other effects pedals, at Samash.com.