Despite what your elders may be saying, music is alive and well. Genres aren't "dying", live music is still a huge part of so many people's lives and it's never been easier to get your own original sounds out there for the world to enjoy. With that, it's vital to have some knowledge about what gear is necessary to bring those sounds to life in the modern age, be it your own music or someone else's.
What makes column array speakers so special is their unique blend of accessibility and sound. In the past, you often had to compromise the former to achieve the latter, and vice versa. You could get that larger-than-life amplification at stadiums or in treated spaces dedicated to live sound, but those were special occasions and that audio was exclusive to those atmospheres. You could take your music on-the-go, but the quality was often tinny and weak, and the bigger your gear got, the more annoying it was to trek around.
Alas, column array speakers fuse the epic sound you've become so accustomed to enjoying a show with portable construction for transportation purposes. They're often hallmarked by en-vogue modern designs, bowel-busting bass from subwoofers, extended frequency range and connectivity with Bluetooth, instruments and other external sources. Live musicians and DJs are perhaps the biggest beneficiaries of this technology, as they are granted a killer sound setup without hassle or delay. Because of their chic size and layout, column array speakers fit into just about any gigging location, coffee-house, wine bar, stage or wherever you perform music. Of course, you don't need to be the next Ed Sheeran to reap the benefits of these systems. They're a perfect fit for sports tailgates, housewarming festivities, conferences, lectures and educational settings.
You're excited, aren't you? This handy-dandy gear guide will lay out the top column array speakers on the market today and which ones best fit your needs as a full-time performer, Vegas-bound DJ, café owner or weekend warrior.
Samson Resound VX8.1
Like many other audio aficionados out there, it's entirely possible that your desire for killer sound parallels with your desire to stay on a budget. Introducing the Samson Resound VX8.1, boasting confident sound coverage courtesy of a 700-watt Class-D amplifier and eight 3.5" drivers arranged for vertical perfection. Sure, this may not be a dollar-store gem or thrift-shop treasure as far as price is concerned, but it certainly is a cheaper option compared to some of the other column array speakers on the market.
As far as what the Resound VX8.1 brings to the table, consider all of the boxes checked off. Between Bluetooth streaming, application presets (Music/Live/Speech/DJ) and a 3-channel mixer for microphone or instrument connection, it doesn't take a professional to realize how useful this unit can be for the traveling DJ or gigging singer-songwriter. On that note, this system's interlocking components, 67 lbs. at weigh-in and rugged exterior make it a breeze for transportation and portable purposes.
Bose L1 System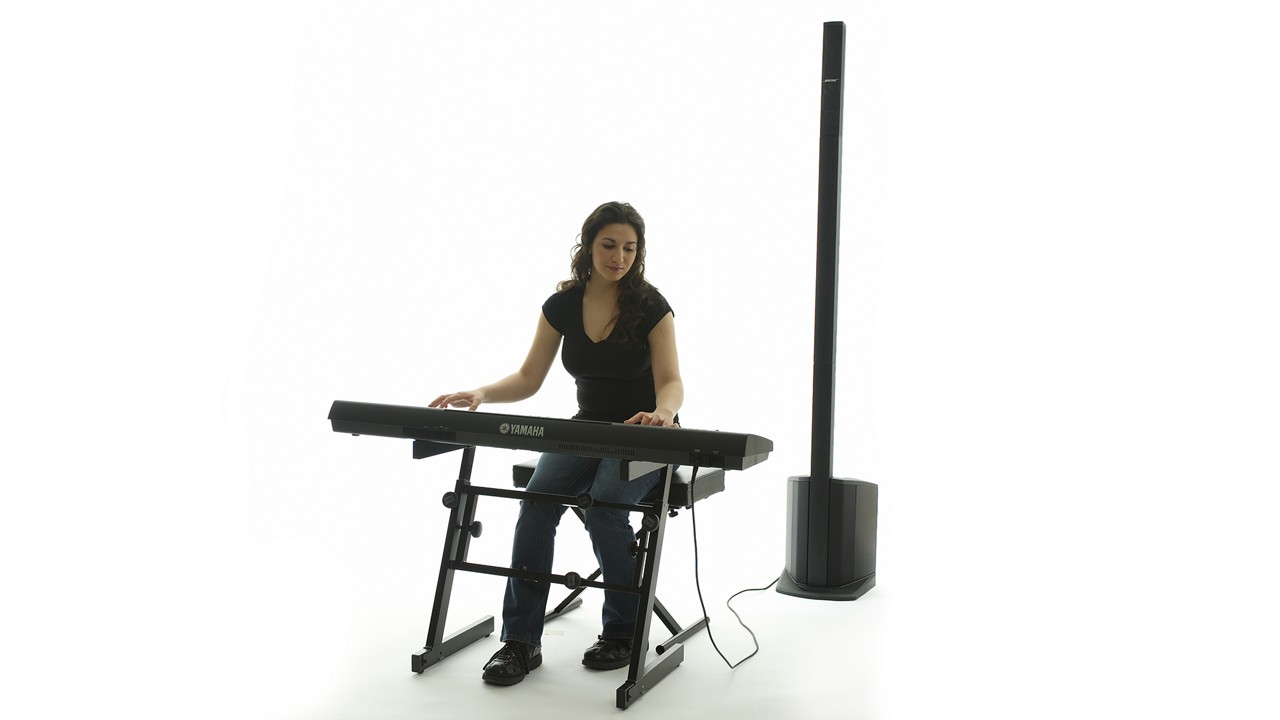 What makes the Bose L1 Compact Portable PA System such an essential line array PA system starts with its lean physique – at just 29 pounds, this one of the lightest and smallest systems on the market today. For what it's worth, it's also quite easy to set up, and doesn't take up excessive space in your back seat or trunk.
Built-in is a mixer, bass speaker and amplifier, promising a well-rounded audio experience and an easier commute to your gigs and parties. With less gear needed to accompany this robust unit, it's no wonder why it's a crowd favorite amongst those taking their talents on the road. Of course, this would all be for naught if this system didn't promise professional-grade sound. Rest assured, though, that the Bose L1 System provides a balanced, consistent and wide sound for any atmosphere.
Bose L1 System with B2 Bass Module
You may cringe hearing the name Meghan Trainor, but immediately you thought of that obnoxiously-catchy 2014 hit "All About that Bass". Remember that one? Seems like years since that bubblegum goodness graced our eardrums and entered our lives. Graced (and "goodness") may be an exaggeration, but no hyperboles exist with the Bose L1 System with B2 Bass Module. Just like the song, this unit is aaaallll about that bass, 'bout that bass.
Just like its L1 brother without the bass module, this variation of the Bose beast delivers sound with unprecedented attention to frequency details, promising amplified audio without compromised wavelengths or muddy tone. With this state-of-the-art bass module, users are offered even better low-end for larger audiences and venues requiring a bit more junk in the trunk. With three settings available, flexibility is simply the cherry on top of this sonic dessert platter; "normal" is tremendously helpful for bass guitars/kick drums, "higher" is an asset for DJs and "lower" is the secret sauce to acoustic guitars and singers.
RCF Evox J8
Seemingly built in an audio laboratory by the maddest of audio engineers, the RCF Evox J8 Active-Two Way Portable Array System possesses incredible power despite a modest size and "How to Setup a Column Array System for Dummies" approach to its design. Truly a testament to the technological strides we've made in the fields of audio reproduction and speaker systems, this is a perfect option for sound engineers looking to create monster sonic experiences in venues of any size.
Despite such a lightweight frame and emphasis on transport, the sound delivered from the RCF Evox J8 is an absolute knockout blow. Onboard 1400 Class-D amplification, 12" woofers, 2" full-range drivers and realistic transient response result in a gorgeous performance across all styles and genres. Inside the speaker exists state-of-the-art ferrite magnets, which may sound even better if you're Charlie Kelly in It's Always Sunny in Philadelphia, but audio enthusiasts will appreciate their
magnetic circuit topology designed for
performance optimization. Most column
array speakers emphasize
portability, but this unit may be
the most mobile of the bunch.
Yamaha Stage Pas 1K
A brand as iconic and revolutionary as Yamaha simply needs no introduction. From acoustic guitars to digital pianos, their impact can't be understated in the modern music era. This is why the Yamaha StagePas 1K Portable PA System comes in so highly-regarded on this list; its craftsmanship, consistent sound, versatility and tone reflect that classic Yamaha principle demonstrated by so many products before this one.
With such a chic and minimal design, one may not expect the StagePas to offer so much flexibility for a shopping list of live sound purposes. An onboard 5-channel digital mixer with three channels of mono microphone inputs and stereo inputs makes it a valuable asset for acoustic guitars or singers in a coffee-house style setting. With Bluetooth connectivity and 1/8" mini jacks, it's never been easier to plug-and-play your favorite songs at a mega tailgate, Greek life event, town fair, housewarming party or street performances.
JBL Eon One Pro
Easy. Breezy.Beautiful. JBL. Wait, that isn't their slogan?
Yikes, okay, the intern who helped out with this write-up needs to check in with me and confirm their sources for that one.
To be fair, however, the JBL EON ONE PRO All-in-One Linear-Array PA System with 7-Channel Mixer may be the column array embodiment of breeze and beauty. Easy on the eyes, this system is chic, compact and confidently stands with audio perfection.
What makes this particular unit stand out is its six-hour performance life, courtesy of its lithium-ion battery. No need for a power strip, extension cord or bulky generator here, as you'll be granted with larger-than-life sound for what feels like an eternity. At an easy-to-carry 37.5 pounds, this unit can be taken around with one hand if need be, demonstrating lightweight construction that resonates with the modern-day audio guru. Let's just say you're a DJ or performing singer-songwriter; an accessory mount located at the top of this speaker grants users the opportunity for cameras or lights. Complete your entire performance, in style, with this system.
Electro Voice Evolve 50
Consider this audio monster the Lebron James of column array systems. As technology progresses towards making these types of systems accessible for audiences and entertainment-based purposes, the Electro-Voice Evolve 50 Portable Line Array PA System is the gold standard for robust sound reproduction in any sonic space. This would be your Number One Overall Pick in an audio draft, and for good reason. (Man, we are on it with the sports references today!)
For starters, this astronomical-acoustic powerhouse reaches for the stars, and then some, when it comes to subwoofer presence. A dedicated 12" all-wood sub translates beautifully for the deep bass element to modern music production. In other words, EDM, hip-hop, Top 40 and alt-rock have never sounded bigger or better. A stacked configuration of eight 3.5" neodymium drivers covers the rest of the frequency spectrum, resulting in complete coverage of the utmost quality. 1000 W of power is more than enough for just about any scenario where music is involved, so don't be afraid to take this bad boy anywhere from your wine cellar acoustic gig to the conference room, and then back to the stage with a live band. It's an absolute, wait for it, slam-dunk in the world of column array systems.