How to Choose Your First Violin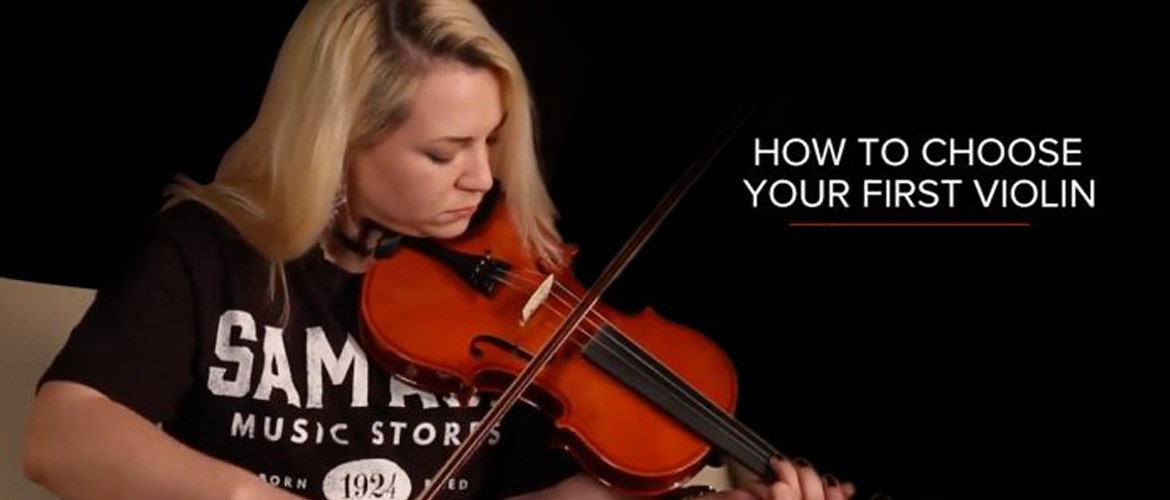 Find Your Size:
So you have made up your mind that that the Violin is for you. After all, you can't argue with the legacy of an instrument that has been in the center of popular music for nearly 500 years. However, before you select the Violin that will begin your musical journey, you need to select a size that is comfortable to play and feels right. Most student Violins come in full (4/4), ¾, and half (1/2) size options. Select student models will also offer 1/8 and 1/16 sizes although these options are usually too small for students joining their first Orchestra. If you're over the age 12, chances are you can go straight to the full size option, but it's always a good idea to get measured by our store experts to make sure you get exactly what you need.  The most important factor in choosing the size of your first violin is the length of your arm.  This can be measured using a special "Violin Measure" or you can just use the actual Violin itself to find the size you need. For this second method, grab a Violin and place is under your chin as if you were getting ready to play. If it's your first time ever holding a Violin, imagine speaking on your smartphone while your hands are full so you hold it between your face and shoulder. That is exactly how you will hold the Violin when playing. Once you're in this ready position, reach out with your arm fully extended (elbow straight).  If you can cup the scroll(end of the violin)comfortably than you have selected the correct size. If you have difficulty reaching around the scroll, consider trying a smaller size. For more guidance on determining what size Violin is best for you, see the video at the end of this article
Staying in Tune:
If you want to make a serious attempt at learning the Violin, it is important that your first instrument stays in tune. Unfortunately, with the age of the internet, it easy to find websites selling Violin's that don't hold tune for a more than a few seconds. These Violins will usually use plastic tuning pegs and should be avoided at all times. Other things you will need to get a good first Violin is a straight fingerboard, and a bridge with a slight curve. Violins that have flat bridges don't let you play individual strings which means you won't be able to hear those beautiful melodies that inspired you to pick up the instrument in the first place. Thankfully, way back in 1924, before the age of the internet, our founder and professional Violin player Sam Ash established strict quality standards regarding the quality level of instruments sold under his name. You see, Sam took music education very seriously and one of his primary reasons for opening a music store was to establish a place where musicians could get what they need at a reasonable price. Therefore, when you choose to buy your first Violin with Sam Ash, you can be confident that you will get an instrument that will give you the best chance to pursue a musical education. Even if you are on a strict budget, you should know that we continue to add new models to our selection every year that push the previous boundaries of what a quality instrument should cost. In fact, only at Sam Ash will you find a brand like Benjamin Adams that are committed to making high performance student instruments at ultra-reasonable costs.
What to Look For
As a beginner, you will want to purchase a Student Violin Outfit. An outfit indicates that the Violin you are buying also includes a bow and a Violin Case. When you examine the bow it should be straight when holding it the long way in front of your face and pointing towards a front wall. When you hold the bow in front of your face horizontally, the second half of the bow should curve towards the horsehair strings. If the wooden part of the bow and the string part of the bow appear parallel at this angle, have your teacher or one of our Sam Ash experts take a look. They should be able to adjust the tension at the front to make everything correct. Your student Violin outfit should also include Violin Rosin, which is usually located within the case under a front pocket/flap. Rosin is what helps generate sound once your bow hits the strings. Some other accessories you should strongly consider buying with your first Violin is a shoulder rest to keep to help keep the Violin in a comfortable playing position and a general Violin care kit so you can keep your Violin in pristine playing condition.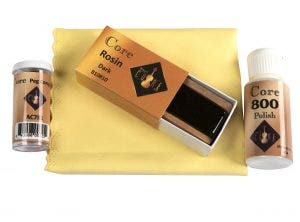 Best Violins for Beginners
At Sam Ash we are offer a huge selection of Violins in various sizes and different price points. We also have electric Violins that are really fun for accompanying full bands and experimenting with exotic sounds. However, as a beginner you will probably want to start with an acoustic violin. While spending more money will get you a better instrument with features like hand carved construction, optional electronics, premium wood(Carpathian Spruce, Aubert Bridge), and an elegant finish, our more budget friendly options will still put you in a good position to see if you should pursue the Violin beyond a few lessons.
One of the best student models we offer is the Yamaha AV3 Student Violin Outift. Available in all three major sizes(4/4, ¾, ½), the AV3 is designed with a spruce top and maple back and sides. Spruce is the standard for Violin tops as it offers great natural projection and a warm tone. It also features an Ebony wood on the fingerboard; chin rest, and tuning pegs. Ebony construction ensures that this Violin will maintain tune after long practice sessions. Another nice feature you get at this price point is tailpiece tuners. Having tailpiece tuners makes it easier to adjust the instrument without having to take it to a repair shop. If you hand your teacher this Violin, they should have no problem adjusting it back to optimal playing condition quickly and efficiently.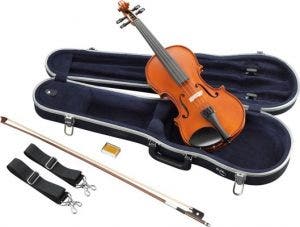 If you're on a bit more of a budget, then a slightly less expensive option is the Carlo Robelli CR-302 Handcrafted Step-Up Violin Outfit.  While it is only available in a full size model, the CR-302 is an excellent value. It also offers a Spruce top and ebony components to ensure solid sound and excellent performance reliability. Some of our favorite things about this model include the nice maple bridge, and the flame inspired finish on the back of the instrument. You also get a great lightweight bow made of carbon composite along with a comfortable leather thumb rest.
If you're really on a budget, two models from our Benjamin Adams brand will still give you the best chance at truly experimenting with learning Violin. The Benjamin Adams VN100 Student Violin Outfit offers a solid Spruce top like its more expensive counterparts. It also offers an Ebony Fingerboard for a nice tone and enhanced playability up and down the neck. The Chinrest is made of Hardwood rather than Ebony so it is a bit less comfortable that the more expensive models we mentioned previously.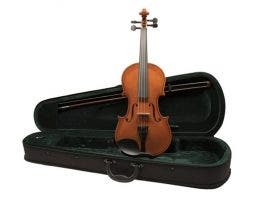 If you not too sure about starting the Violin, you can also consider our most budget friendly model, the Benjamin Adams VN50 Student Violin Outfit. The VN50 is available in all major sizes(4/4, ¾, and ½) and substitutes the standard spruce wood top for Liden wood. Liden wood sounds a little brighter than Spruce, but allows you to hear the melody and identify how improvements in your technique change the sound. It also substitutes Ebony for Maple wood on the tuning pegs, chinrest and fingerboard. Maple is a solid alternative and worlds above the plastic used on other Violins around this price range.
The Sam Ash Difference:
When you buy your violin at Sam Ash Music, you have the option of adding on a very cost effective Sam Ash Extended Service Plan. This allows you to bring your instrument in for free repairs for the duration of the plan. Buying the extended service plan during your purchase saves you money and will let you take care of your instrument without having to worry about constant extra charges. We also offer rentals of most student instruments if you're hesitant about investing in a brand new instrument up front. At Sam Ash we are a family of musicians. Everybody started out as a beginner and we have an active interest in giving you all the confidence you need to succeed. Even more important, have fun. Come into the store and try a guitar, drum set, or keyboard. Step up to a microphone and see how you sound. A musical journey doesn't need a destination, but along the way, for support and encouragement there's Sam Ash.