Best Weird Guitar Effect Pedals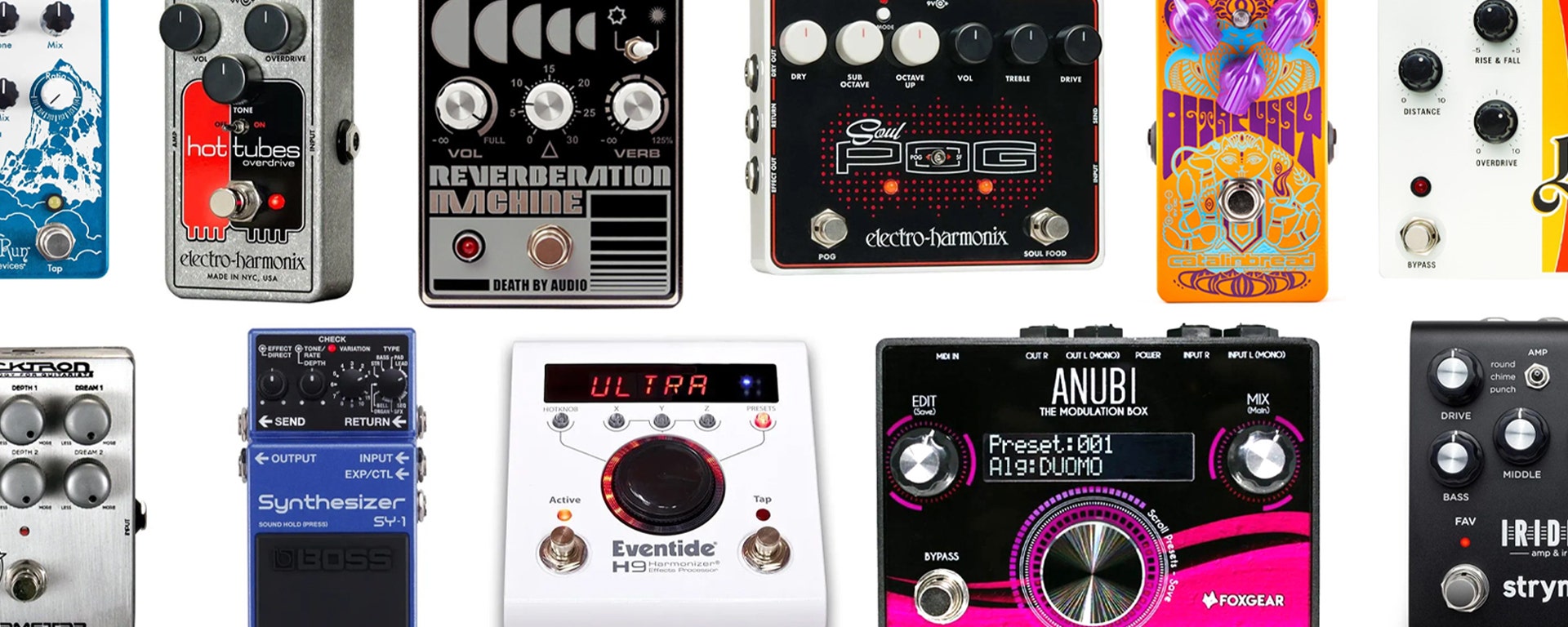 Submitted by David Slavković
It's been over seven decades since the introduction of the first commercially successful solid-body electric guitar. And, the best part – the instrument's essential design and construction didn't really change. Most of the changes on the instrument itself were pretty much fine-tuning, ultimately producing "shred machines" that we have today.
But although the instrument itself hasn't changed a lot, the amps and other gear did. We could go on and on about various tube-based, solid-state, and even tape-based effects. Technological changes impacted the guitar tone – dare we say ¬– more than the actual luthiers and guitar-making companies. We can't even fathom how the development of digital technology changed our favorite instrument.
And you already know how diverse things are. There are plenty of effects pedals these days. Be it analog or digital-based, they're now more diverse than they're ever been. And, the best part is that they're constantly changing, giving us new options all the time.
With that said, almost all electric guitar players have this same goal – they want to sound weird and unique. And, we'll help you out by bringing some of the most interesting effects that you can find in 2021.
Modulation Effects
Hammond - Digital Leslie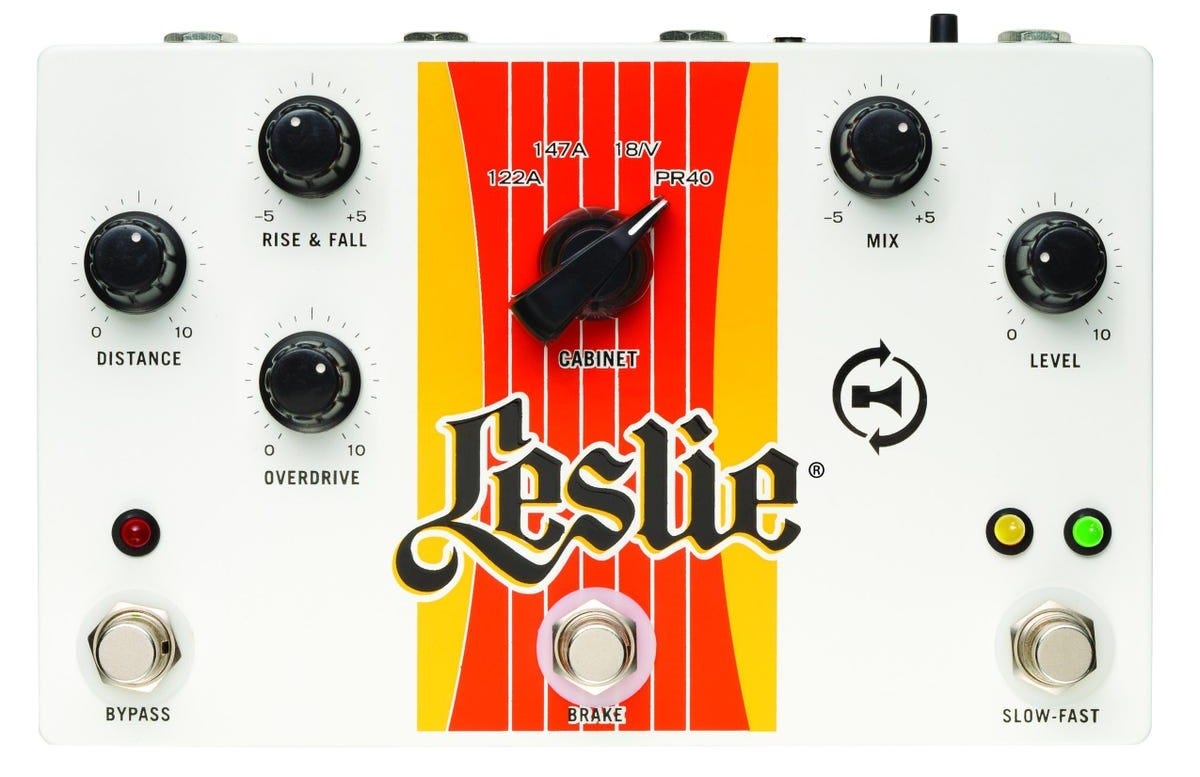 Believe it or not, the legendary organ manufacturer Hammond managed to put the Leslie speaker sound into a compact pedal. Yeah, the old bulky speaker cabinets that were very popular among guitarists in the 1960s and the 1970s are now packed in a compact pedal.
The Leslie pedal, also known as the "Digital Leslie," reproduces the legendary tone perfectly. The parameters are pretty detailed as well, even bringing you the "distance" control that emulates different microphone distances. Additionally, it even has an overdrive control, emulating those old tube-driven amp heads.
Sure, a lot of people are trying to bring the genuine vintage tone back into rock music. But not a lot of them know about the Digital Leslie pedal.
Rocktron - Dreamstar Chorus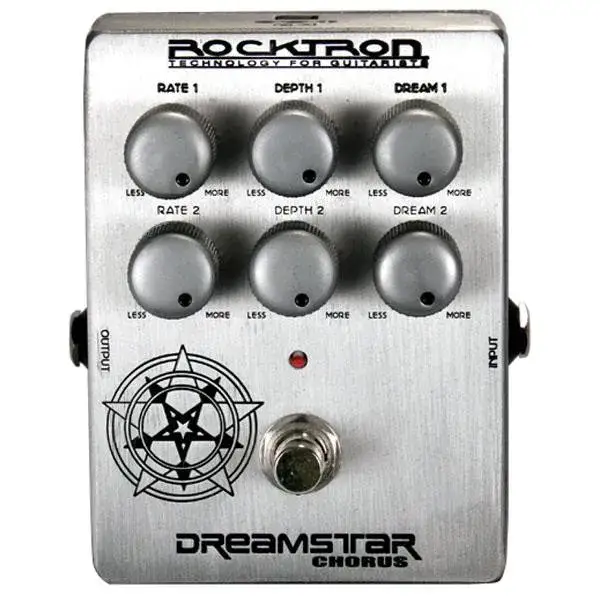 It's always fun to play around with chorus pedals. However, rarely any of them – if any ¬– offers what Rocktron's Dreamstar Chorus does. We have two separate chorus "voices," each with its own LFO modulators.
Each voice comes with rate, width, and "dream" parameter controls. This "dream" control is actually a mix, allowing you to blend processed and unprocessed signals. And, of course, both voices are analog, going through their respective BBD chips.
Having these two voices is what makes this chorus sound so unique. You use them both at the same time, resulting in some uniquely "wobbly" yet controlled kind of tones.
Strymon - Ola dBucket Chorus & Vibrato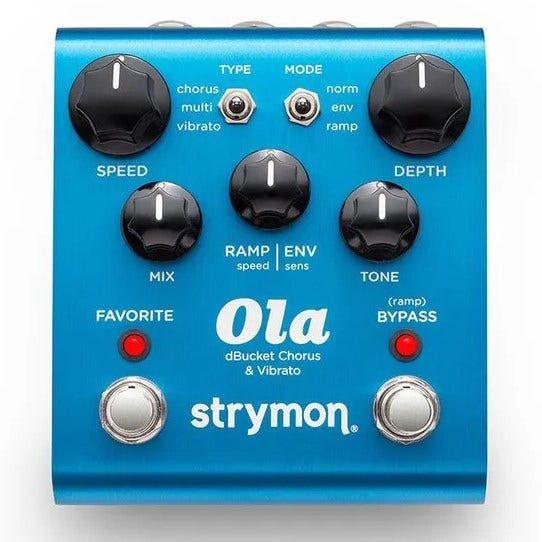 We can confidently say that Strymon changed the game in the world of guitar effects. Our pick for this list is their Ola dBucket chorus and vibrato pedal. Sure, you'll find plenty of digital chorus and vibrato pedals out there, but none of them is quite like this one.
Aside from separate chorus and vibrato modes, the Ola dBucket pedal comes with the "multi" effect type. This one comes with three individual delay sections, providing that "studio" kind of chorus with a very "wet" mix, all while not sounding too wobbly and unstable.
The pedal also comes with stereo capability, as well as three dynamic modes of operation. There's a lot of stuff that you can do with this one.
Atmospheric Effects
Earthquaker Devices - Avalanche Run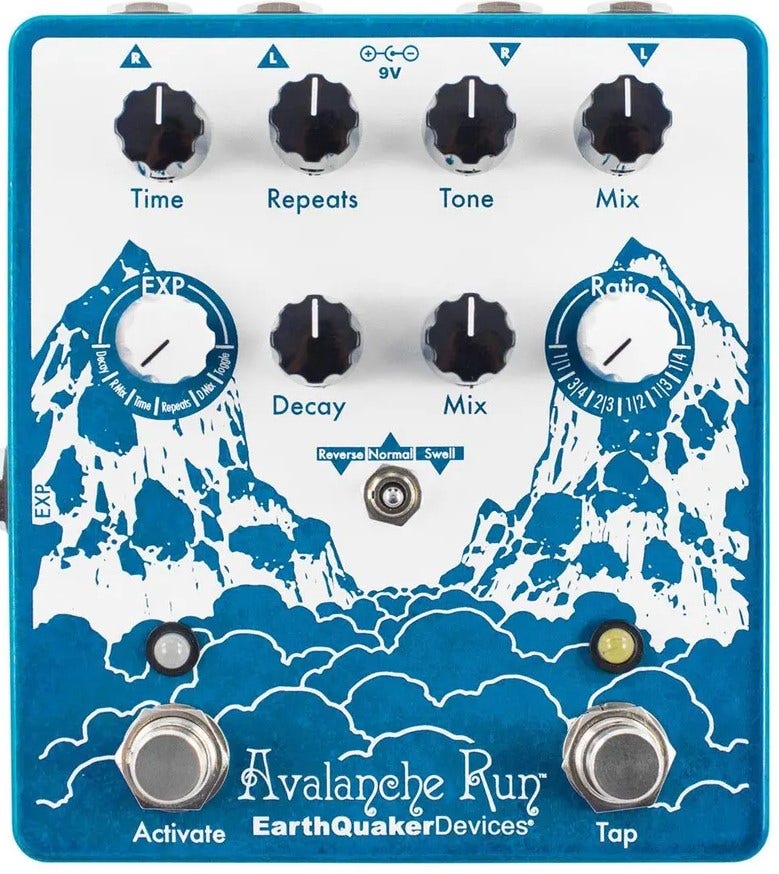 We all love a good reverb effect, giving us that vintage-ish feel to our guitar tones. Some may opt for a delay or even a combination of both. However, Avalanche run by Earthquaker Devices is not your average "reverb-plus-delay" pedal, especially not its second version.
You have the standard parameters that you find on an average reverb or delay pedal. You even have tone control for the processed signal. But things get really interesting with expression pedal connectivity and the "ratio" switch.
As far as the expression pedal goes, you have a switch that allows you to choose which parameter will be controlled using an expression pedal. The ratio switch works for the delay circuitry of this pedal, along with the "tap" footswitch.
Avalanche Run is a very potent device. Using its parameter controls, you can use it as a delay, reverb, or a combination of both. But it's the pedal's overall features that make it so unique, providing full control over the sonic output.
Death By Audio - Reverberation Machine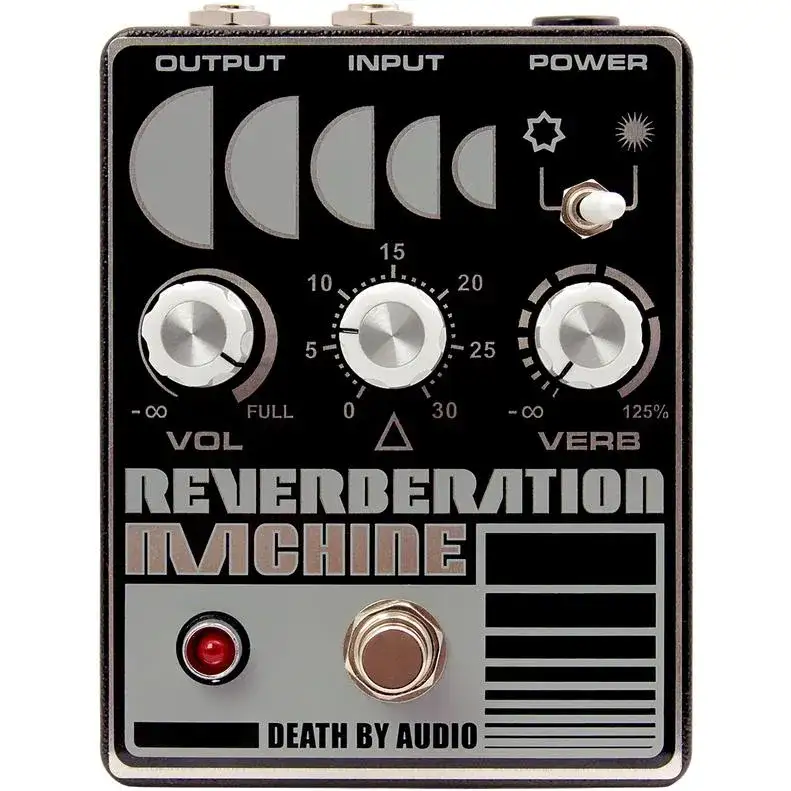 The pedal's name might not seem that exciting. But Death By Audio's Reverberation Machine can do wonders, especially in creating those "spacious" kind of reverb tones. In fact, the company calls it a "synthetic atmosphere creator."
To put it simply, this pedal is intended for those who like weird tones. Tweak all of its controls and put yourself through an epic journey. In fact, it's more than just a regular reverb as one of its controls even adds some subtle distortion to the tone. Other than that, you can also choose between dark and bright reverb types, just with a flick of a switch.
Empress Effects - Tape Delay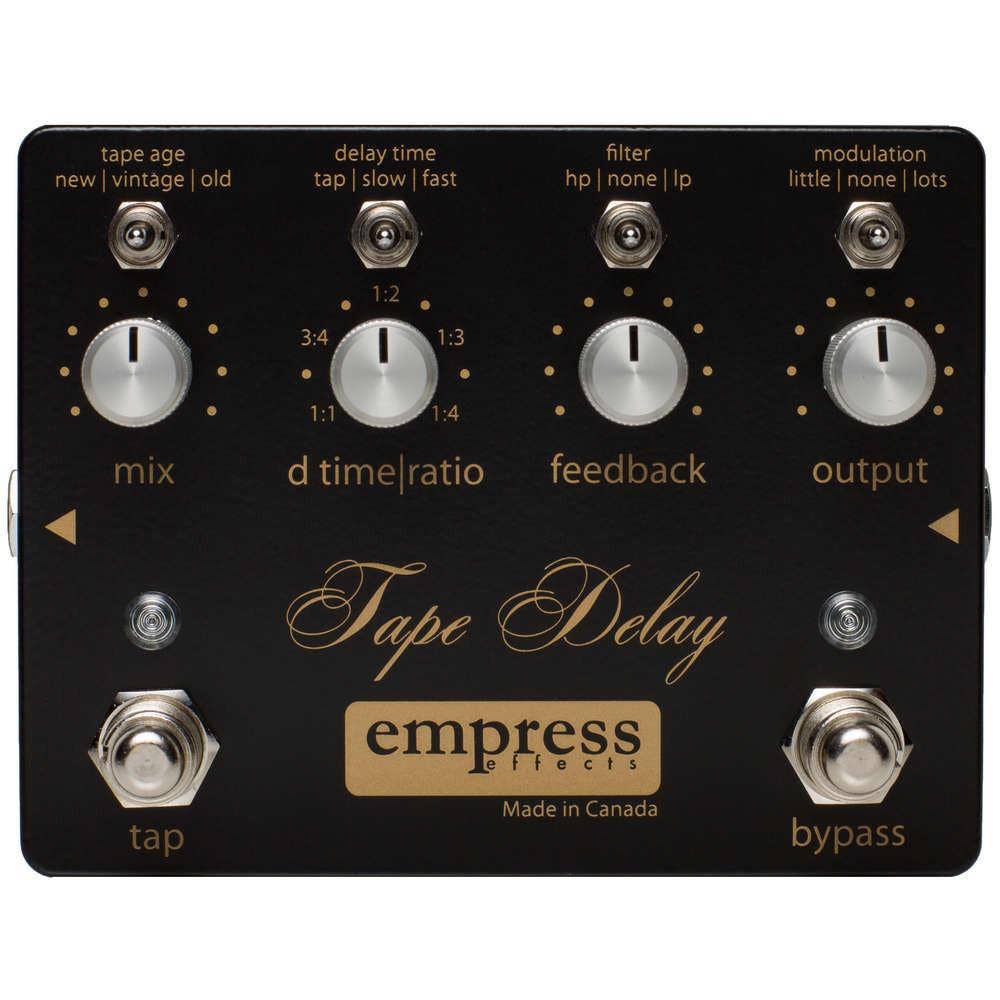 Tape delay machines have left their mark in the world of music. But they're highly impractical. Luckily, if you're a fan of this slightly "warped" and modulated magnetic tape twist to your tone, Empress Effects have all of that packed in a practical and compact pedal.
Firstly, the pedal has an additional footswitch for the "tap" feature. It can also work in combination with the time knob that turns into the classic "ratio" parameter as you turn this feature on.
You can also change the amount of modulation added to the mix, a high-pass or a low-pass filter, and even tweak the "tape age." This last one lets you get some pretty interesting tones, even imitate an old worn-out tape.
Distortion and Amp Emulation
Strymon - Iridium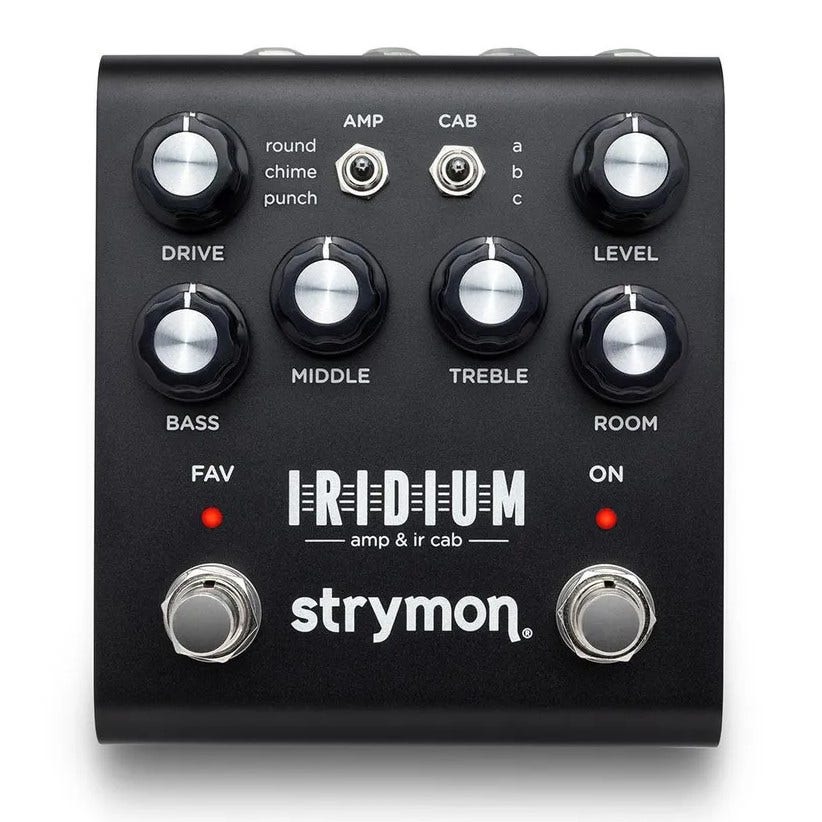 Amp modeling is one thing. But having an abundance of realistic amp-like tones with a compact analog pedal is something else. While Strymon's Iridium isn't as "colorful" as some modulation or multi-effects units, it helps you get some unique and very realistic tones.
Using it in combination with some other pedals listed here, especially other Strymon devices, you'll have a fun time. The best part about it is that it completely eliminates an amp from the equation, all while allowing you to get some realistic amp tones when going straight into the mixing board.
Electro-Harmonix - Hot Tubes Nano Overdrive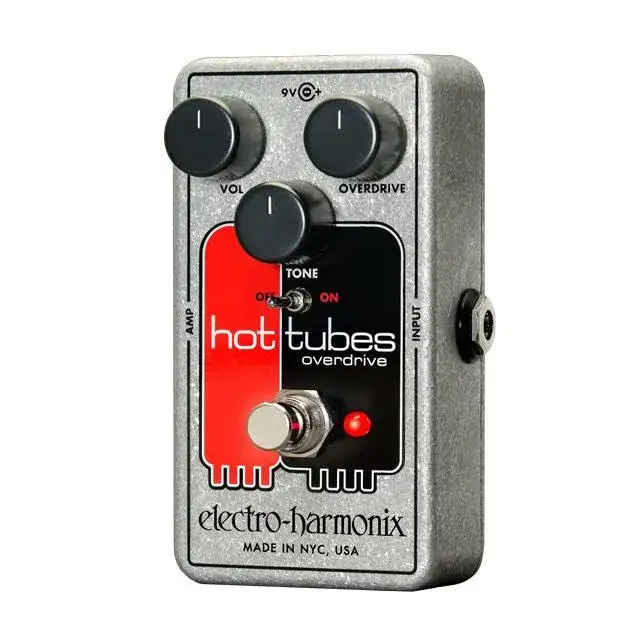 Now, some may think of this as an unusual addition to this list. Electro-Harmonix's Hot Tubes Nano is a compact and fairly simple pedal. However, this little piece provides you with a tube-like dynamic response, be it from your guitar's volume knob or your picking intensity.
A straightforward yet very potent and unique pedal. We'd recommend that you pair it with some of the modulation effects from this guide.
Various Multi-Effect Units
Eventide - H9 Harmonizer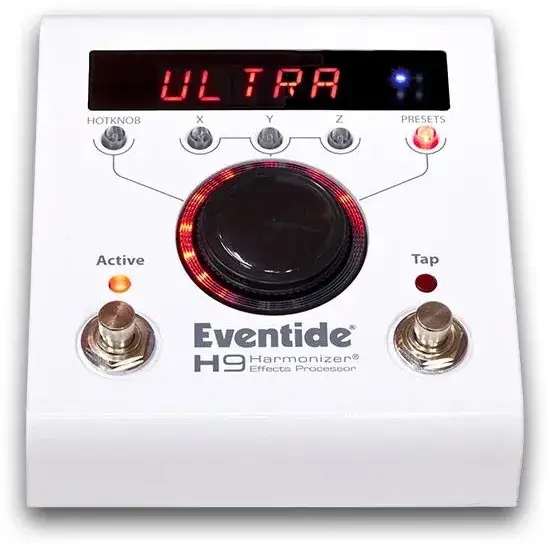 Sure, you have a bunch of pitch-shifting and harmonizer pedals on the market. But Eventide really brought this game to a whole new level with their H9 Harmonizer. This is a unit that turns this world upside down, adding modulation, delay, and reverb effects to the mix.
And it's a very intricate one, despite a seemingly simple interface. There's an abundance of presets, possibilities to tweak them the way you want to, and even MIDI compatibility for advanced switching and syncing.
With the pedal also comes the H9 Control app, available for Windows, Android, iOS, and Mac devices. By connecting the pedal to your computer, tablet, or phone, you can tweak these presets in any way you please.
Foxgear - Anubi Modulation Box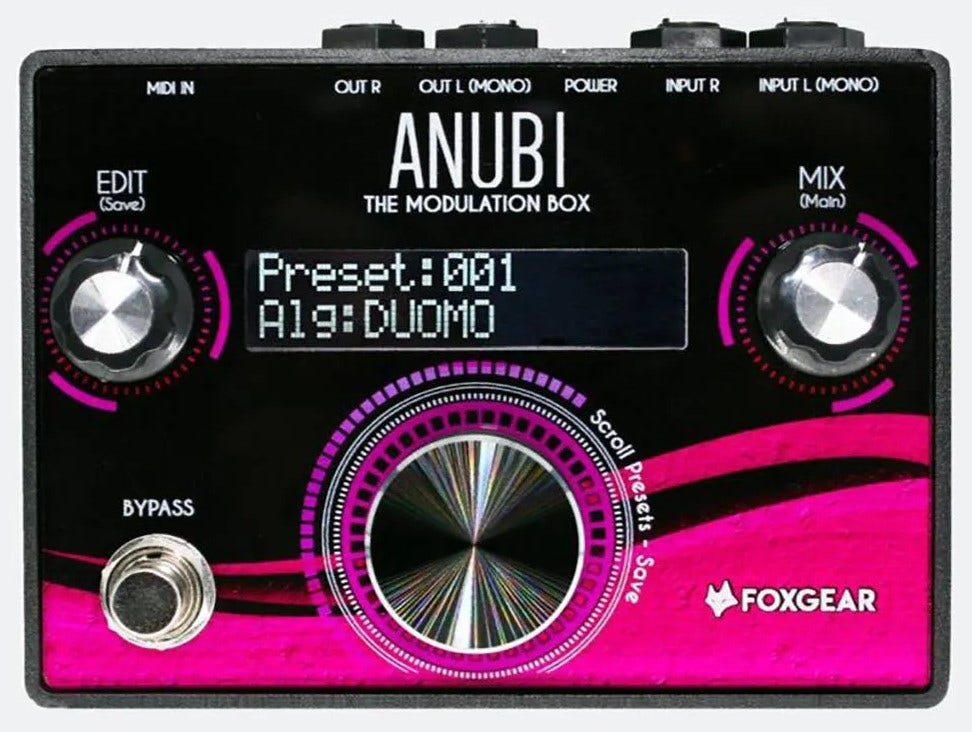 All the modulation that you need in just one box. That's what you get with Foxgear's Anubi pedal. Although they're not a super-widespread brand, Foxgear creates boutique-quality stuff.
This digital pedal comes with an abundance of different chorus, phaser, vibrato, and even some pitch-shifting effects. With a total of 128 presets, expression pedal connectivity, and other features, you'll be able to get pretty much any sound you want.
The only downside is that you'll spend hours playing around with this pedal. It's very addictive.
Boss - SY-1 Synthesizer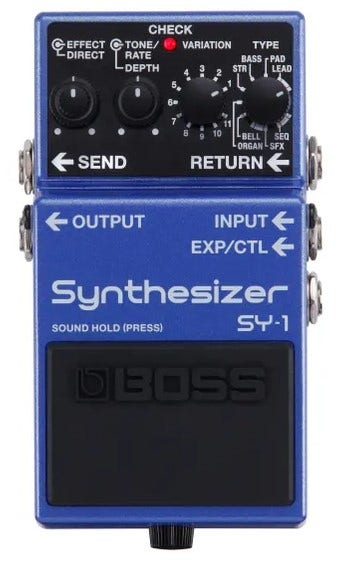 Boss SY-1 is unlike any other effect pedal on this list. It manages to replicate some of the classic old-school analog synths. There's no MIDI technology involved as the pedal processes the signal directly.
SY-1 is based on the same principles as Boss' game-changing SY-300. But it's all fitted within the company's famous compact casing. The best part is that, with its four controls, you have such an enormous abundance of synth-like tones. And your guitar won't sound like a guitar if you don't want it to!
Electro-Harmonix - Soul POG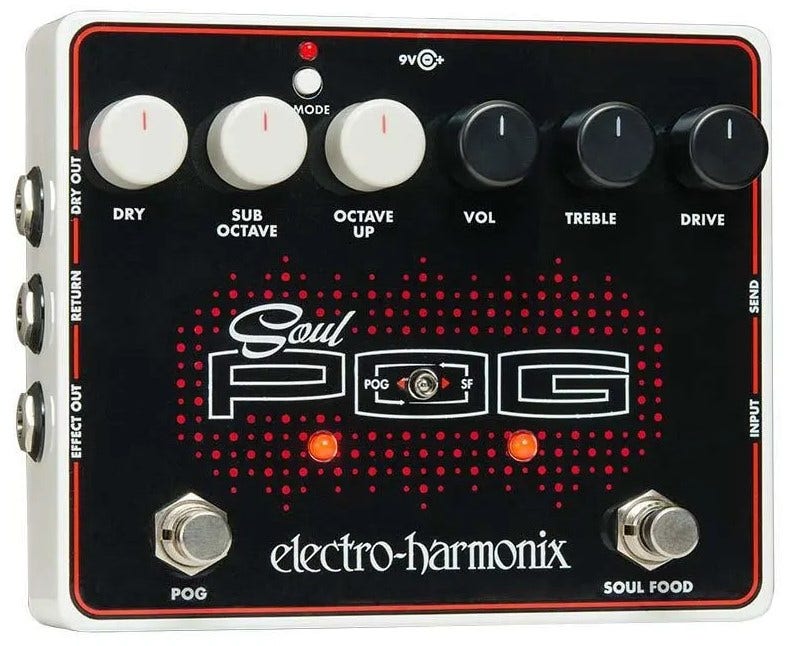 Electro-Harmonix's Soul POG brings what the company's famous POG pedal did to a new level. If you enjoy making intricate loops in your signal chain, as well as some unusual pedal combinations, you'll definitely love this one. It even has a "dry" unprocessed output which you can implement in so many different ways, depending on your rig.
POG is short for "polyphonic octave generator." The pedal includes a unique-sounding octaver effect with sub and top octaves added to your original signal. But as the name suggests, it also brings EHX's Soul Food overdrive in the circuitry. And, what's really exciting is that you can change the order of these two effects in the signal chain with a flick of the switch.
Reorder Your Pedals
Most of us guitar players are used to the classic order of effects pedals. According to "unwritten rules," although almost everyone follows them, it goes something like this:
EQs and filters (including wahs)
Dynamics (compression)
Clean boost
Gain pedals (overdrive, fuzz, and distortion)
Modulation
Delay
Reverb
This would give you the "cleanest" possible tone, without any unwanted noises. But what if you switched it around? Well, you're certainly allowed to, just bear in mind what might happen. You can try and put a distortion after modulation effects, maybe even after the delay.
Sure, it may sound dirty, but you're aiming for unique and weird, right? Things may get super weird if you put it after the reverb. Sure, it might be hard to find a practical implementation of this unusual combination in conventional music.
The same old rule always applies – experiment! Be bold and try what others haven't. It's a hard road and it may take some time, but it's the best way to sound unique and the best way to musical greatness!