Best USB Microphones for Teachers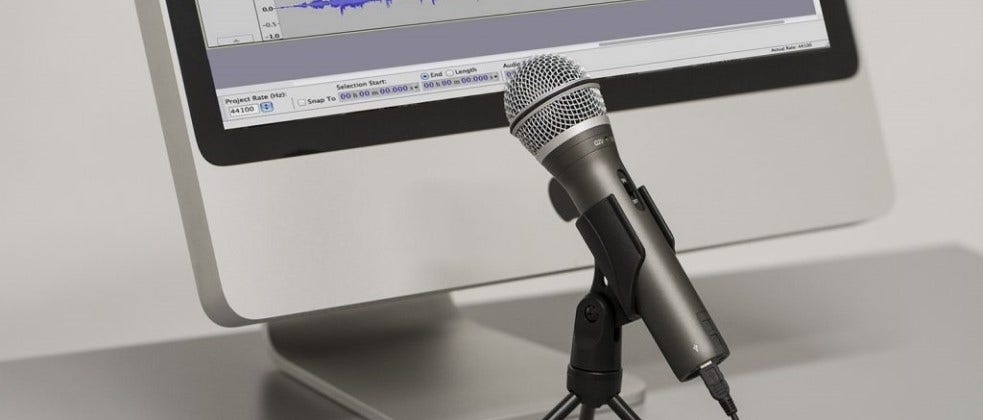 We've all seen the recent spike in demand for online education. No matter what subject or activity you teach, all you instructors out there from K-12 and beyond are being asked to create online lessons for your classes, and in doing so, you want to make sure your students can hear every word you say. To ensure your online curriculum comes out as good as the real deal, you may be interested in a helpful volume boost that will clear things up in your online recordings, no matter what environment you record in. A USB microphone will do the trick!
A USB microphone is simply a microphone with USB connectivity. For teachers planning to record online lessons from home, or those who are on the go from class to class and building to building, this is a great option since it allows you to connect your microphone to most devices with a USB port (laptops, desktops, tablets, smartphones, etc.) and start recording your voice within seconds. Plus, some USB microphones have XLR connectivity, so you can also use them to teach live in any room, lecture hall, or outdoor arena – incredibly helpful for all sorts of presentations. Here are our top USB microphone selections:
Though astronomical in name, science teachers aren't the only ones who will appreciate the Samson Meteorite. This tiny, sleek, chrome-plated, 14mm diaphragm USB condenser microphone delivers out-of-this-world clarity with a 20Hz–20kHz frequency response and 16-bit, 44.1/48kHz resolution, all without the requirement of a driver installation. Its cardioid pickup pattern retrieves your sound at the front of the microphone while rejecting unwanted noise from behind. Place it on its matching, magnetic, crater-shaped base, and tilt and swivel it according to your needs without the worry of it wobbling around, or pick it up and speak directly into it. The microphone's full range of motion is perfect for individualized placement. It will serve you well for recording online lessons, podcasts, holding real-time Skype and FaceTime lessons or tutoring sessions, and is compatible with VoIP software and most computer-based digital audio software. Plug it into your computer (Mac/PC), tablet, or mobile device with an Apple lightning USB camera adapter (for Apple products) or an OTG adapter (for Android devices). Record full online lessons or short sound clips with studio-grade quality. Weighing just 0.26 pounds, it measures 1.96″ x 2.63″ to fit easily in your backpack, briefcase, laptop case, or tote bag.
Portable/Great for Laptops: Samson Go Mic
Ready, set, Go Mic! This portable USB condenser microphone is thin and compact (5.75″ x 6″ x 2″), yet includes a smooth, flat 20Hz–18kHz frequency response and 16-bit, 44.1kHz resolution. The Go Mic's versatile design includes a protective shield that doubles up as a stand or clip when you slide the mic out. Stand it upright on a desk, clip it to your laptop to save counter space and keep the mic in line with your voice, or attach it to a microphone or tripod stand via the thread. Switchable cardioid and omnidirectional pickup patterns allow you to tailor your audio capture to your needs. Use cardioid for vocals and speech or switch to omnidirectional to pick up sound from all corners of the room. A -10dB pad clarifies the capture of louder sounds, while an LED indicator flashes if you need to adjust your signal. Plug Go Mic into your Mac, PC, tablet, or phone to record lessons, podcasts, webcasts, or music with the software of your choice. Easily hook up for real-time lessons or tutoring with Skype, iChat, or VoIP software. It also features a 1/8″ zero-latency stereo headphone output and comes with a USB cable, cable clip, and convenient carrying case.
Great Sound/Excellent Versatility: Samson Q2U
If you're looking to use your microphone in recording and live sound projection, our Samson Q2U Dynamic USB/XLR Mic Pack is the one for you. Combining analog and digital technology, this pack is complete with everything you need to start with, including the Q2U microphone, desktop stand, mic clip, foam windscreen, USB cable (2.25m), and XLR cable (3m). Q2U has a solid die-cast construction with a heavy gauge mesh grille that will endure handling and travel. It features a cardioid pickup pattern to reject unwanted noise, 50Hz–15kHz frequency response, and an On/Off switch to silently mute the analog and digital outputs without having to click directly in your audio software. Setting up is simple and requires no driver installations. The windscreen reduces annoying p-pops, and the 1/8″ zero-latency headphone output allows for real-time monitoring and level control, so you can speed up the editing process. Your plug-in options are also expanded compared to other microphones. Not only does the Q2U function with computers, tablets, and smartphones via the USB output, but it can also work from a mixer or audio interface via the XLR output. If your situation calls for using both simultaneously, you can do that as well for recording or live presentations.
With the Samson C01U Pro USB Studio Condenser Microphone, you'll record like a pro. Crafted with a large, 19mm shock-mounted diaphragm to diminish ambient vibrations and handling noise, it also features a dual stage grille to reduce wind sounds and p-pops. A smooth, flat 20Hz–18kHz frequency response, 16-bit, 44.1/48kHz resolution, and supercardioid pickup pattern enable you to authentically capture audio of low and high frequencies with pristine, studio-level quality. Its solid, die-cast metal construction contains a headphone output for zero-latency monitoring, plus a built-in headphone amplifier that lets you to monitor your sound the way you want. Compatible with most recording software and audio apps, the C01U Pro vastly improves your experience recording lessons, YouTube videos, music, voiceovers, ADR work, and Sound Foley, as well as using Skype, FaceTime, VoIP, and speech-to-text dictation software. Set it upright on any desk or table with the included mini tripod stand and take advantage of the swivel mount for custom placement adjustments. It comes with a standard USB cable, and can also connect to iPads and iPhones via Apple's lightning USB camera adapter or camera connection kit.
If you like the sound of that last one, but want something a little more extensive, try our Samson C01U Pro Podcasting Pack – complete with one C01U Pro Microphone, a pair of SR850 Semi-Open-Back Studio Headphones, USB cable, MD2 stand, and carrying case. The MD2 is a sturdy desktop microphone stand that can be easily assembled and taken apart when not in use. It includes a small, flexible holder to safely secure and position your microphone. Samson's SR850 Headphones are excellent for professional-style recording and hi-fi monitoring. Plug them directly into the C01U Pro via the headphone output for zero-latency monitoring. Large 50mm drivers with rare earth magnets coupled with a 10Hz–30kHz frequency response and 32-ohm impedance give you transparent response and crystal-clear sound reproduction of even the most subtle nuances. Solid bass, airy highs, defined depth – you name it, you'll hear it! Listen in comfort by adjusting the headband to your preference and enjoy the feel of soft, velour cushioning that will put your ears at ease, especially during long recording sessions. Take it all with you anywhere in the durable, molded carrying case.
Microphone Experts
Feel free to check out the rest of our USB microphones, as well as our full microphone selection today. If you're still undecided, have questions, or need assistance with your purchase, give us a call at 1-888-977-0074 where we have music and audio experts at the ready to help you fulfill your needs.