Best Microphones For Zoom Conferencing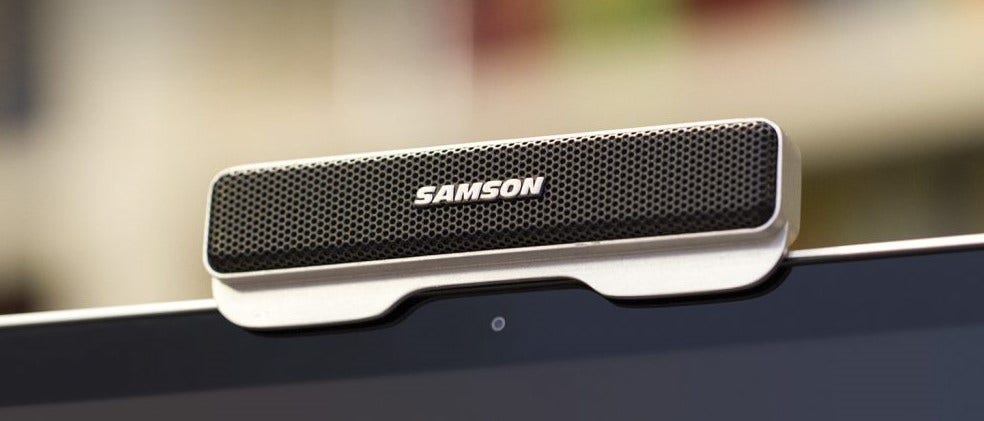 Conferencing applications like Zoom, Skype, Webex, & Blue Jeans, are becoming more and more popular with the increase in Remote Working & Multi Organizational Collaboration. While most laptops are designed with built in microphones to use with these Programs, these microphones usually transmit very poor audio quality and are subject to other issues like typing & mechanical noise from the computers components.
Thankfully, you can easily improve the sound quality of these virtual meetings with a USB Microphone. Designed to plug directly into your Computer, Tablet, or Smartphone, USB Microphones deliver studio grade sound to your virtual meetings or computer recordings. All the USB Microphones in this article are both MAC & PC Compatible
Samson Meteorite: Now $39.99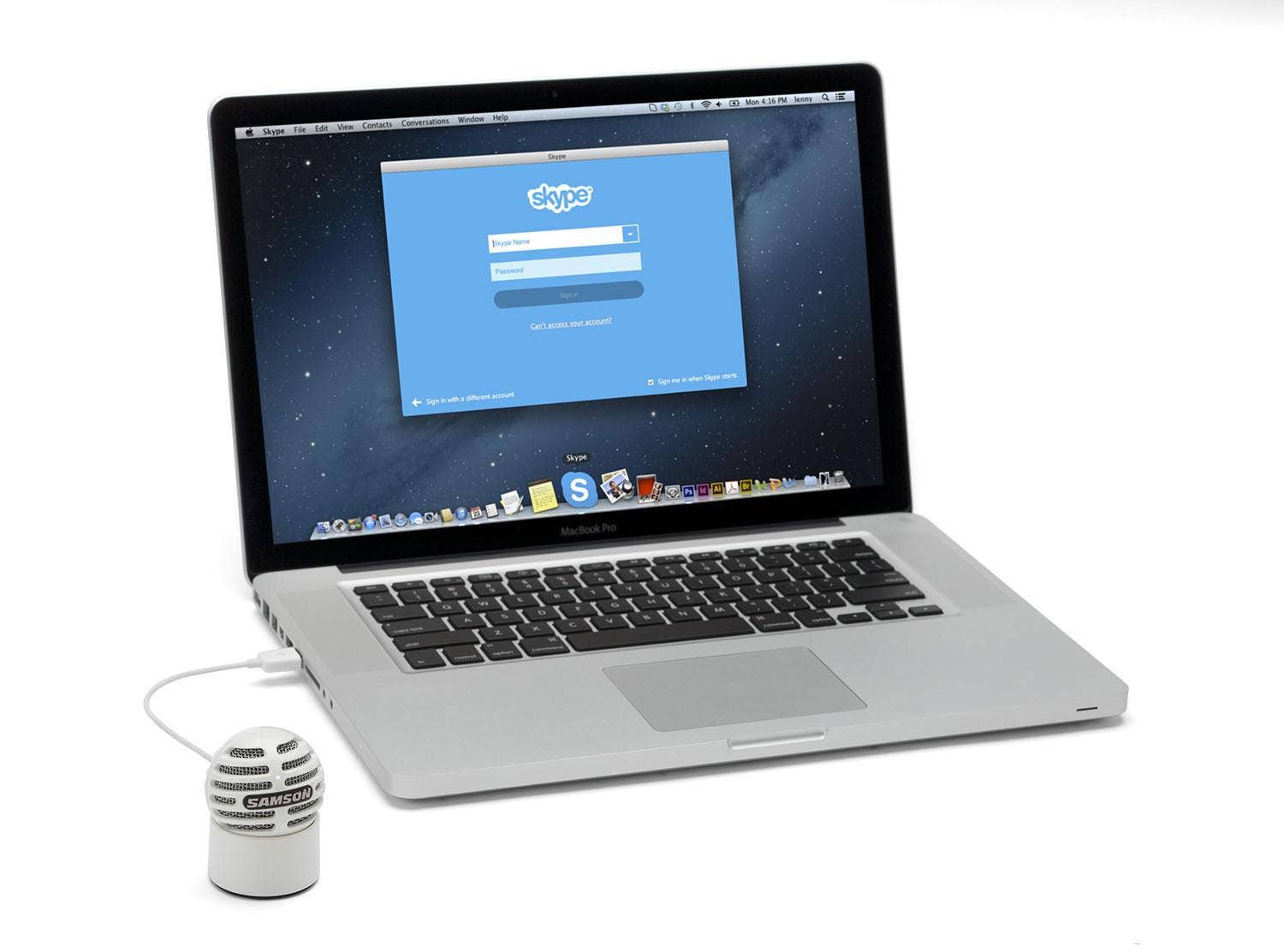 At barely the size of a golf ball, this tiny microphone is a lot of bang for your buck! Right out of the box, it's a sleek looking microphone thanks to its chrome-plated body. Additionally, it comes with a magnetic base so you can position the mic to an exact preference without worry about knobs and levers to get precision sound. As far as sound, it boasts an incredibly smooth, flat, studio-quality response so your vocals sound less like it's over the web and more like you're in person.
Features:
Excellent Sound Quality
Easy Plug In & Speak Set Up
Magnetic Base with Adjustable Positioning
Built-in USB cable
Samson Go Mic Connect:Now $49.99 (Noise Cancellation For Noisy Environments)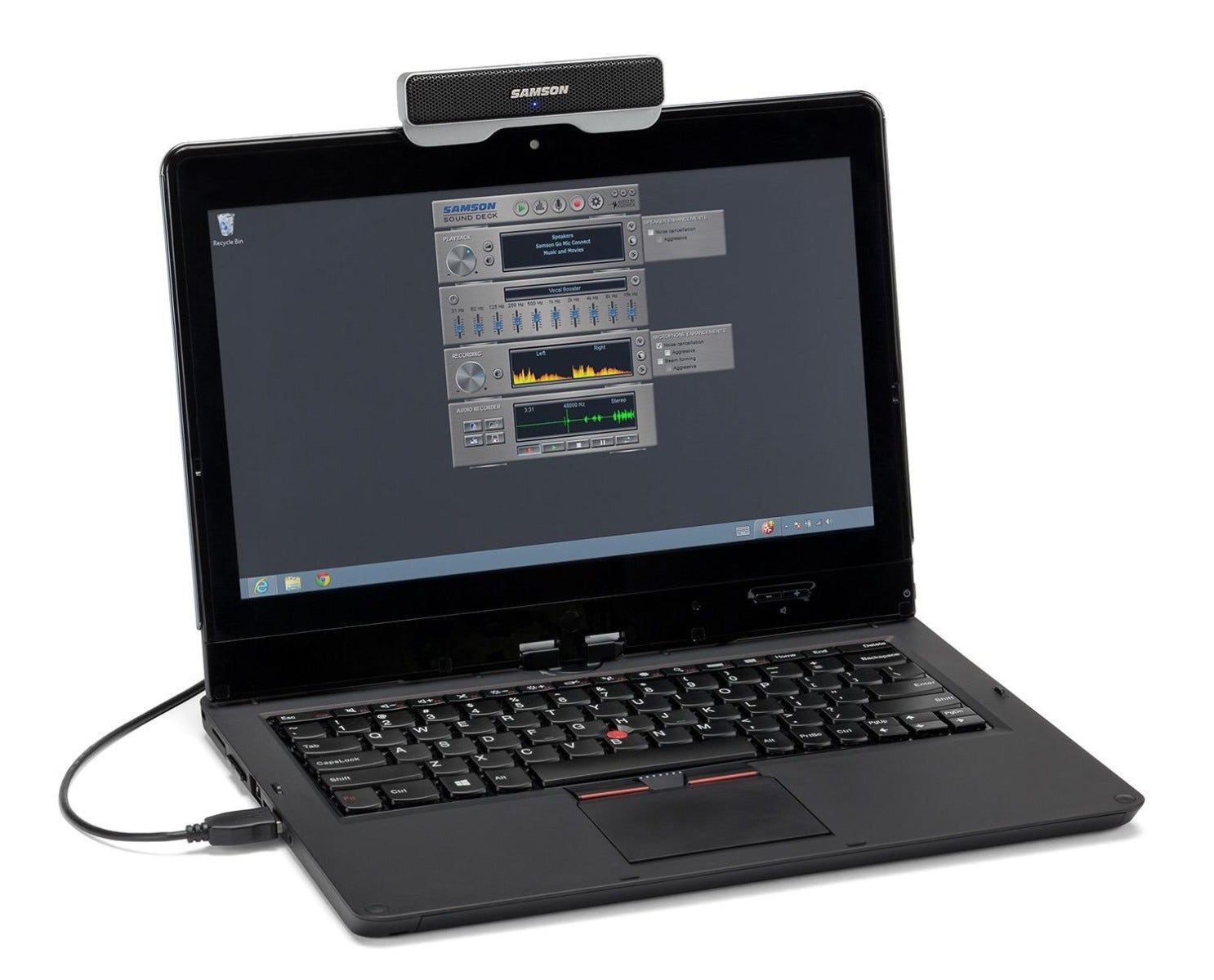 Sometimes when you want to talk to others, you're not always able to talk in the quietest environment. If you work from home with kids, you may have some noise of children yelling, TVs blaring, or toys going off at random. The brilliance of the Samson Go Mic Connect is between the Focused Pattern Technology and Sound Deck software, you can narrow the recording field and use Digital Noise Reduction (DNR) to eliminate unnecessary external sounds as you talk and/or record. This is great for podcasting so you have less to do in post-production. Additionally, it has a custom clip that's fantastic for fitting on top of laptops or large monitors, saving you from taking up precious desktop space for more important things like that necessary cup of coffee.
Features:
High Definition Stereo Sound Capture
Sits On Top Of Your Laptop Or Computer Monitor Without Blocking Webcam
Noise Reduction Technology Removes Background Noise From Your Communications
Headphone Output For Direct Monitoring Of Your Voice
Mac and Windows Compatible, no driver installation required
Samson Meteor Microphone: Now $69.99  (High Definition Sound With A Classic Vibe)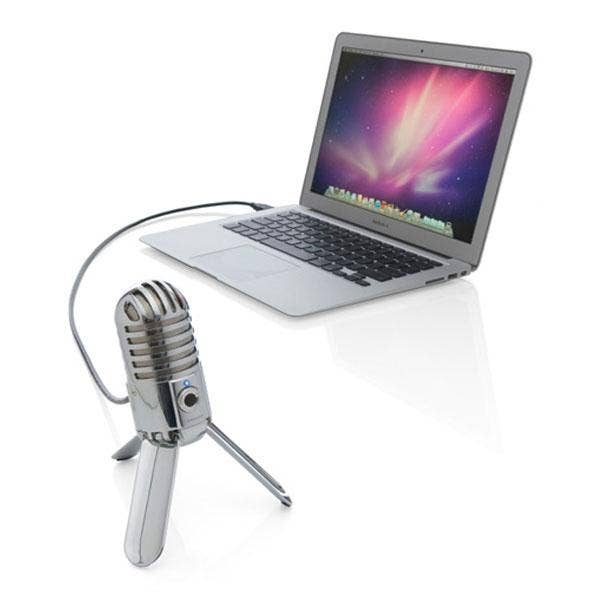 The big brother to the Samson Meteorite, this USB microphone shares many similarities to its sibling with a few added features. For instance, it boasts a larger diaphragm of 25mm compared to the Meteorite's 14mm, allowing for even richer audio recording. While the magnetic base is used to position the mic for the Meteorite, the Meteor comes built with 3 incredibly easy to use folding legs so you don't have to worry about bringing extra stands and can be put away for a great portable traveling solution. Although it's a bigger mic, it only weighs just over half a pound so there's no worry of extra added weight when carrying it around. It should also be mentioned that this microphone comes with a headphone volume control and microphone mute switch so you can change volume to the conversation without changing the overall volume of your computer or smart device.
Features:
25mm Diaphragm Delivers High Definition Sound Quality
Fold Up Design for Enhanced Portability
Headphone Output For Direct Monitoring Of Your Voice
Headphone Volume Level Control & One Touch Mute Button
Includes Detachable USB Cable and Carry pouch
Smartphone Microphones 
Shure MOTIV MV88: Now $149.99 (High Definition Sound For Your iPhone)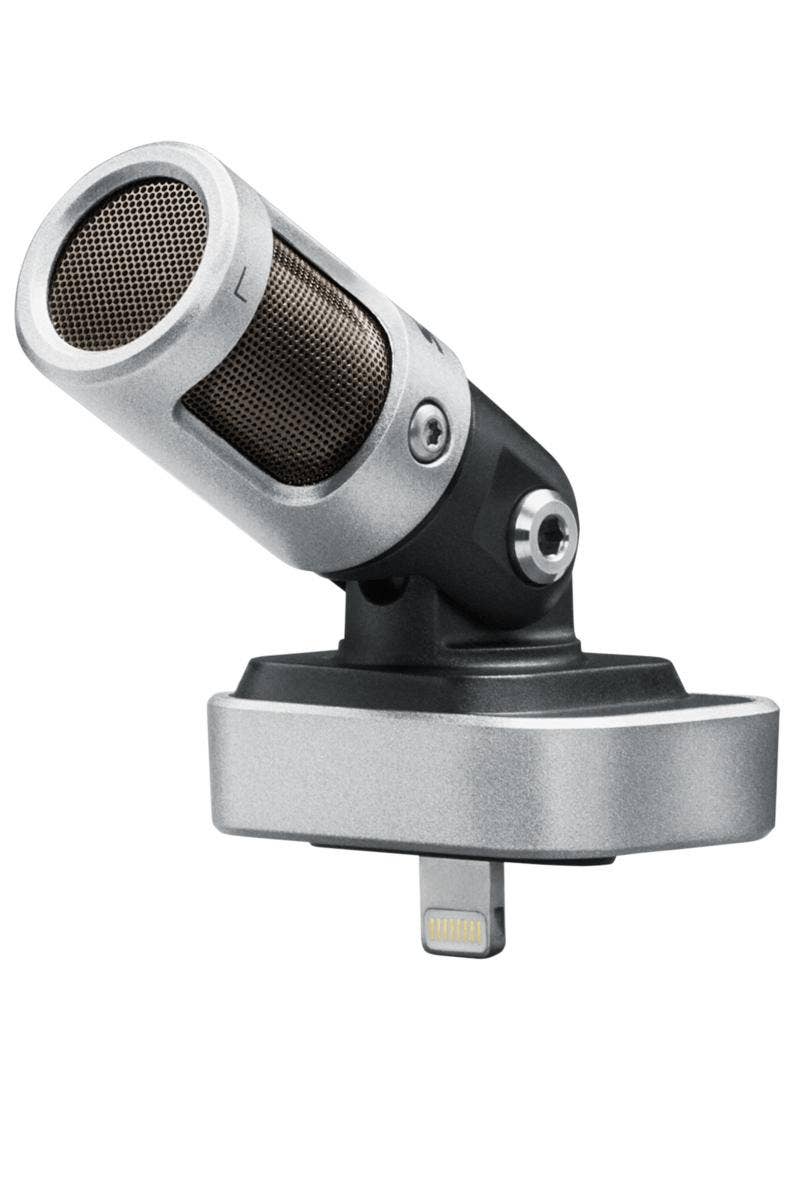 Sometimes conferences can happen at a moments notice where you're not near your computer. While you can easily use speakerphone when jumping on a conference call, we all know it isn't always reliable in certain situations. Thanks to Shure, you can easily have Zoom or FaceTime conferences on your iPhone with this simple microphone accessory. Literally plug it into any Apple device with a Lightning port and you're ready to go! If you want to get fancy with recording your audio, Shure has a free ShurePlus MOTIV Mobile recording app to allow you to record, edit, and share your audio to your liking.
Features:
Compatible with iOS audio and video recording apps
Movable microphone for ideal recording setup
Adjustable stereo width within ShurePlus MOTIV app
Includes foam windscreen, carrying case, and headphone monitor adapting cable
Sam Ash Music: The Microphone Experts
Feel free to check out the rest of our USB microphones, as well as our full microphone selection today. If you're still undecided, have questions, or need assistance with your purchase, give us a call at 1-888-977-0074 where we have music and audio experts at the ready to help you fulfill your needs.