Beginner Electric Guitar Buyer's Guide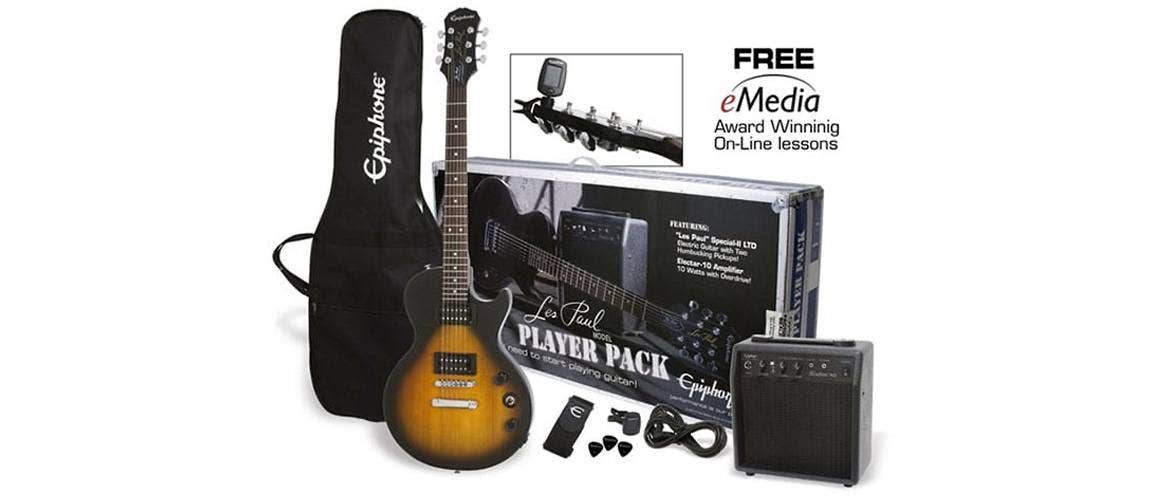 Once you decide to take up the electric guitar, you're going to find yourself faced with choosing the model that's right for you. When selecting your beginner's electric guitar, you may find yourself wondering what your starter guitar says about you. Although no brand, style, color or model is going to be the best for everyone, there are a few trends found among the players of certain brands.
With this in mind, let's take a look at what style music a few of the popular brands and models are commonly used for.
Fender Electric Guitars
Since Fender makes so many different electric guitar models, this brand caters to all styles of music. However, a clearer picture can be drawn by looking at some of the popular Fender models and the guitar legends who use them.
Stratocaster — The Fender Stratocaster is considered to be one of the most versatile electric guitars around. Its tone has been heard throughout popular music for decades. Although it is a good fit for most styles, the quick action of the Stratocaster tends to be most commonly used for rock music. Musicians such as Jimi Hendrix, Eric Clapton and Jeff Beck have all regularly used Fender Stratocasters.
With the same general design as high-end Stratocasters, the Squier Bullet Stratocaster Tremolo makes a perfect starter guitar for anyone looking for the classic Stratocaster tone and feel.
Telecaster — The Fender Telecaster is typically viewed as the brother of the Stratocaster. With an equally versatile range of tones, the Telecaster has been used by musicians playing all styles of music for years. With that being said, the Telecaster seems to be favored by musicians who incorporate blues and country elements in their songs. The remarkably clean and bright tone of the Telecaster has led such musicians as Keith Urban, Muddy Waters and PJ Harvey to rely on the guitar.
If you're looking for a starter guitar that's designed to sound, feel and look like the highest-end Fender telecaster, than the Squier Affinity Tele Electric Guitar is the perfect instrument for you. With a similar pickup configuration, body shape, and dimensions, the Squier Affinity Tele is bound to please any budding musician.
Ibanez Electric Guitars
Although Ibanez guitars have been used by professional musicians playing all styles of music; hard rock and metal players have long relied on the fast action of the brand's guitars to pull off fast, hard riffs. Bands like Kiss, System of a Down, Def Leopard and countless others have used Ibanez guitars on a regular basis.
GRX20 — For those looking for a starter guitar capable of reproducing the look, feel and sound of some of the most recognizable metal and hard rock bands, Ibanez will be a great match. For example, the Ibanez GRX20 Electric Guitar is designed with this type of playing in mind. The fast action on the GRX20 helps you master all the metal and hard rock tricks of many popular bands.
Epiphone Electric Guitars
Les Paul — If you're looking for a beginner's electric guitar with the same look, feel and sound as the renowned Gibson Les Paul, an Epiphone guitar is the perfect choice. As a subsidiary of Gibson, Epiphone is able to faithfully reproduce the Les Paul guitar, providing new players the chance to get a starter guitar based on this model.
Many of the top rock musicians, from Dave Grohl of the Foo Fighters to Paul McCartney of the Beatles, have used a Les Paul guitar. The Les Paul's thick sound and sharp tones are perfect for studio recording and live shows alike. Fortunately, Epiphone offers a variety of starter guitars that are designed to look and sound like the Gibson Les Paul. For example, the Epiphone Les Paul 100 is a faithful replica of the classic model and a perfect starter guitar for anyone who wants the Les Paul sound. With a comfortable neck designed to increase playability and comfort for new players, the Epiphone Les Paul 100 is perfect for beginners.
What to Look for in a Beginner Electric Guitar
To boil it all down to a single word, "quality," above all else, is what you should be looking for in your first electric guitar. Many beginning guitarists make the mistake of going for the cheapest model they can find, often from a big-box retailer that doesn't specialize in musical instruments. As a result, they either quit because the instrument is too difficult to play (yes, the guitar you play does make that much of a difference) or they learn a hard lesson and buy a better guitar in a matter of weeks or months.
Since you're reading this buyers guide, it's safe to assume that you or someone you know is trying to buy his or her first guitar! So before we get into anything, we'd first like to say congratulations on getting started on this new musical journey!
Here at Sam Ash, we know that there are so many different types of electric guitars out there and there are countless guitar manufacturers in the industry, which can make it extremely overwhelming to try and pick out your first electric guitar.
If you're looking for some guidance on choosing your first electric guitar, you've certainly come to the right place! We're here to make this difficult decision a little bit easier!
Our experts here at Sam Ash have carefully chosen some of our favorite guitars that we believe are the ultimate starter electric guitars from well-known, reputable guitar brands such as Squier by Fender, Epiphone, Ibanez, and Jackson.
Good Things Really Do Come in Small Packages!
When you're first starting out, you need to make sure that you have an electric guitar that's comfortable to hold and easy to play. If you don't have a quality instrument that feels good in your hands, you're more likely to get discouraged and stop playing.
Keeping this in mind, Squier, Epiphone, Ibanez, and Jackson all have short-scale electric guitars featuring smaller bodies available in their lineup. The scaled-down design of these guitars makes them ideal for younger or smaller players, but beginner guitar players of any age or size will also really enjoy the comfortable feel and ease of playability these small guitars have to offer!
The really cool thing about these guitars is that they are basically shrunken-down versions of some of the most iconic guitars from these brands. Let's take a look:
Squier Mini Strat V2 Electric Guitar

Epiphone Les Paul Express Electric Guitar

Ibanez GRGM21/GRGM21M MiKro Electric Guitars

Jackson JS Series Dinky Minion JS1X Electric Guitar
Jackson JS Series RR Minion JS1X Electric Guitar

Full-Size Beginner Electric Guitars
Now, if you'd rather learn on a full-size instrument to get a real feel for what it's like playing on a full-scale electric guitar, a smaller, short-scale electric guitar may not be the right choice for you. No need to fret, though (pun intended)! Squier, Epiphone, Ibanez, and Jackson all have fantastic full-size starter electric guitars in their lineups, all of which will be perfect for a beginner's first electric guitar. Let's dive in and check out some of our favorite starter guitars from these respectable guitar manufacturers!
Since its acquisition, Squier has always been the value-driven alternative to its big sibling, Fender, which is why it makes such an excellent choice for budding guitar players that are looking for their first electric guitar. Squier gives you that legendary look and feel of a Fender guitar, in a package that's a little easier on your wallet! Let's take a look at some of the Squier electric guitars that our experts have selected.
Squier Stratocaster Electric Guitars
The Stratocaster first hit the scene back in 1954, and since then, has been a household name in the world of musical instruments! You've seen the legendary Stratocaster guitar in the hands of some of the most notable guitarists in music history, which include guitar heroes like the late Jimi Hendrix, Eric Clapton (Cream), Jeff Beck (The Yardbirds), Robert Cray (Otis Day and the Knights), the late Stevie Ray Vaughan (Stevie Ray Vaughan and Double Trouble), Eric Johnson, and David Gilmour (Pink Floyd)… just to name a few. Many guitars players love Stratocasters because of their ergonomic double cutaway design, their comfortable necks, and their signature sound. Typical Strat models come equipped with three single-coil pickups, which give them the distinctive sound and incredible tonal versatility that helped make the Strat a true music icon that it is today. The Strat is a fantastic choice for virtually any style or genre of music you play—from pop, country, and funk to jazz, blues, and hard rock (and everything in between)!
If you're just starting out and think that the Stratocaster is the right choice for you, we think you should definitely check out the Squier Bullet Strat HT or the upgraded Squier Affinity Series Stratocaster. These are both really great guitars, and the main differences are that the Affinity Series Stratocaster features an upgraded alder body and a vintage-style tremolo instead of a hardtail bridge. It also is available in more finish options, and is available with a maple fingerboard on select finishes.


Squier Telecaster Electric Guitars
Based on Fender's original solidbody electric guitar that was introduced back in 1951, the Telecaster has proven itself as a pivotal part of music history, having been the very first mass-produced Spanish-style solidbody electric guitar in the world! The Tele has been the choice instrument for countless guitar players spanning a wide range of musical genres including Bruce Springsteen (E Street Band), Brad Paisley, Tom Morello (Rage Against The Machine, Audioslave), Keith Richards (Rolling Stones), Syd Barrett (Pink Floyd), George Harrison (The Beatles), Joe Strummer (The Clash), and many more. Boasting an instantly recognizable single-cutaway body, Teles are primarily recognized for the unique twangy tone they deliver through a traditional pairing of two single-coil pickups. As you can see from the list of famed Tele players, Telecasters have the sonic flexibility to cover pretty much any genre you throw at it!
If you're just getting started and think a Telecaster guitar is the way to go, the Squier Affinity Series Telecaster is the ideal starting point. It gives you all the features that made the guitar so famous such as vintage-style pickups and classic looks, all at a truly inviting price point!

While Epiphone has a full selection of instruments of their own, the company also offers a variety of models based on the celebrated guitars from Epiphone's parent company, Gibson. Epiphone has an array of Les Paul and SG models at various price points, but today, we're just going to hone on a few Epiphone electric guitars that would be perfect for those who are just getting started on the electric guitar.
Epiphone Les Paul Electric Guitars
Originally introduced in 1952, the Les Paul model was Gibson's first solidbody electric guitar, and as you'd expect from its namesake, was designed in collaboration with the legendary late jazz guitarist/inventor Les Paul (who also happened to a very good friend to us here at Sam Ash). With its signature single-cutaway design and thick, juicy tones delivered by dual humbucking pickups (after humbuckers were introduced in 1957), the Les Paul became the go-to axe for world-class guitarists such as Jimmy Page (Led Zeppelin), Slash (Guns 'N' Roses), Ace Frehley (KISS), Pete Townshend (the Who), Duane Allman (The Allman Brothers), Joe Bonamassa, Billie Joe Armstrong (Green Day), and countless others. As far as sound, the Les Paul guitar will cater to any playing style or genre of music, but it really thrives if you're playing heavy blues or hard rock!
If the Les Paul guitar seems like it would be a perfect fit for you, you really have to check out the Epiphone Les Paul Special VE and the Epiphone Les Paul Studio LT. While these guitars do share some common features such as its ultra-fast 1960s SlimTaper "D" neck profile and powerful 650R/700T humbuckers, there are significant differences between the two of them. For starters, the Les Paul Special VE features a single-cutaway poplar body with a no-nonsense flat top design while the Les Paul Studio LT is crafted with an upgraded mahogany body featuring a carved top design, which is more in line with the traditional Les Paul design. The Les Paul Studio LT also sports a classic 4-knob control layout, which will give you more tonal control over each pickup while Les Paul Special VE has a more simplistic 2-knob control layout. Basically, it all depends on what you're looking for in a guitar. If you want something more straight-forward, the Les Paul Special VE is the right choice. If you'd like a Les Paul that's offers upgraded features, the Les Paul Studio LT is right up your alley!


Epiphone SG Electric Guitar
Believe it or not, the original "SG" or "Solid Guitar" model was actually introduced in 1961 as Les Paul model to replace the slow-selling single-cutaway late '50s Les Paul Standard models. Highly coveted for its incredibly slim, fast-playing neck and double-horned lightweight body design, the SG has be seen in the hands of classic and modern guitar greats such as Angus Young (AC/DC), Frank Zappa, Tony Iommi (Black Sabbath), Derek Trucks (The Derek Trucks Band), and Robby Krieger (The Doors), Daron Malakian (System Of A Down), Elliot Easton (the Cars), Thom Yorke (Radiohead), and so on! A lot of SG electric guitars come equipped with two humbucking pickups, which is one of the reasons why hard rockers, blues players, and metal guitarists really love the SG. The SG isn't just for heavier genres, though—you can easily play whatever style or genre your heart desires!
The Epiphone SG Special VE offers beginner guitar players a no-nonsense take on this classic guitar model, making it a really great choice for the budding guitarist. New players will really love the comfort provided by the fast neck and lightweight design!

Ibanez has always been renowned for their high-performance guitars. Ibanez has proved to be a true contender in the competitive world of electric guitars, having some of the most remarkable guitar players on their roster such as Steve Vai, Paul Stanley (KISS), Paul Gilbert, Joe Satriani, Tosin Abasi (Animals as Leaders), Mårten Hagström (Meshuggah), and tons more! This high-quality guitar manufacturer offers an expansive array of instruments ranging from top-of-the-line, premium guitars down to more budget-friendly guitars that are ideal for beginners. While many Ibanez guitars are perfect for hard rockers and metal players, they have the versatility to cover a range of genres. Let's take a look at the Ibanez guitars that we feel are perfect for beginner guitarists.
Ibanez GIO Series Electric Guitars
The Ibanez GIO Series guitars make amazing first guitars for plenty of reasons. The main reason is that the Ibanez GIO guitars deliver all the playability, tone, and quality that Ibanez is famous for in a guitar that doesn't break the bank. Let's take a look at two GIO Series electric guitars that we feel are an awesome choice for beginner guitar players. Loaded up with a selection of great features and killer hard rock tones, both the GRX20Z and the GRG121DX sport Ibanez's most widely recognized body shape, the double-cutaway RG. They both come equipped with dual passive/ceramic humbucking pickups for rock-ready tones, but there are a handful of differences between them that set them apart from one another. First, the GRG121DX has a fixed bridge (no tremolo arm) while the GRX20Z employs a tremolo bridge so you can deliver that awesome vibrato effect. If you're looking to give yourself the option of doing vibratos, I'd suggest going with the GRX20Z. If not, the GRG121DX is ideal. There are also some differences in woods as well as aesthetic differences, too, which is all a matter of personal preference on your part.


Since the late '70s, Jackson guitars have been the instruments of choice for hard rockers/heavy metal guitar players everywhere due to their speedy playability, shredder-approved features, and searing hot tone. Jackson guitars have proven to be fitting weapons for metal and hard rock guitarists, with notable axe wielders on their massive list of artists such as the late Randy Rhoads (Ozzy Osbourne, Quiet Riot), Phil Demmel (Machine Head), Marty Friedman (Megadeth), Phil Collen (Def Leppard), Corey Beaulieu (Trivium), Christian Andreu (Gojira), Chris Broderick (Act of Defiance), Gus G (Firewind), Misha Mansoor (Periphery), Scott Ian (Anthrax), Mick Thomson (Slipknot), and plenty more! Jackson offers a huge range of high-quality electric guitars at all different price points, but today, we're going to be focusing on the guitars we think will help you shred it up like the pros in no time!
Jackson Dinky Electric Guitars
The double-cutaway Dinky body shape is a Jackson trademark, and has been seen on countless stages over the years. Today, the first Jackson guitar we'd like to introduce you to the Jackson JS22 Dinky Archtop guitar. Also available as a 7-string model, the JS22 Dinkyis a sleek guitar that comes with plenty of metal-approved features such as a tremolo bridge for insane vibratos, a fast-playing maple neck, and a compound-radius rosewood fingerboard with 24 jumbo frets, which allows for incredible playability whether you're playing chords or soloing up in the lead zone. It also comes fired up with dual high-output Jackson humbuckers for ultra-powerful tones that sound great in an overdriven amp! It also sports iconic Jackson looks such as its classic headstock and pearloid sharkfin fretboard inlays.

Jackson Monarkh Electric Guitars
The Jackson Monarkh is a sophisticated single-cutaway body shape that maintains Jackson's signature sleek look and pure heavy metal vibe. The Jackson JS Series Monarkh JS22 features this awesome body shape, and comes ready to shred with a high-speed maple neck featuring a slightly shorter 24.75" scale length and a compound-radius rosewood fingerboard with 22 jumbo frets. Unlike the Dinky above, this Monarkh JS22 comes equipped with a Jackson TOM-style bridge with anchored tailpiece for unparalleled sustain and tuning stability. Just as its Dinky counterpart, a set of killer Jackson high-output humbuckers complete this high-performance starter guitar.

Starter Packs
Learning to play the electric guitar can be hard, but making sure you have all of the equipment you need shouldn't be. If you're thinking about learning the guitar, or shopping for someone who is, an electric guitar starter pack is a great option. With a starter pack, you can be sure that youre getting all the gear you need to start playing right away. Plus, with brands like Squier, Epiphone, and Ibanez offering starter packs, you can always be confident in the quality of the starter guitar and all the equipment included.
For example, with the Squier Affinity Strat package, not only do you get a stylish, full-size version of a classic Stratocaster guitar, but you get a high-quality Fender Frontman practice amp, protective gig bag, and a strap, tuner, cable, picks and an instructional DVD. Plus, with the confidence that comes from purchasing a guitar starter pack from a brand like Squier, which is part of the Fender family, so you know your gear will be ready to use right out of the box. Same goes for the Epiphone Les Paul Player Pack, which features an Epiphone Les Paul Special II guitar, 10-watt practice amp, gig bag, cable, picks, tuner, straps and downloadable guitar lessons. Epiphone is backed by Gibson, so again you can be assured of a quality starter guitar package.
What should I look for in a Beginner's Electric Guitar Pack?
A Guitar – The most important piece of any electric guitar starter pack is the guitar itself. With the wide selection of brands and models to choose from at Sam Ash, you can be sure youll find a package that includes an electric guitar that was designed with quality and playability in mind.

An Amplifier – Equally as important as the guitar itself is the amplifier you play it through. Practice makes perfect, so it will be critical to hear your starter guitar through a clear, high-quality amp. The amps included with electric guitar starter packs are designed specifically for practice, so youll easily be able to hear how your playing has improved.
A Gig Bag – By taking good care of your starter guitar, you can ensure that it will work properly for years to come. Having a protective case or gig bag is a great way to ensure the safety of your starter guitar when transporting it from one place to another. Gig bags also protect the instrument from sunlight, moisture, heat, and other harmful natural forces.
Additional Accessories – Although the accessories may vary with each electric guitar starter pack, they almost always include a strap, cord and amp. Whether you play sitting down, standing up, or both, a guitar strap is a must-have accessory to go along with your starter guitar. Along with holding the guitar up while you stand, a strap also serves to position the guitar properly and ensure that you develop proper form while practicing your starter guitar. And since youll always need a cord to connect your guitar to the amp, these two accessories are critical.
Some electric guitar starter packs, like the Squier Affinity Strat Special and Frontman 15 Electric Guitar Package, include even more accessories. Along with a beautifully crafted Fender starter guitar and amp, the package also includes a tuner, headphones, instructional DVD, picks, strap, cable and a gig bag. You literally get everything you need to start playing and some additional accessories to help you on your way.
Shopping for equipment can be an intimidating process for new musicians. With all the different items available, it can be overwhelming to figure out what gear fits your needs. With an electric starter guitar pack, you get all the equipment you need from a trusted manufacturer. And with the wide selection of packages available from Sam Ash, you can be sure to find the guitar starter pack that you've been looking for.