Arturia Keyboard Controllers: Gear Guide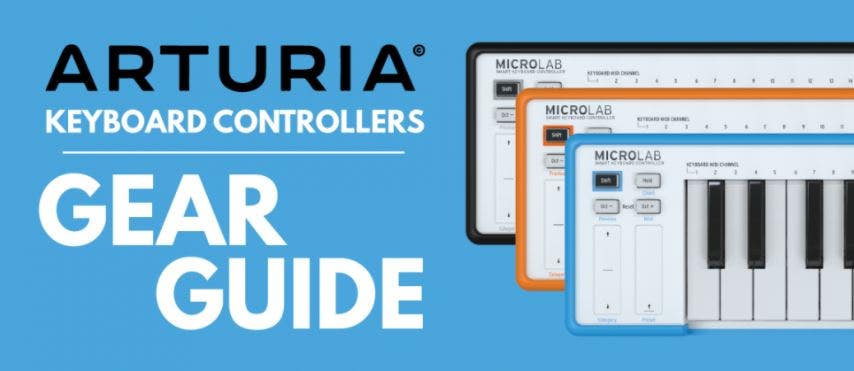 It's becoming increasingly apparent that to successfully produce music in the modern era, your gear needs to accommodate to your travels and work on-the-go sessions. The beautiful thing about making music in today's day and age is the fact that producers, engineers and musicians can potentially have all of these tools at the palm of their collective hands. Sometimes, though, just hands aren't enough. These production controllers need to be suitable for backpacks, train rides, car trips or however else you need to transport your talents for a remote recording session. The following controllers from Arturia put an emphasis on portability, size and functionality in any work space.
—
Portable Solutions
The Arturia BeatStep USB/MIDI/CV Controller and Sequencer is an absolute dream for the ants-in-the-pants music producer operating remotely. From a pure visual perspective, this is the type of "keyboard" that music producers in the Star Trek universe would use. And that's the thing; it really isn't a keyboard. Between its velocity/pressure-sensitive pads, knobs and modulation wheel, this controller has a futuristic feel to it, while still demonstrating the confidence to produce music in a traditional fashion. While it may not take on the same layout as a classic MIDI controller, it has a user-friendly design with all of your essential components laid out in a rational manner.
Ableton users: lend me your ears! This controller can trigger clips on Ableton Live, and for most DAWs of choice as well. If programs such as EZDrummer make up a big part of your studio production sessions, you can operate those percussive elements through this controller as well. Lastly, a 16-step analog sequencer is built-in for synths, drum machines, additional MIDI keyboards and more to be connected and utilized. This gives users even more flexibility for bringing their wildest audio dreams to life. For producers looking for a fresh change-of-pace while still incorporating their favorite DAWs/plugins/software, look no further than the BeatStep.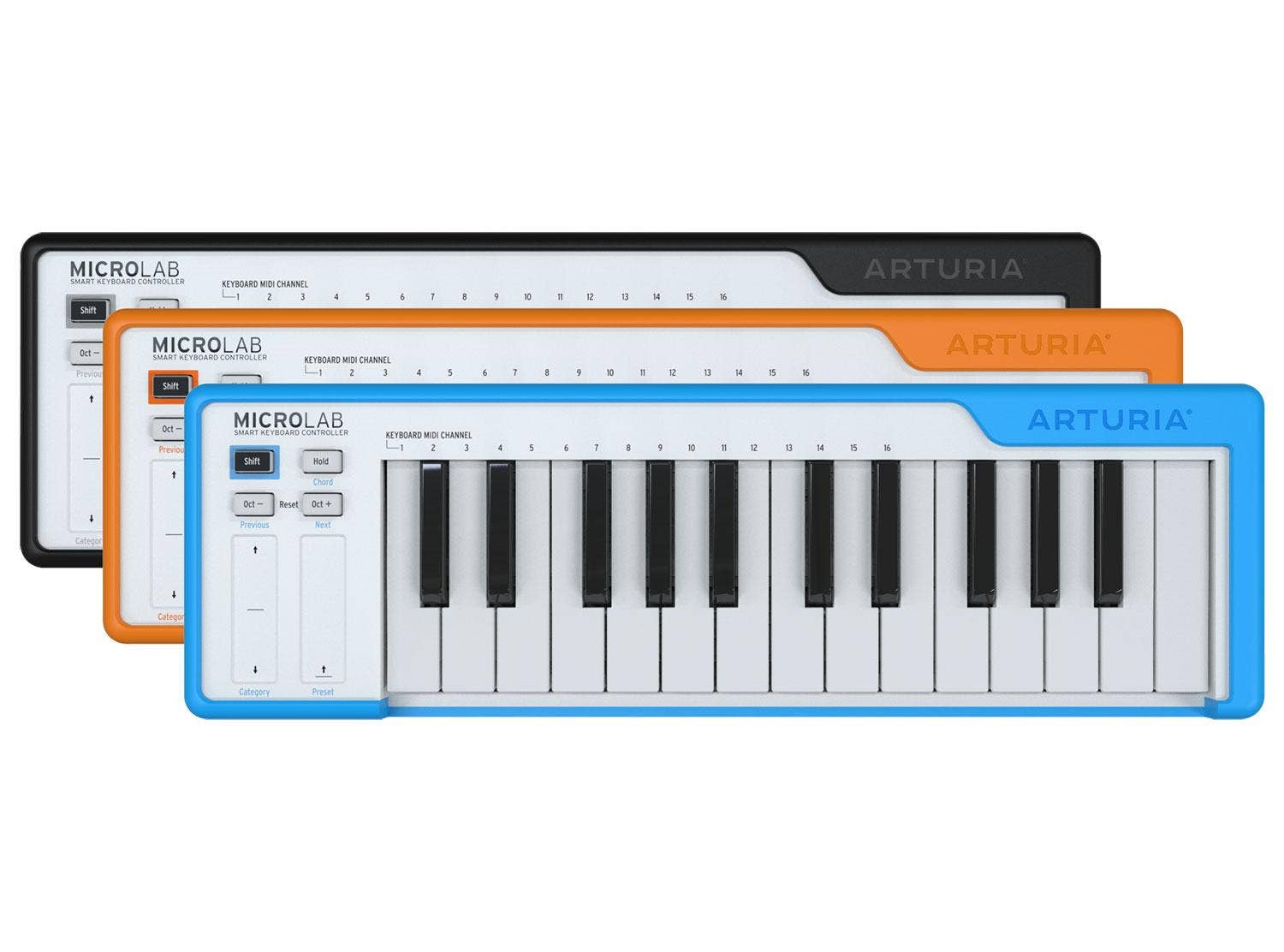 Looking a little bit more familiar in a traditional synthesizer/keyboard layout, the Arturia MicroLab Smart-25 Key MIDI Controller boasts a chic color palette and low-key design for unparalleled portability and user-friendly functionality. Because of its aesthetically-pleasing look and array of colors, this controller may be a great fixture for a studio space with an emphasis on "vibes" and polychromasia goodness. Let's say you have a bit of a musical following on a social media platform, like TikTok or Instagram. Producers and musicians alike may benefit from having a sweet visual component to any music or sound they put out to the world on these apps. Pulling out this colorful controller to compliment your studio's color palette, track/holiday lights, burning essence, posters or any other fixture in your creative space certainly won't hurt.
From a functionality standpoint, this controller is no scrub, either. For starters, it includes a shopping list of software and sounds to get you started with. Analog Lab Lite comes with 600+ killer sounds right out of the box, to maximize your creativity right out of the gate. The UVI Grand Piano VST is strikingly authentic in its piano sound reproduction, and is a great addition to such an impressive library of synths & instruments. The keybed itself is responsive, velocity-sensitive and translates beautifully to the modern-day producer emphasizing MIDI authenticity.
Some of you reading right now may still be hung up on the BeatStep discussed earlier, and we can't blame you; its versatility, sleek design and interface are ideal for the modern-day producer.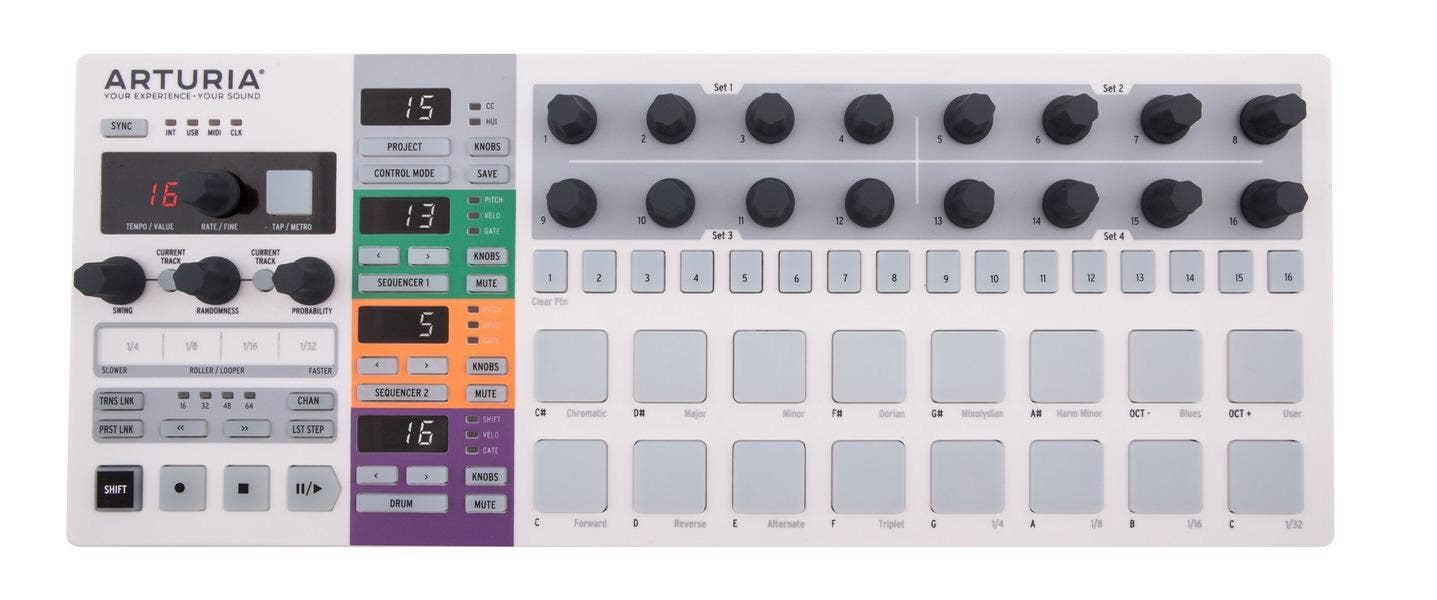 What if we said that there's a version of the BeatStep that's even more jam-packed with features and functions perfect for your creative workflow? Lo and behold, the Arturia BeatStep Pro Sequencer and MIDI Controller slams open the door with even more audio integration, creative control and performance assets. With an added emphasis on sequencing, the BeatStep Pro offers users the chance to play with 64 steps per sequence, 16 sequences per project and 16 projects in all – impressive, to say the least. 16 separate tracks of sequencing are granted with a built-in drum sequencer, making for an immersive production experience without restraints. It's never been easier to lock into your MIDI with such grace and attention to detail, thanks to the BeatStep Pro's touch-sensitive encoders and parameter adjustment in your favorite DAW.
Where the BeatStep Pro offers a great deal of unique value is its ability to serve as a tool for performers of all kinds. With a boatload of effects for musicians to play with, including but not limited to a looper, randomizer and touch strip, this unit suddenly becomes an entertainer's best friend. Many DJs and one-person-show performances often incorporate multiple electronic elements, so consider this yet another weapon in your audio arsenal. This rings particularly true if you're big on using Ableton in a live capacity!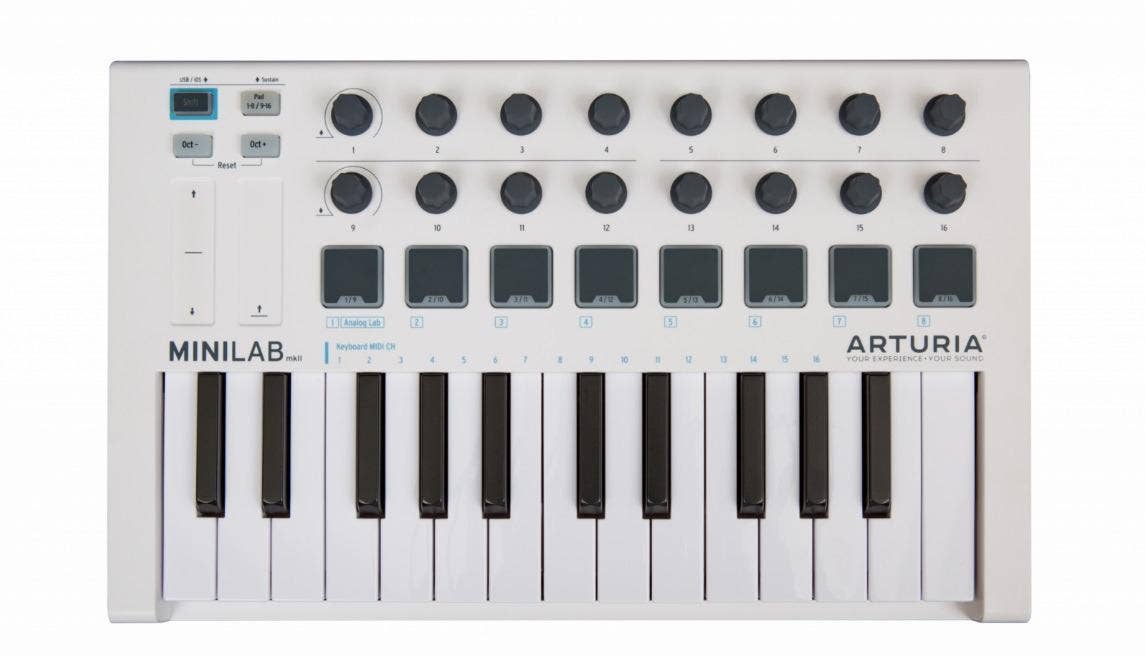 Rounding out our portable solutions comes a beast of a controller that, in a sense, borrows elements from both the BeatStep and MicroLab units from Arturia. Introducing the Arturia MiniLab MKII 25-Key USB MIDI Controller, built with accessibility and functionality in mind. Its appearance alone serves as a best-of-both-worlds option for music producers and sound designers alike. It works in that futuristic aesthetic with its sleek physique and spaceship-layout of knobs & pads from the BeatStep, while offering a more traditional 25-key MIDI keybed with Slim-Keys technology, harking back to what you saw on the MicroLab.
Keep your creative flow active while traveling to your next studio session, courtesy of the MiniLab MKII's integrated software and juicy DAW compatibility. Analog Lab Lite includes 500 professional-polish sounds right out of the box, and users will be able to run through Ableton Live Lite and the stunningly realistic UVI Grand Piano. Perhaps what makes this unit such a slam-dunk is its affordability juxtaposed with high-quality functionality. At a wallet-friendly price perfect for those on a budget or spending money on additional gear, this versatile controller operates as a sonic Swiss Army knife. Portable, recognizable, accessible and powerful, this is the ideal solution for the travel-heavy producer, but still a wonderful option when working out of one location, too.
Desktop Solutions
Of course, not everyone is going to take their talents in a backpack or car. Whether it's personal work flow, travel restrictions, bad weather or client base, many producers operate mainly from their own home studio or in a production space fixed at one location. Arturia understands the popularity of this work culture, and caters to it with an entire collection of desktop solutions perfect for the work-from-home producer. Whether it's at the most basic of levels or in the most professional of contexts, Arturia has an answer.
—
The Arturia Keylab Essential Series offers users a tremendously familiar user-experience with its smooth-action keybed, automatically-mapped knobs/faders and DAW Command Center. Producing music in the modern era can require a robust set of requirements from a MIDI controller, but this particular unit steps up to the plate without making for a difficult learning curve or confusing interface. Quite the opposite, actually! The KeyLab controllers are designed to leave you focusing on music and sound, not bizarre controls or intimidating features. Alas, each member of this series comes with a different amount of keys to make musical magic happen on: the Keylab 49, the Keylab 61 and the Keylab 88.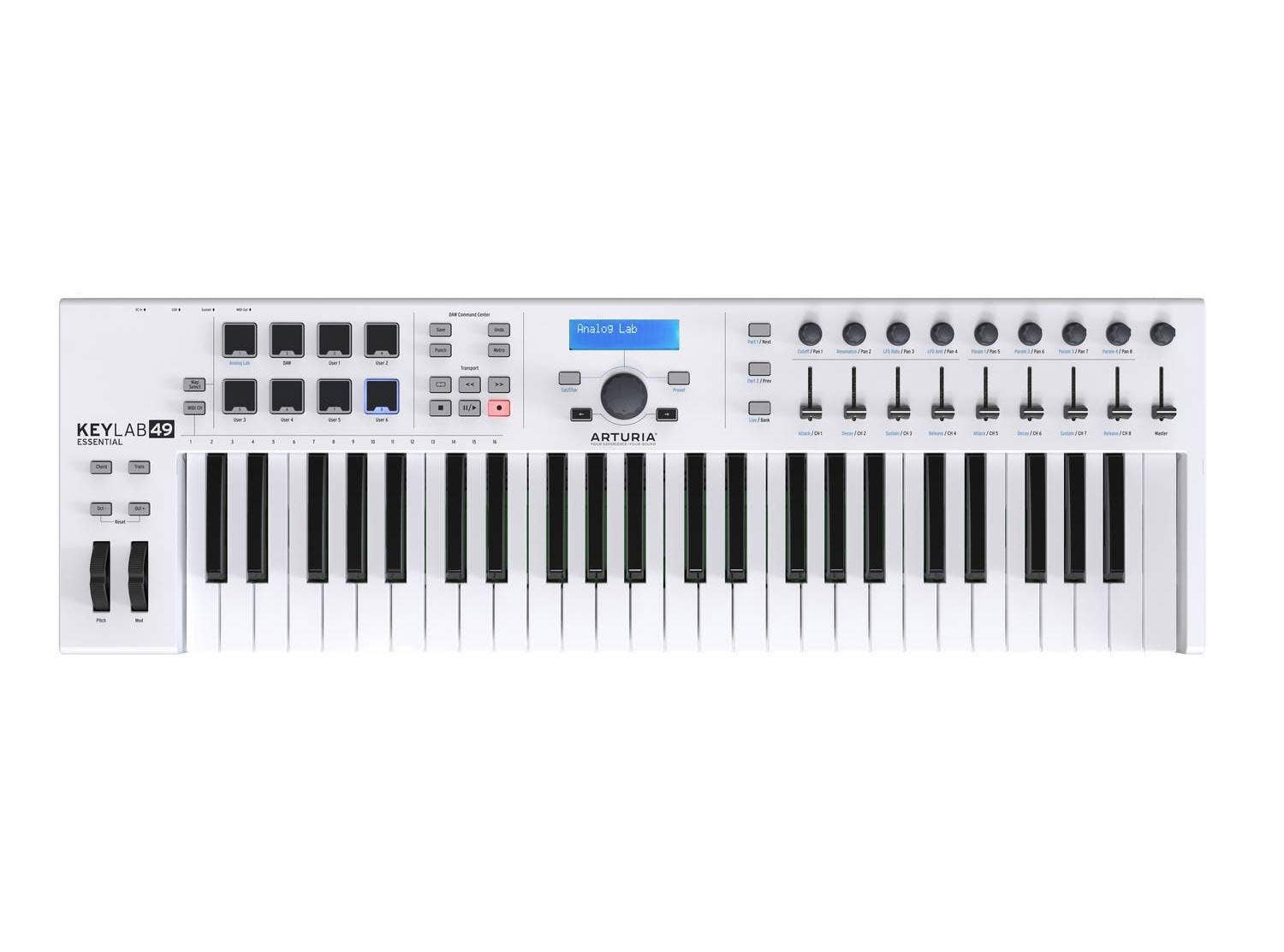 As you probably imagined, and you'd be today's lucky winner of the Sam Ash Spotlight Awards if you imagined correctly (DISCLAIMER: NOT A REAL THING), the Arturia Keylab 49 Essential MIDI Controller boasts 49 keys, versus a traditional 88 on classical pianos and some other MIDI devices. The 49-key layout has grown in popularity over the years, offering users that keyboard experience without the length, space or background piano knowledge of an 88-key option. The Keylab 49, by trade, is perfect for music producers who don't scale the entire keyboard. Some hip-hop beats, radio-friendly pop hits or EDM anthems may not require 88-keys, so why clog up space unnecessarily?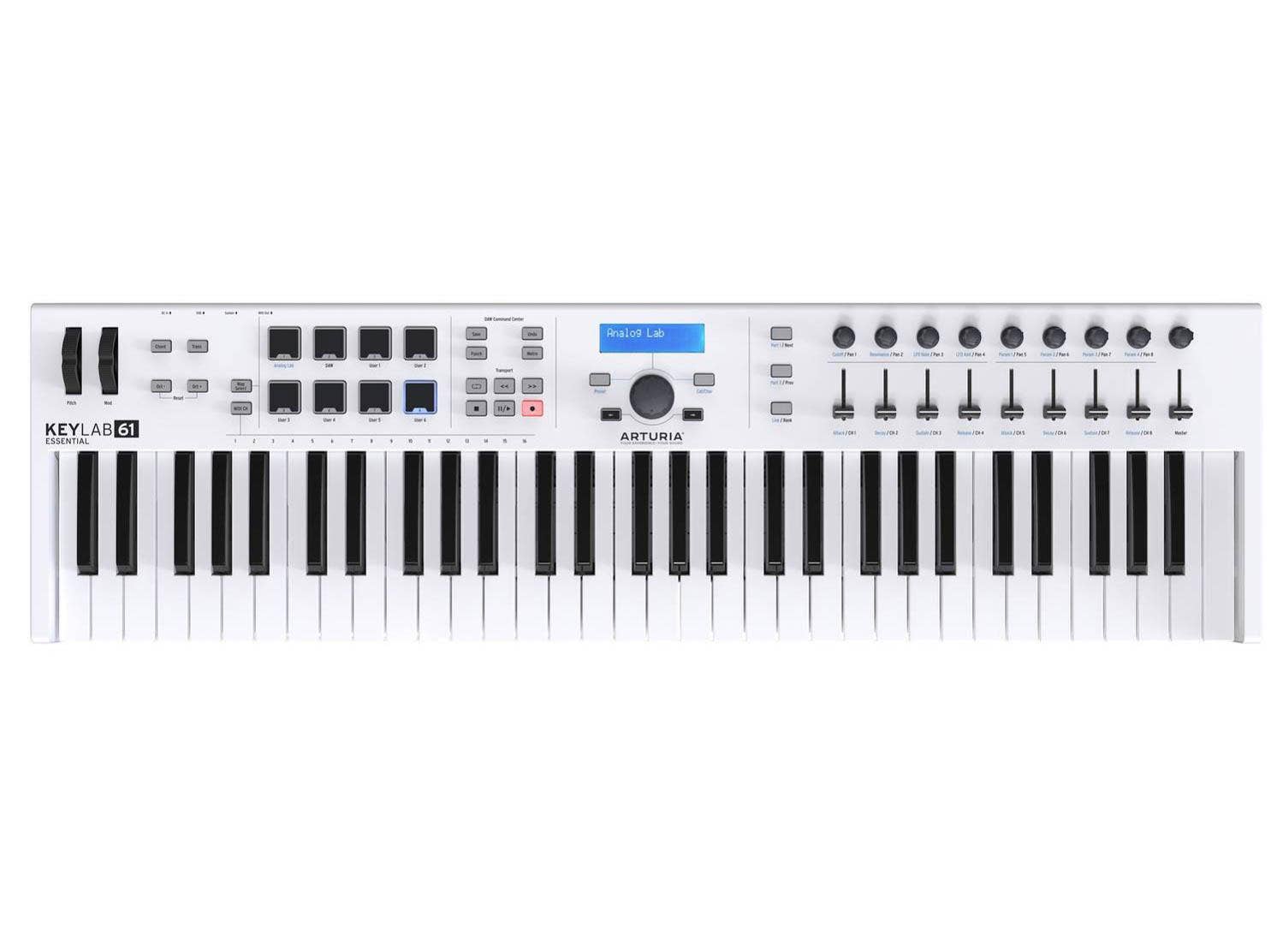 As the number of keys increase, so does the inherent size of the Keylab. The Arturia Keylab 61 Essential MIDI Controller may be a bit bulkier on your production desk, but you'll be granted more keys to bring your musical ideas from your mind to your hands, and then ultimately onto your DAW. While not full 88-keys, 61 is a solid number for composers working in multiple styles. You may not be able to span up and down a classical concerto, but you'd have enough to work with for producing and arranging anything from rock to jazz to blues to even some classical. This is a perfect option for the DIY composer constantly cranking out music for television or multimedia, and needs enough juice on the keys to make it happen.

Last, but most certainly not least in the series, comes the Arturia Keylab Essential 88 MIDI Controller in all of its black & white glory. Jam-packed with an astonishing collection of sounds from the Analog Lab, this controller is a film scorer's dream. The 88-keys span from sea to shining sea, or in this case, from speaker to shining speaker in your studio. Natural pianists and musicians who can handle this full-range of keys will benefit greatly from this controller's semi-weighted, velocity-sensitive response when playing. This is the perfect choice if users are looking for a seamless transition from an organic piano to a fully-functioning MIDI controller, highlighted by striking authenticity and true attention to expressive detail.
As you've probably discovered, keybed variance in MIDI controller isn't a new concept, or one that's mutually exclusive to Arturia. They do, however, pride themselves on honing into those nitty-gritty details for a variety of musicians and producers. The Arturia Keylab 88 MKII MIDI Controller promises that same standard of sonic excellence, and comes in those 49/61/88-key variations for anyone under the audio umbrella.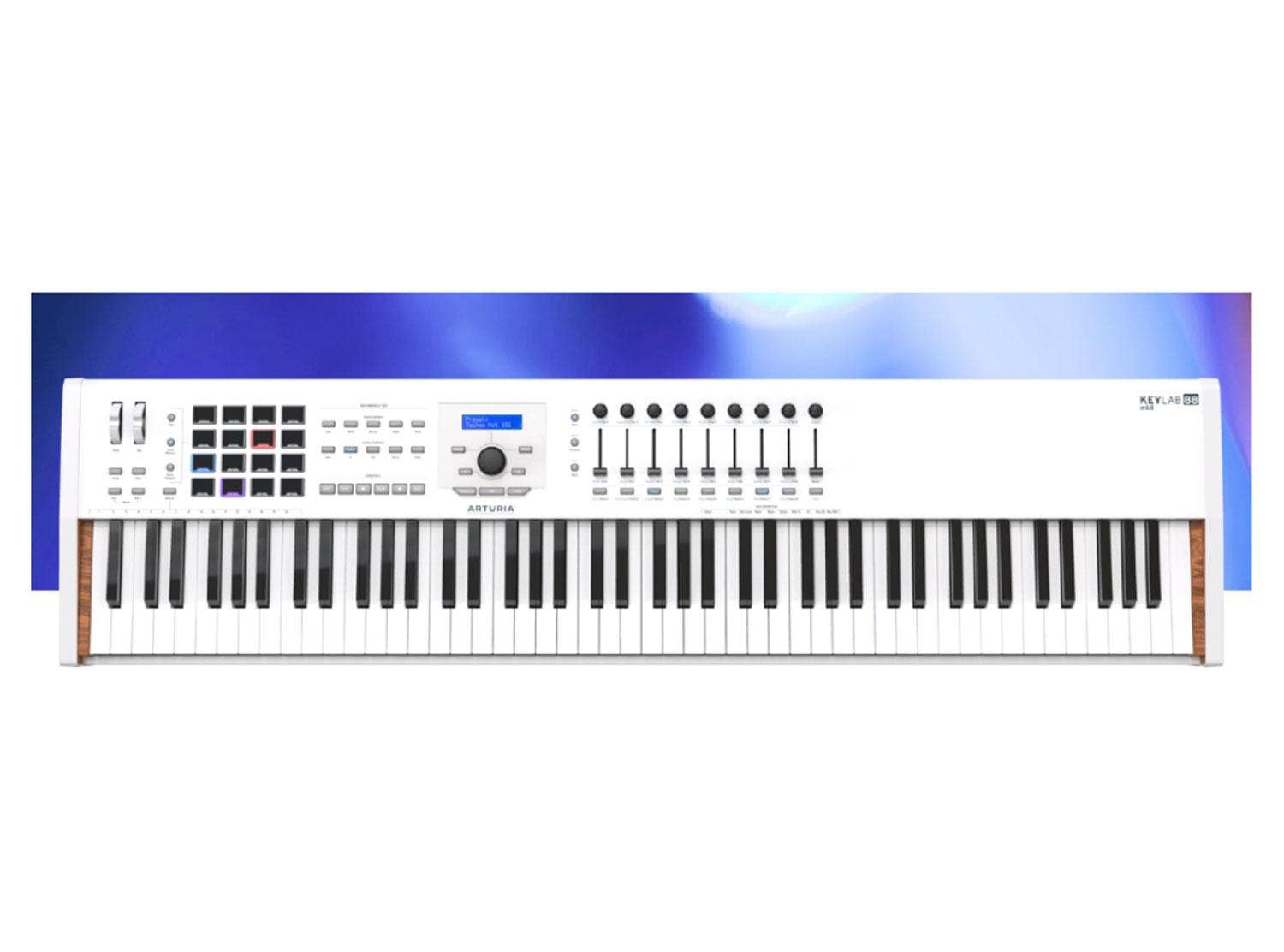 What makes users fall in love with the MKII, perhaps even more than its superb DAW compatibility and seamless digital integration, is its robust trigger technology to maximize your musical capacity. It functions as more than just a standard MIDI controller, giving you full control of your workflow with an array of gizmos and gadgets atop the controller itself. Faders can manipulate the virtual drawbars of a VST organ, while also controlling levels of your tracks in whatever DAW you jam out in at the flick of a switch. Custom chords can be saved into performance pads, adding another layer in your musical triggering abilities regardless of genre or style. This control bank grants users a whole new dynamic to their performances, recording sessions and MIDI tracking by opening up a Pandora's Box of controller functionality.
—
Ready to make Arturia controllers a fixture in your hustling, bustling music production life? Let the team at SamAsh.com give you a hand today.