An Interview With Matt Heafy of Trivium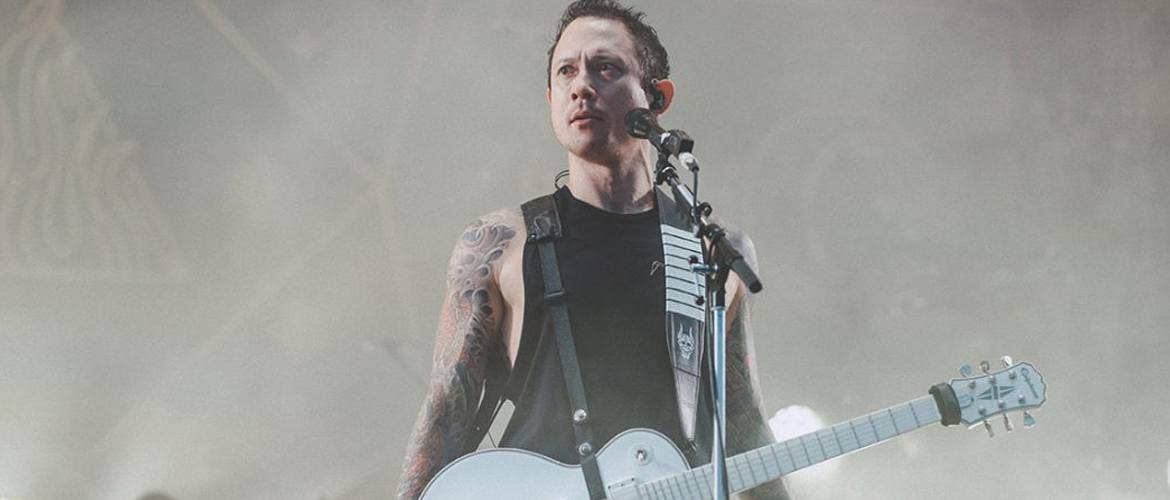 Matt Heafy is the founding member and rhythm guitarist for the heavy metal band Trivium. Since the band's incarnation in 1999, he's gained a reputation as one of the best and most influential guitar players in metal. Lately, he's taken to doing livestreams on Twitch to showcase both his guitar playing as well as gaming skills. Matt recently took the time to sit with Ben Ash and answer questions about all things music and gaming.
Ben: Which bands inspired you to play guitar?
Matt: I initially tried out for a pop punk back in 7th grade; my tryout song was "Dammit" by Blink 182. I thought I was pretty decent, but unfortunately I never got the call back and never made it into that band.  Defeated, I gave up on the musical dream for a minute until one day, someone lent me the "Black Album" by Metallica. When I heard the record, I knew that was the style of music I was meant to play! I spent countless hours working to replicate what I heard and as a side effect I got better at guitar. I performed my 8th grade talent show, covering "No Leaf Clover", and immediately after I was asked to tryout for a high school band called Trivium.
B: How did Trivium come to be and what was the band's big break?
M: After trying out for the band in 1999, I made it in. Ever since then, Trivium has been my first band and first job. We started playing shows in 2000, got signed in 2003, signed again in 2004 (this time to roadrunner), started touring worldwide in 2003, and have been at it ever since. It took a very, very long time for Trivium to become a profiting business, but once it was – we were able to just worry on Trivium solely. Our plan is to be doing this till we're in our 70s and 80s.
B: What is your practice regimen if you have one? How do you keep yourself focused to get better?
M: Off tour, Monday-Friday, I Twitch stream all my personal practices. From 9-11am est, 3-6pm est people can see 2-4 hours a day of guitar and vocal practice; the non-practice hours are gaming streams. On tour, I have a very specific hour-long warm up that happens 3-8 hours before show where I warm up guitar and vocals simultaneously. This is also streamed live every show day.
B: You've gotten heavily into Twitch lately. Have you always been a gamer? What drove you to start stream on that platform, both as a gamer and a musician? What gear do you use for your Twitch setup, both musically and gaming?
M: I've been Twitch streaming seriously since January of 2018. I've always played games my entire life, but what has truly thrived on my channel has been my self-practices, Trivium live shows, soundchecks, guitar clinics, and a new thing called "kiichi chaos karaoke" (where I cover songs of subscribers to the channel's picks). I have however recently competed in the Fortnite summer skirmish, and I do stream a lot of Fortnite when I'm not playing guitar and singing on stream.
B: What is the best gig you've ever played?
M: There are quite a few, but Download 2005 would probably be one of the most significant. That gig is the festival performance that helped put a spotlight on Trivium, and helped us grow the band worldwide.
B: What is the worst gig you've ever played?
M: Ha! There have been quite a few. Right now, I would say any gig that I was sick at. Singing and screaming with tonsillitis sucked (at a festival no less), or perhaps the Rock On The Range show where I knew my voice was completely blowing out. Luckily I got through the show, then it went out for good; we had to cancel the rest of the tour, send everyone home, and I had to rehab my voice.
B: What was the first [instrument they play] you got and do you still have it?
M: My old Gibson Les Paul Custom that my dad got me around 12-13 years old. I modeled my Epiphone signature guitar off of this exact guitar, and this instrument is absolutely one of my prized possessions.
B: What was it like to get your very own signature guitar from Gibson/Epiphone? Did you ever expect that phone call? What was the process of designing your own guitar?
M: It's a match made in heaven for sure. I'm pretty sure that the MKH models are the highest selling Epiphone models for the last few years. I believe a giant part of that is that I made sure I made ONE instrument that existed in ONE tier. There aren't "special" MKHs that I play that are better or made differently than the Epiphones one would find in the store. When I initially spoke and theorized with Jim from Epiphone, I sent him my original Gibson LPC and said "let's make my Epi as close as humanly possible to this exact Gibson as possible." We tested prototypes for a long time; live and in studio, before nailing the exact formula. It was my dad's dream before I was even born to have a Les Paul player for a son. So I think it was genetically pre-determined for me to play LPCs.
B: What is one piece of music gear you wish you had in your collection?
M: An 8 string classical guitar.
B: What does you gear set up consist of in the studio compared to your touring rig?
M: The biggest difference between studio and tour would be the fact that we use heads, pedals, cabs, and mics for studio; and live we use a Kemper profiler exclusively. Having done 8 albums now, we know that the tone will always be some form of: over drive pedal, into a 5150 1, 2, or 3, into a cabinet with 1960 A/B and/ or Vs, and whichever mic our producer likes. Kempers are perfect live. I'm all about using the least amount of gear possible. The less between my fingers and the listeners ears – the better.
B: Any advice for aspiring musicians you've learned that you would pass onto others?
M: You can never practice too much. Work to be the best, work to be better than your heroes. Anything you've heard someone do, you can do too; it just requires a ton of time. Vocals – be sure to learn proper technique and learn from as many people as you possibly can. If it hurts, it isn't right.
B: Do you have any stories, anecdotes or memories from shopping at Sam Ash Music?
M: As soon as I fell in love with music, my dad would take me to Sam Ash in Orlando every weekend. We'd test out guitars, amps, pedals… it was my toy store! We'd test out picks and acoustics in the acoustic room, and I'd get my hands on any and every piece of gear to test out. I really loved doing that with my dad. It was always a blast.
You can find Matt Heafy on YouTube and Twitch at the following links
Twitch: twitch.tv/matthewkheafy
YouTube: YouTube.com/matthewkheafy
Listen to Trivium's music wherever music is sold or streamed.
http://www.trivium.org/