Acoustic Treatment For Your Studio: Gear Guide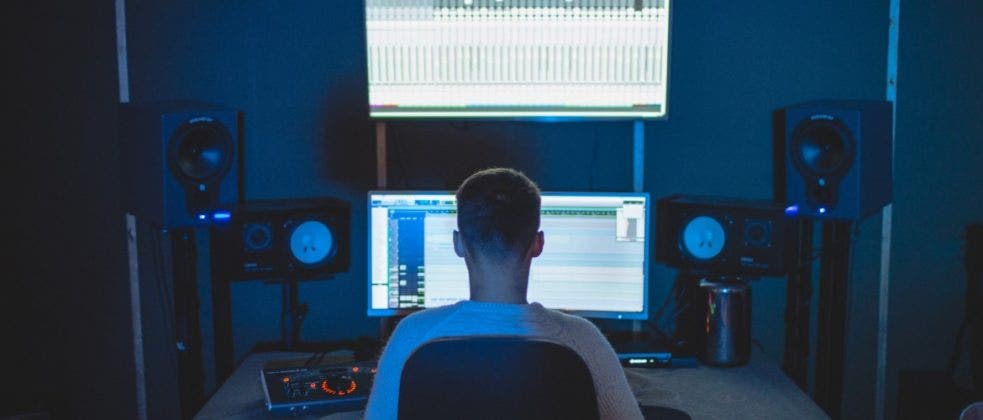 Creating great sound in your home studio isn't just about great recording equipment; it's also about the acoustics in your studio. Acoustic treatment is one of the most important aspects of your studio. We have created a list of some necessary equipment that will keep your studio sounding great.
The first thing you should do when dealing with the acoustics of your room is to find ways to eliminate noise. There's two ways noise can occur in a room:
Outside noise "bleeding" into the room"
Reverberation within the room
Noise of your music gear affecting recording
To go slightly more in-depth, noise "bleeding" into the room means sounds occurring in other rooms of your home can be heard within your recording room and be picked up by a microphone your using (or can simply be a distractions when doing anything in your recording room.
As far as reverberation, all rooms are not created equal. Some rooms have high ceilings, some rooms have more than four sides, there's an echo in the room, etc. Any and all of these room designs can make audio bounce around the room making a cacophony of noise that's hard to record on a microphone.
Lastly, sometimes your gear itself can affect recording. We all know that amplifiers and monitors can literally shake furniture (and sometimes the room itself) when turned up to 11 and in doing so can cause microphones to pick up the noise of the items shaking. Additionally, it can make it difficult (or simply annoying) to hear playback of your recordings.
All that being said, it's always worth investing in acoustic treatment. These are traditional made of foam or wood and can help block outside noise and/or make your room reverberate less so your audio is the cleanest it can be when recording.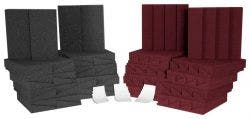 Acoustic Treatments for your studio can get expensive if you buy each piece separately. That's why there are kits and bundles with everything you need from wall panels to bass traps and more! The Auralex D36-DST Roominators Kit is made for simple home recording studio setups including 36 panels that will perfectly line your walls. For a more in-depth acoustic treatment, the Auralex Deluxe Plus Roominator Kit includes 24 studio foam wedge panels, 8 bass traps, and 6 sound diffusers.
Foams and Sealants
Once you've purchased your acoustic treatment setup for your walls, you're going to need something to stick it to your walls and ceiling. Sadly, duct tape and Elmer's glue just won't cut it.
If you are looking to place any sound dampening foam to the walls of the room you plan to record in, the Auralex Foamtak Acoustic Foam Spray Adhesive is the way to go for a permanent solution (granted, you COULD remove it but you'll have patches stuck to your wall where you sprayed and that's never been chic decor). Simply spray it on the back of a piece of foam, adhere it to whatever part of the room works best for your situation, and it'll stay put practically forever! If you live in an apartment or might consider rearranging the foam in the near future and would prefer a less permanent option, the Auralex EZ-Stick Pro Mounting Tabs does the same thing as the spray but is a weaker adhesive to allow your sound dampening foam to be easily removed from the wall!
Reflection Filter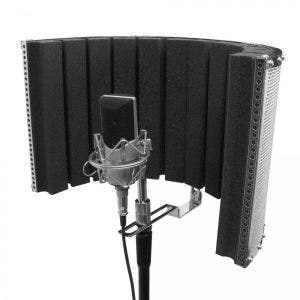 We wish it was easy enough to sing into a microphone and get the perfect recording, but the reality is, to quote '80s band 'Til Tuesday, "Voices Carry". When you sing out loud, your voice will not only be picked up by the microphone but will go past the microphone, bounce off the nearest wall, and continue to bounce around the room and perhaps hit the microphone again, and again, and again (depending on how your room is already treated. To prevent this from happening, Reflection Filters were created so your voice would be completely focused on the microphone and not worry about bouncing throughout the room. Most often used for vocals, Reflection Filters transform an at-home studio into a professional vocal booth for you to record clean vocals. This type of filter surrounds your microphone in sound dampening material to eliminate any outside noise from your recording. Some popular options for this are the On-Stage ASMS4730 Isolation Shield, Aston Microphones HALO Reflection Filter, and the sE Electronics SPACE – Portable Acoustic Vocal Booth.
Speaker Pads and Stands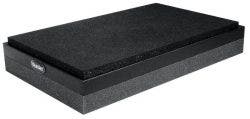 Your speakers are one of the main components of your at-home studio because they are what helps you create the perfect mix. Making sure they are properly treated will give you the sound you are looking for and prevent from any extra reverberation against furniture or other fixtures in your room. Studio Monitor stands and pads are made to provide superior acoustic isolation enhancing the clarity of your sound. The IsoAcoustics ISO-130 Isolation Studio Monitor Stands paired with the Auralex ProPAD Monitor Isolators make the perfect setup for your studio.
Drum Microphone Isolators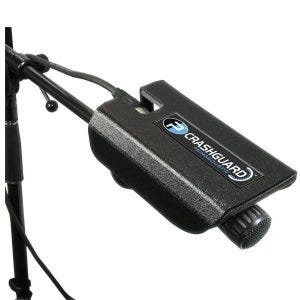 Recording drums is a very difficult task and takes time to create the perfect recording tones. There is always a lot of moving mics around, adding processing, etc. but with a drum microphone isolator you can easily isolate certain tones to make recording a lot easier for yourself and others. The Primacoustic CrashGuard Drum Mic Isolator can be placed directly over your microphone on the mic stand to isolate your kick drum, snare drum, or any tom drum. Isolating your tones gives you the ability to record your tracks clean and manipulate them however your need in the box or through outboard gear.
Gobos

Depending on the size of your studio or workspace you may be able to fit a gobo or two! Gobos, otherwise known as "go-betweens", are acoustic isolation panels that can be moved around the studio and used for a wide variety of applications. For example, Gobos can be used to create full rooms for any instrument, add separation between instruments, or just to create a regular control room if need be. In other words, think of it as sound dampening you can customize to any shape, angle, or recording situation! The ProGO-26 Professional Gobo Portable Acoustic Treatment is sturdy, portable, lightweight, and is highly effective.
Rugs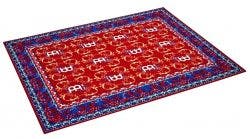 You may have seen pictures of recording studios with dim lighting and oriental rugs that create a relaxing atmosphere. While those rugs may create a soothing mood and make for great Instagram photos, that's not their only purpose. Rugs are incredibly effective in absorbing high frequencies in your studio, especially if you have non-carpeted floors. Additionally, they can also be placed under a drum kit to prevent your drum kit from sliding while playing. Two popular options to choose from are the Meinl Percussion Drum Rug and the Tama Drum Rug.
Wall Panels
Wall panels line your at-home studio with sound absorption that reduces reflections, flutter echoes, slap echoes, excessive reverb, and comb filtering. Essentially, think of them as acoustic treatment on steroids. When sound is first introduced into an environment, it moves until it is stopped by a wall, sound absorber, or other acoustic treatments. Wall panels are your last line of defense in creating an almost flat listening environment. Using these are fantastic if you're recording something like an audiobook or other vocal-specific project. The Auralex Pyramid Half Pack and the Primacoustic Broadway 2″ Control Column Acoustic Panels are two examples for wall paneling that are affordable and will line your studio perfectly. They come in a wide variety of colors to match your studio décor.
Bass Traps/Bass Absorbers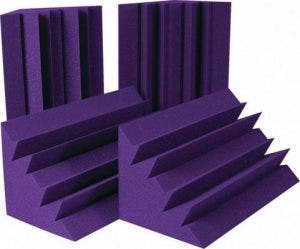 When mixing in your at-home studio, there are going to be dominating bass tones that will appear to be more prevalent in your mix when in reality, they aren't there in the first place.  This is going to cause you to reduce the bass in your mix and leave you confused when listening to it on a different medium (for instance, your car stereo or through ear buds on your phone). Bass traps reduce these tones in your room so you can get a flat clean tone when listening through your studio's monitors.  Don't worry; it's always easier to add bass than eliminate it in post-production. If you want to have some peace of mind when dealing with bass in your recording room, the Auralex LENRD Bass Traps Smart is an affordable, easily applied solution that fits in any audio environment.
Sam Ash Music: The Recording Experts
You can find these and more acoustic treatment products on SamAsh.com. If you're still undecided, have questions, or need assistance with your purchase, give us a call at 1-888-977-0074 where we have music and audio experts at the ready to help you fulfill your needs.