7-String Guitars: Because Sometimes Six Just Ain't Enough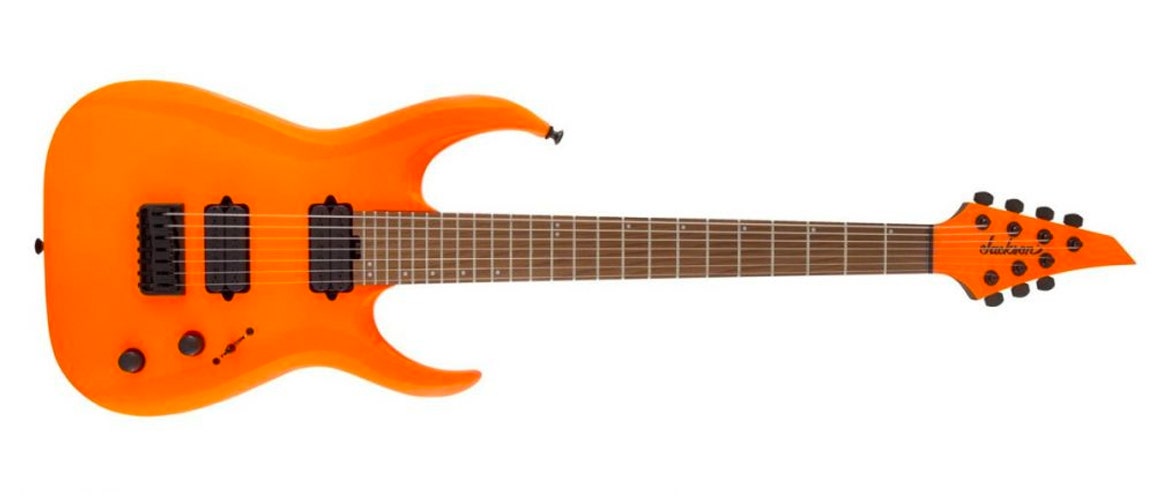 When it comes to 7-string guitars, there are basically two different mind-sets.
There's this guy:
"Whoa, hold on a second. I just counted the tuners on the headstock and there seems to be a mistake…there's an extra one."
And then there's this guy:
"Dude, how am I going to shred with that thing? It only has six-strings."
The divide between these two players seems large, though both thought processes are understandable. Seven-string guitars have traditionally been suited to a specific type of heavier music (though as you'll note later in this article, not exclusively). If you're into paving your own way and adding some interesting overtones to your metal band, how could you not pick up a 7-string? And if you're not into 7-strings, you probably, and understandably, simply have no desire to add another complication which most guitar legends didn't endeavor to incorporate into their playing either.
Regardless of where you're at with the extra string, this article highlights some pretty incredible 7-string players and their choice instruments. Hopefully it will stoke the fire of the guitarists who already walk this path and perhaps pique the interest of the traditionalists.
Jason Richardson

Jason Richardson is an incredibly technical metal guitarist. Picking, tapping, and sweeping in an unbelievably precise frenzy, Jason fits notes into rhythms that you'd think would require at least two guitar players to pull off. Jason has released solo albums, played in a few metal bands, and has been featured on other artists' tracks—like Polyphia. Jason now has an awesome signature 7-string guitar from Ernie Ball Music Man, following in the footsteps of John Petrucci—who we think it's safe to assume may have had some influence on his playing.
Yamandu Costa
It's important to know that 7-strings aren't just for heavy metal—though we would say they are for the more advanced player. Yamandu Costa is a Brazilian guitarist who plays a 7-string classical style guitar, complete with nylon strings. But make no mistake, this dude rips. His intricate, melodic playing combines Chorinho, Bossa Nova, and Samba, amongst other genres, to bring listeners on a wild sonic journey from start to finish. His physical style is as expressive and dynamic as the sounds he creates. Checking out any of his YouTube videos is more than worth a few minutes of your time.
Munky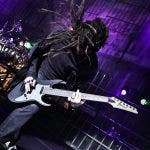 Korn are infamous for playing 7-string guitars. The sound the band is founded on comes from 7 down-tuned strings, struck as hard as possible, to create a sound reminiscent of chains banging against steel—all in perfect rhythm. Munky has been playing 7-strings his whole career. He started on an Ibanez and continued with the brand until he got a signature Ibanez model. Since then, Munky has gone through a number of Ibanez signature models. Most recently, he has the Ibanez APEX200 Munky Signature 7-String, a really cool design that is made to suit Korn's musical style.
John Petrucci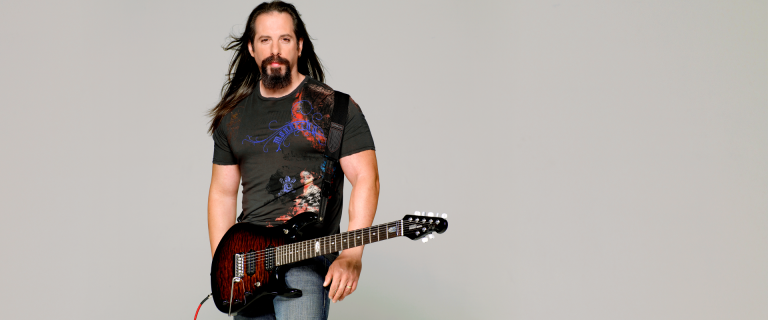 John Petrucci is one of the most advanced guitar players in the world. His technical progressive metal style has blazed a path for countless players over the last 30 or so years. John can convert a minutes-long solo into a beautiful, melodic story which entrances listeners. John uses six strings often, but also includes 7-string compositions in his incredibly complex arrangements. His use of the additional string on certain songs adds a flood of intrigue to Dream Theater's sound. John has had many 7-string iterations of his signature models. Currently, he has two 7-string Ernie Ball Music Man models — the JP15 7 and the newly released Majesty 7.
Stephen Carpenter
Stephen Carpenter has been using 7-strings since the inception of the Deftones. He plays a 7-string on a majority of the band's tracks, creating the heavy, looming ambience which allows Chino's vocals to soar. With the Deftones in particular, the 7-string affords deep tones and makes an enveloping metal sound. Steph Carpenter has been in the 7-string game so long that he has multiple signature 7-strings. He has a very unique "T" style 7-string — the ESP LTD SCT-607B Baritone, as well as an "S" style 7-string — the ESP LTD SC-607 Baritone.
Misha Mansoor

Misha Mansoor's prog-metal intuition has really elevated the genre over the past decade. His band Periphery has pushed technical guitar playing to its edge and showed that there are no limits when it comes to creating intricate and moving metal music. Despite being heavily influenced by some of the major artists who paved the way for today's prog, Misha has developed a unique sound based on his playing and composing styles. Through his numerous signature model iterations, Misha has consistently been a fan of 7-string guitars—his Jackson Pro Series Signature Misha Mansoor Juggernaut HT7 among them.
Lucky 7s
Well maybe it's not luck, but if you're cool enough to own and master a 7-string guitar, you've probably got some solid chops. And if you haven't quite found your way to one yet, one of these incredible players may inspire you. If you're looking for a new 7-string of your own (or bold enough for an 8 or 9-string), we've got a huge selection on SamAsh.com to check out!