Welcome to the new SamAsh.com!
Returning Customers: Please reset your password using the "Forgot Your Password?" link
the first time you see this message.
Or use your social profile
No extra passwords to remember. We never share any of your data or post anything on your behalf.
6 Best Audio Interfaces for Recording Guitar at Home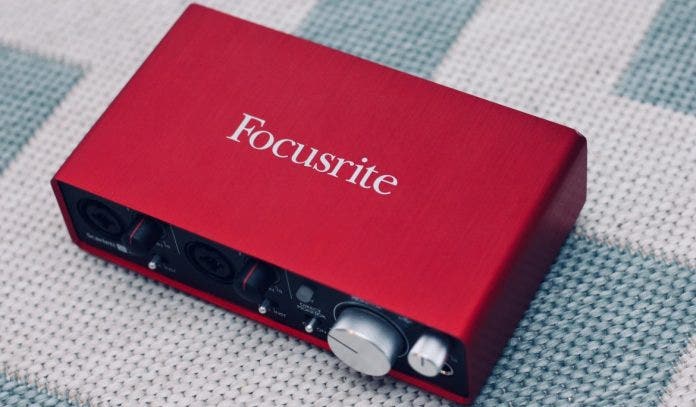 Submitted by David Slavković
You know what's really exciting? The fact that we're living in the time when you're able to record, produce, mix, and master original music from the comfort of your home. What's more, by sharpening your skills, you'll be able to make it more than just decent-sounding and even start putting out albums as an independent musician. Sure, it may take some time to find the perfect DAW and plugins for your taste, to make everything work in your favor. But, at the end of the day, you can all do that on your home computer. On the other hand, things might not always be that simple. Aside from a computer with enough RAM memory and processing power, you'll need to get yourself an audio interface.
Yeah, there are ways to play and record your guitar without one. However, if you're looking to do multi-track recordings and have quality audio, there's no way you'll be able to do so with your computer's integrated soundcard. Some may wonder why they'd need an additional audio interface in the first place. The easiest explanation is that it allows you to record multi-track projects with an abundance of additional effects in real-time with near-zero latency and good sound quality. Without an audio interface, you'll experience significant delay and subpar sound quality that will make it impossible to perform.
With all this said, we'll be looking into some audio interfaces that will help any guitar player who's planning to record music at home. We'll try to include something for everyone's tastes and needs.
What should I look for in an audio interface?
But before we get into it, let's see what are some of the main issues you'll need to think of when choosing your audio interface.
As a guitar player, you most likely won't need more than two channels. Essentially, one is enough if you want to just go straight into it and record your guitars one track at a time. With two tracks, however, you open up new possibilities for recording guitars and amps with two microphones, or just recording two guitar players at the same time.
Another important issue regarding inputs is whether the soundcard features just regular line inputs or XLR inputs. In many cases these days, audio interfaces also have combined inputs that work both for instruments and microphones. If you're planning to record a guitar with a microphone, it would be a good idea to look into a soundcard with combo or additional XLR inputs.
While audio quality is one of the most important aspects, almost any audio interface on the market will provide you with great sound. This is rarely ever a deal-breaker, and even some beginner and intermediate level stuff has pretty great sound quality.
There are few other features that ultimately depend on your needs. This comes down to connectivity and additional functionality. These days, most of the audio interfaces are USB, but there are also some with Thunderbolt, FireWire or hybrid connections. About other features, some audio interfaces also include MIDI connection, additional effects and controls, as well as ADAT connectivity for expanding the number of channels with an additional device.
Now that we have some basic stuff covered, let's look into these audio interfaces.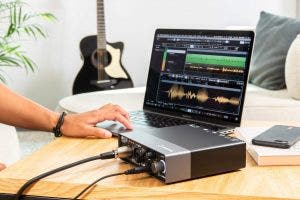 Steinberg, the company responsible for the creation of Cubase and the development of VST plugin technology, also makes its own audio interfaces. For the purpose of home recording, we'd single out their UR22C USB audio interface.
This is a 2-channel interface with two aforementioned combo inputs, so it's pretty handy for those who prefer to have more options at their disposal. Aside from some basic controls, like input gain knobs for individual channels and master output volume, there are a few additional goodies on it. For instance, there's MIDI input and output on the back, mono switch, Hi-Z switch, and the mix/blend knob.
The so-called "Hi-Z" allows you to switch between the low- and high-impedance mode. This way, you can record with a distortion pedal or any other similar device without your tone getting that unwanted horrible-sounding clipping. It's as if you have an additional DI box.
The mix knob allows you to blend in between direct monitoring and the sound coming out from your DAW.
This is the most advanced piece of all the UR22 versions, featuring 32-bit and 192 kHz audio resolution and the USB 3.1 connection. It also comes with the Cubase AI DAW, Cubasis LE, and dspMixFx. There are also a few guitar-oriented plugins and amp models.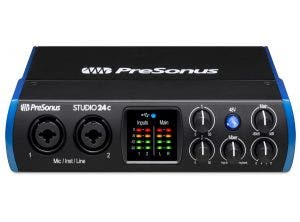 With an abundance of great professional-tier products, it's obvious to find at least one audio interface by Presonus on this list. The one we're including here is their Studio 24C. It's somewhat similar to a few other of their compact audio interfaces, like the stuff from the AudioBox series.
Just like with the Steinberg we mentioned above, here we also have two channels with two combo inputs for both instruments and microphones. Each input is also equipped with XMAX-L mic preamps. There's also the MIDI in and out for additional controls and functionality, as well as the "mix" control for blending and balancing between direct monitoring and the sound from your DAW of choice. You can connect Studio 24C to a computer through USB-C connection or using the USB-C to USB-A cables.
The recording quality is up to standards, featuring 24-bit resolution and sampling rates of up to 192 kHz. It also comes with phantom power for condenser microphones and even additional home recording software called Studio One Artist.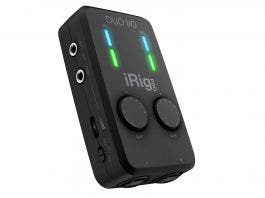 The reason why we chose to cover one of IK Multimedia's iRig products is due to its simplicity and compact size. The company responsible for the legendary Guitar Rig made these small audio interfaces for iOS and Android devices. But iRig Pro Duo takes it a step further and includes two channels with combo inputs, MIDI connectivity, and phantom power. All this with the recording quality of 24 bits and up to 48 kHz.
This little piece can be powered using two AA batteries, so it's pretty useful for anyone who wants to record on the go using their phones or tablets instead of computers. Of course, it also works with Windows computers, but its main intention was to have a compact and portable studio. It's a pretty straightforward and useful little piece.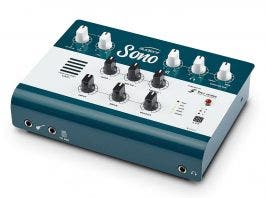 This is where things get a little interesting. Yes, it might be more expensive compared to standard stuff here, but Audient's Sono is specially designed for electric guitars. While this concept might seem somewhat limiting, this is a perfect recording tool for anyone who needs something for electric guitars.
The first surprising feature here is the inclusion of a preamp with the standard 12AX7 tube. This entire audio interface is designed like one of those guitar preamp pedals. You can find the standard 3-band EQ on it, as well as input volume, output volume, and drive. Other features include an output that allows you to re-amp the recording. This two-channel piece features combo inputs, and can also completely bypass the tube section and some of the additional features.
Speaking of additional features, Sono comes with its onboard cabinet simulation in its Two Notes power amp section. All this can be controlled and shaped further through the included Two Notes Torpedo amp simulation software.
While it may seem less suitable for other applications, you can expand the number of channels using any standard ADAT. The sound quality is 24 bits and 96 kHz, which is more than enough for great recordings. Overall, it brings the best of two worlds with its analog and digital capabilities.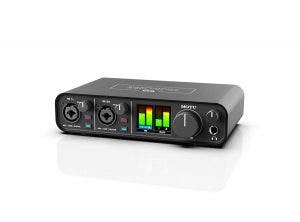 Comparable to some other simple pieces here, MOTU's M2 is a two-channel audio interface with combo inputs. We also have the standard stuff on there, like the combo inputs, 48-volt phantom power, and the MIDI in and out.
But there are a few things that make it special. First, it's designed with extremely low latency in mind and also features the ESS Sabre32 DAC digital to analog converter. What's more, it also provides a 120-decibel dynamic range. The sound quality here is 24 bits and 96 kHz.
On the front panel, we can also find LCD indicators for input and output, helping users notice any potential clipping in the mix. Overall, it's a very potent and versatile piece that can definitely find use in guitar recording.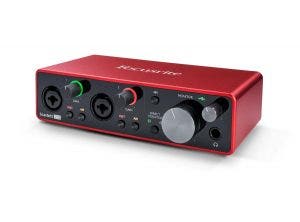 It's really no wonder that Focusrite Scarlett 2i2 is often singled out as the best compact audio interface. This especially goes for the guitar-playing population. A few special improvements were made going from 2nd to the 3rd generation of this audio interface. We have an increased dynamic range and gain range, as well as the improved audio quality to 24 bits and 192 kHz. The headroom is pretty high as well, and you'll be able to record even some loud high gain stuff without worrying about clipping.
This audio interface also comes with its Quick Start tool, making it easier for beginners and all those who are less experienced with home recording to kick things off right away. The 2i2 is pretty intuitive overall and has a few interesting additions to its functionalities. For instance, there's the so-called "Air" mode that lets you add some brightness to your tone, make it feel more "open." This can come in handy for acoustic or clean electric guitar sections.
As for additional software, you'll get Ableton Live Lite, Pro Tools First Focusrite Creative Pack, a bunch of plugins, one XLN Audio Addictive Keys virtual instrument of your choice, and even a 3-month free subscription to Splice.
Conclusion
In the end, it shouldn't be too difficult to get a hold of your new audio interface and start recording right away. But before getting one, there are a few things to consider. First, you'll need to know whether you want something simpler or more complex. If you're looking for simpler stuff, iRig is a good solution, or even a piece like UR22C.
In case you think you'll need more channels in the future for additional band members, then get something with ADAT connectivity, like Audient Sono. After a while, you can buy an extension with up to 10 additional channels and map them all in your DAW. Sono is also great if you're looking to completely avoid using an amp and still have that natural tube tone.
In the end, think of all the additional features we mentioned and the budget at your disposal. You basically can't go wrong with any of these, it's just up to you and what you need for your new home studio.
If, on the other hand, you just feel like jamming along and recording a few demos over backing tracks, a simpler solution would be an amp with an integrated audio interface that you can use with your computer. A great example here is Yamaha's THR10II.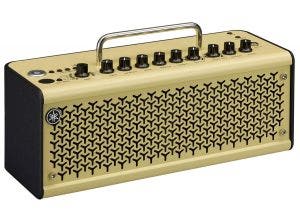 About the Author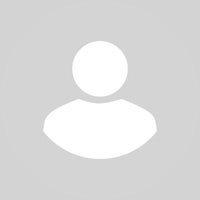 Sam Ash Customer Articles