Msrp:
$108.74
/
Savings:
$38.75
Seen a better price?
Samson Q2U USB/XLR Dynamic Microphone With Headphone Output. Includes Tripod Desktop Stand, Windscreen, USB Cable, & XLR Cable to XLR Cable
In Stock & Ready To Ship!
The Samson Q2U is a dynamic microphone that offers both USB and XLR outputs so you can use it for both computer recording to your favorite DAW/ Recording software and for live sound applications by connecting it to a mixer or speaker. The Q2U Pack is your complete solution for creating digital recordings providing you with all the key accessories you need including a tripod desktop stand, windscreen, mic clip, and both USB and XLR cables. The Q2U simply does it all and is ideal if you are a vocalist, podcaster, educator, or looking to do a little of everything.
The Swiss Army Knife of Microphones
When we look at the Q2U, the first thing that comes to mind is versatility. The multiple outputs can even be used simultaneously so you can record your live performance to your computer recording software in real time. The microphones compact shape, rugged die cast construction, and lightweight design offer great portability so you can use it for on the go recording. The Q2U is even compatible with iPhones, iPads, and Android when you purchase the necessary adaptors (sold separately).
Accessories Included
At Sam Ash, we love providing our customers with superior value and the Q2U Microphone Package is an excellent example of that kind of offer. The package includes a lightweight tripod desktop stand so you can find the ideal placement next to your computer or laptop. It even includes a tripod extender piece if you want to experiment with mic placement and manage proximity to your sound source. An included custom windscreen help enhance the microphones portability and is ideal if your looking to record ideas on the go, outside, or in the field for projects like mobile journalism and live streaming with your preferred app.
Vocalists, Educators, Podcasters and Everyone in Between
In addition to offering you serious flexibility, the Q2U is very easy to operate. The On/Off switch on the microphone helps you control what the microphone transmits to your computer and prevents disturbances when you are switching speakers or setting up during live sound presentations. The LED on the microphone lets you know when its active and changes color when your at risk for peak/clipping so you can manage your levels while you record. With all these great features we almost forgot to mention the microphones ultra convenient headphone output for zero latency monitoring when you record. Your monitoring level can be adjusted on the microphone using the built in volume control. The Q2U delivers easy set up and operation regardless of your experience with audio signal path.
Why We Love It:
For a USB microphone the Q2U is a unique offering. Its dynamic design offers reduced sensitivity compared to most USB condenser microphones. This reduced sensitivity along with a directional cardioid pickup pattern helps reduce editing time by preventing background noise and vibrations from entering the signal you are transmitting to your computer. This makes on the go recording in crowded environments more manageable. However, the Q2U still manages to handle loud signals (up to 148dB)and offers an excellent frequency range so you can use it for applications like Sound Folley, Miking acoustic guitars, or recording emotional lectures, presentations, tirades, and more.
Who Needs It:
While everyone should consider owning a Samson Q2U for its premium flexibility, the microphone is great for beginner podcasters looking to cut down on editing time as well as educators who need an easy to use solution for projecting their lectures to the classroom or recording lectures for their websites and learning portals. Vocalists looking to experiment with recording should seriously consider the Q2U for its streamlined setup, direct computer connection, and ability to be used in live settings.
Get your Samson 2U Dynamic USB/XLR Microphone Pack today at the guaranteed lowest price from Sam Ash Direct with our 45-day return and 60-day price protection policy.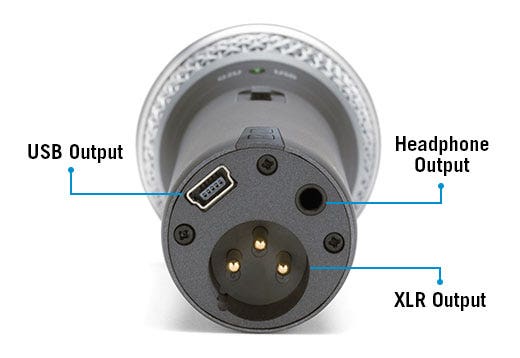 Things You Will Get:
Microphone
1.5m USB Cable
6m XLR to 1/4" Cable
Mic Clip
Tripod Stand
Windscreen
Tripod Extension
| | |
| --- | --- |
| Model Number | SAQ2U |
| Model | Q2U |
| Series | Q |
| State | New |
| Tube Microphone | No |
| Multi Pattern | No |
| Attenuation | No |
| Switch | No |
| Shockmount Included | No |
| Pop Filter Included | No |
© 2021 Sam Ash Music Corp. All Rights Reserved.