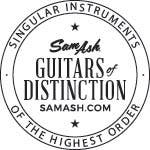 Guitars of Distinction are handpicked one-of-a-kind instruments that are listed by their unique serial number. You'll be viewing photos of the actual instrument you will receive. The guitars are shipped to us directly from the manufacturer. They are then inspected, photographed, and promptly placed back in their cases and shipping cartons and stored in a temperature and humidity controlled vault. These instruments have never been on display. Each is selected and described by its singular visual appointments, feel, weight, wood grain or finish, as well as choice of tonewoods and hardware. They are each inspected and set up by a Sam Ash certified guitar technician before shipping to you. Instruments can be fitted with the string gauge of your choice.
Featured Electric Guitars Of Distinction

Featured Acoustic Guitars Of Distinction

Featured Bass Guitars Of Distinction
The Guitar Meant Just For You
Sam Ash knows that all guitars are endowed with a unique musical soul. Even guitars produced in large runs can show subtle differences from instrument to instrument. Pick up any two guitars of the same model and you may notice a slight difference in weight. Or perhaps the feel of the neck is a bit faster on one compared to the other; the grain of the top a little more defined. When you buy your guitar from Sam Ash Direct, you want to know that you are getting an instrument of the highest quality; one that will bring you pleasure to hold and play for many years to come. And you want to know that the guitar you receive is the very same guitar you were looking at when you made the purchase. For the very best we have to offer, look no further.
These guitars are for the serious collector; the true lover of fine instruments. By choosing one of our Guitars of Distinction, you are guaranteed to receive a genuinely special instrument. And, you can buy in total confidence: We guarantee your satisfaction with our 45-Day Money Back Guarantee. If you are not completely satisfied with your item, for any reason, you can return it within 45 days of the shipping date for a complete refund of the merchandise price.
Take a look at the Sam Ash Music Guitars of Distinction. And be sure to check back often, because our inventory is changing as quickly as these beautiful instruments are selling. If you have any questions about any of the guitars listed here - or any product on our web site — just call us at 1-800-472-6274 and ask to speak with a Sam Ash Guitar Specialist. We'll help you find the guitar of your dreams.
12-Part Inspection Process
Each guitar is carefully un-boxed by a certified guitar technician. It is then photographed, weighed and run through our thorough bench check. We inspect EVERYTHING! Each guitar is viewed and handled as if we were buying it for ourselves!
1. Guitars are initially examined under the proper lights and magnification.
2. Guitars are then weighed with an extremely accurate scale to a 10th of an ounce.
3. Cases are examined inside and out for damage in shipping or factory defect.
4. All case candy, paperwork and Certificates of Authenticity (if one is issued from the Factory) are checked. Warranty card is also checked against the serial number on the instrument.
5. All hardware on the instrument is checked for cosmetic or mechanical defects such as imperfections on the plastic, factory plating, pitting or buffing mistakes.
6. The finish is checked through a high power lighted magnifying glass. If there are swirls, checks, drips, overspray or plain old mistakes the instrument is repacked and sent back to the Manufacturer.
7. Neck is sighted and adjusted if need be so that optimal performance and playability is achieved.
8. The electric guitars action is set to comfortable height. We can also set it to your custom preference either higher or lower.
9. Acoustic guitar action is kept at Factory specifications and settings unless a request is made for additional height changes.
10. Intonation is checked on a strobe tuner for the utmost accuracy. It takes a little bit longer but it is the only way to go.
11. The instrument is then played lightly. We check for buzzing and fret outs on all the way up and down the neck.
12. Electrics or Acoustic Electrics are played through a quality amp to make sure the output is right, no crackles are present, all switches, pickups and components are working properly.